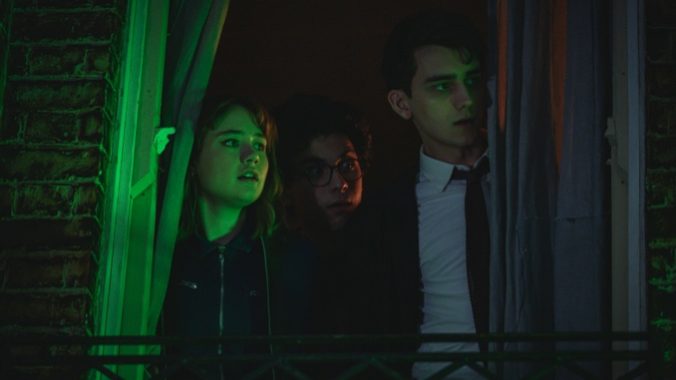 Netflix is releasing so many original new TV series, it can be easy to lose track of the latest shows. We've compiled a running list of the all the biggest new Netflix original shows and exclusive releases from the streaming giant's partners, and we'll continue to update it as new shows get added. We've skipped reality shows and focused on recent narrative series.
As always, some of these new Netflix series we recommend heartily and others aren't quite our cup of streaming tea, but there's definitely something for everyone below, especially if you don't mind subtitles. Here are 12 of the biggest new shows at Netflix released in the past three months.
1. On My Block: Freeridge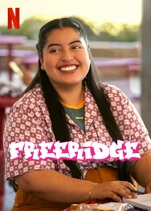 Netflix Release Date: February 2, 2023
Creators: Lauren Iungerich, Eddie Gonzalez, Jeremy Haft, Jamie Dooner, Jamie Uyeshiro
Stars: Keyla Monterroso Mejia, Bryana Salaz, Tenzing Norgay Trainor , Ciara Riley Wilson and Peggy Blow
Genre: Teen mystery, romance, comedy
Rating: TV-14
This On My Block spinoff finds a new group of Freeridge teens navigating high school, mystery and, this time, mysticism. Gloria (Keyla Monterroso Mejia), Ines (Bryana Salaz), Cam (Tenzing Norgay Trainor), and Demi (Ciara Riley Wilson) unwittingly unleash a curse and must deal with the misfortune coming their way. On My Block executive producer Lauren Iungerich returns as showrunner as do many familiar On My Block faces, including Peggy Blow who plays a brand new character here (her Abuelita died in On My Block's fourth season). —Amy Amatangelo
---
2. Lookwood & Co.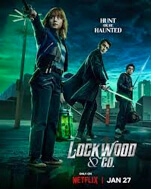 Netflix Release Date: January 27, 2023
Creator: Joe Cornish
Stars: Ruby Stokes, Cameron Chapman, Ali Hadji-Heshmati
Genre: Supernatural, fantasy
Rating: TV-14
With approximately 1 million recent TV series populated with teens fighting supernatural baddies, how do you choose which ones are worth your while? Well, you might start with one developed by the writer and director of 2011 indie sci-fi comedy Attack the Block. Joe Cornish adapted the new Netflix original Lockwood & Co. from Jonathan Stroud's YA novels about a psychic detection agency in an alternate London where ghosts run amok and only certain young people can fight them. Ruby Stokes plays Lucy Carlyle, a talented runaway ghost-hunter who finds her place at a newly established—and adult-free—outfit run by the posh upstart Anthony Lockwood (Cameron Chapman) and his socially challenged friend George Karim (Ali Hadji-Heshmati). The show is better written and more original than the vast majority of series trying to carry the mantle of Buffy into the streaming era. —Josh Jackson
---
3. That '90s ShowNetflix Release Date: January 19, 2023
Creators: Bonnie Turner, Terry Turner, Lindsey Turner, Gregg Mettler
Stars: Debra Jo Rupp, Kurtwood Smith, Callie Haverda, Ashley Aufderheide, Mace Coronel, Reyn Doi, Sam Morelos, Maxwell Acee Donovan
Genre: Sitcom
Rating: TV-14
The world of That '70s Show returns in Netflix's grunge-era revival That '90s Show, which picks up with the children of OG fan favorites and brings the action back to the tried and true basement of Red and Kitty Forman for a whole new generation of misspent youth. It's a series about the fleetingness of summer, and of youth, and (these days) Netflix shows in general. It's also a lot of fun, especially for fans of That '70s Show. It's the same type of silly, goofy, heartfelt and funny as the old show—with just enough newness to make you glad Netflix brought the franchise back for a few more "BURNS!" and love triangles. It doesn't try to reinvent the sitcom, or even improve it. It's the TV equivalent of putting on a comfortable pair of sweat pants, and trading your Led Zeppelin shirt in for a Pearl Jam hoodie. But sometimes? That's more than enough. —Trent Moore
---
4. Copenhagen Cowboy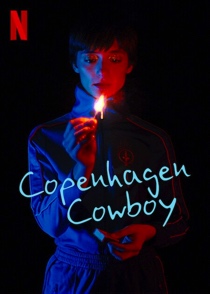 Release Date: January 5, 2023
Creator: Nicolas Winding Refn
Stars: Angela Bundalovic, Fleur Frilund, Lola Corfixen, Zlatko Buri?
Genre: Thriller
Rating: TV-MA
Paste Review Rating: 7.4
Oh, what peaks and valleys have defined the career of one Nicolas Winding Refn. His new miniseries Copenhagen Cowboy continues his exploration of stylized, extra-minimalist narrative design. Inexplicably premiering on Netflix (no other show will be treated more unfavorably by "the algorithm"), Copenhagen Cowboy brings Refn (or, as he's credited, NWR) back to the unsavory world of Danish crime, his first return trip since closing his Pusher trilogy in 2005. A superstitious woman who housekeeps for her brother's sex trafficking ring hires a young woman, Miu (Angela Bundalovic, rocking an '80s Agnès Varda look), as a "lucky charm," but when doubts about Miu's superstitious powers first start to appear, it becomes clear how dangerous the young woman can be. This is merely the trigger point for a story that keeps moving; as Miu ventures out into a hazy labyrinth of multicultural gangs and lost souls, she becomes more elemental than human—which alerts the attention of what can only be described as a castle of vengeful Aryan succubi. With its relentlessly abstracted narrative and insistent repetition of the same few visual tricks, you sort of know immediately whether you're on this train or not. Everything is washed with either vibrant blue or red, none of the dialogue sounds like something a real person would say, and if you drank every time the camera pans a full 360 degrees, you'd end up in a coma. Hopefully Copenhagen Cowboy offers something daring for Netflix's large audience, but even if it's unlikely to draw many non-NWR converts, it should hopefully convince apostates to give his streaming work a shot. —Rory Doherty
---
5. The Recruit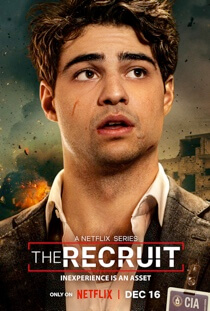 Netflix Release Date: December 16, 2022
Creator: Alexi Hawley
Stars: Noah Centineo, Laura Haddock, Aarti Mann, Colton Dunn, Fivel Stewart, Daniel Quincy Annoh, Kristian Bruun, Vondie Curtis-Hall
Genre: Action, Thriller
Rating: TV-MA
The Recruit plays to Netflix heartthrob Noah Centineo's charismatic and comedic strengths, adding more flair, drama and—deep breath—sex to his streaming portfolio. He confidently leads a spotty but overall impressive spy romp that makes for a suitably fun binge watch. This man is Owen Hendricks, a rookie lawyer for the General Consul at the CIA. He's charming, quick-witted, and instantly in over his head, especially when he gets involved with a former agent (or, asset) who wants to reveal devastating state secrets (or, graymail). He has two smart, attractive roommates, Hannah (Fivel Stewart) and Terence (Daniel Quincy Annoh), a suitably stern boss, Nyland (Vondie Curtis-Hall), and a couple colleagues with the sole purpose of leaving Owen in their dust, Violet (Aarti Mann) and Lester (Colton Dunn). Over the course of 8 episodes (all of which were available for review), characters undercut each other, beg for favours, and deceive for their own benefit. A lot of research from show creator Alexi Hawley has gone into a variety of CIA lingo, procedures, and personalities; it really feels like you're immersed in an authentically complex (sometimes laughably so) intelligence bureaucracy. As well as this, Owen's newbie status means we get to learn a lot of this intel organically as he does, always at the quick, urgent pace that CIA field work demands. While it's not impossible to make a comedy about the oceans of paperwork and insecure agents that get field work done, putting a hot smirk on it feels a little manipulative given the agency's tendency to destabilize nation states. That said, the hot smirking goes a long way, with Doug Liman injecting the sweaty sexual tension his best work is known for into what could just be an exercise in pulpy action thrills. It's clear Netflix are looking for a new splashy and exciting hit, and they have indeed successfully recruited us. —Rory Doherty
---
6. Dragon Age: Absolution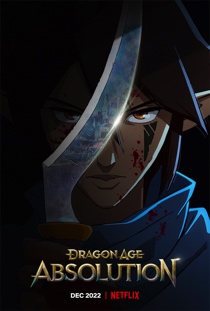 Netflix Release Date: December 9, 2022
Stars: Kimberly Brooks, Matthew Mercer, Phil LaMarr, Ashly Burch, Sumalee Montano, Keston John
Genre: Anime, Fantasy
Rating: TV-MA
In this six-episode animated series inspired by BioWare's Dragon Age game franchise, a group of six thieves—fighters and mages among them—plots to take a blood magic artifact from a stronghold in an enemy nation. But when one of the group betrays the others, things get progressively more complicated, especially as the past of one of the heroes reveals her own ties to the villain. With vibes that mix The Legend of Vox Machina, Carmen Sandiego, and Avatar: The Last Airbender, Absolution uses what's best in both fantasy and heist stories to create a compelling and character-driven narrative that is a delight for both fans of the game and newcomers. —Alana Joli Abbott
---
7. Wednesday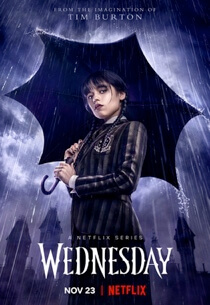 Netflix Release Date: November 23, 2022
Creator: Alfred Gough, Miles Millar
Stars: Jenna Ortega, Emma Myers, Gwendoline Christie, Riki Lindhome, Christina Ricci, Jamie McShane, Hunter Doohan, Percy Hynes White, Catherine Zeta-Jones, Luis Guzmán
Genre: Fantasy, Teen
Rating: TV-14
Ever since their 1938 debut in The New Yorker, the Addams Family have long been considered a pop culture staple as they've cemented their presence in all sorts of comics, animated television shows, and full-length feature films. The dark and kooky nature of family members Gomez, Morticia, Wednesday, and Pugsley have long provided a more eccentric form of entertainment, yet they remain timeless within the public sphere. Perhaps the most compelling of them all is little Wednesday Addams, the sinister child of woe most recognized by her classic braids, dry wit, and disturbing love for violence. It makes complete sense, then, that Tim Burton—master of all things macabre—would attach his name to Netflix's new series dedicated to this goth icon. Wednesday is a supernatural horror-comedy series that answers one essential question: What does Wednesday Addams look like as a teenager? After getting expelled from public school for releasing piranhas in the pool, a 16-year-old Wednesday (Jenna Ortega) is shipped off to Nevermore Academy, a preppy boarding school for Outcasts. Nevermore boasts a variety of nutty characters, serving as a haven for anyone different or harboring special abilities, including vampires, werewolves, gorgons, and sirens. The most compelling aspects of the show are in the season's exploration into Wednesday's relationships with those around her, which she finds particularly challenging to navigate as it's so vehemently against her independent life philosophy. — Dianna Shen
---
8. 1899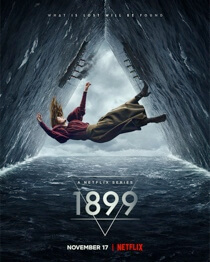 Netflix Release Date: November 17, 2022
Creator: Jantje Friese, Baran bo Odar
Stars: Emily Beecham, Aneurin Barnard, Andreas Pietschmann, Miguel Berardeau
Genre: Mystery, Supernatural Thriller
Rating: TV-MA
Jantje Friese and Baran bo Odar have earned patience. The German creators of the cult mystery-thriller Dark forced their viewers to trust them. Through three seasons of Dark very little made sense, as Friese and bo Odar kept a growing audience largely, well, in the dark. With their new Netflix show, 1899, the creators follow the same path, crafting a world shrouded in mystery, and often, confusion. With a massive ensemble of European actors, the mystery series follows a ship heading towards America. When encountering another vessel that had been missing for several months, the captain, Eyk (Andreas Pietschmann), decides to investigate, setting off a sea of events which make little to no sense at first glance. Pietschmann, a Dark alumnus, commands the majority of scenes alongside Emily Beecham, the latter of whom plays an English passenger who is central to the story Friese and bo Odar attempt to tell. Both seem more than up to the task, as does the rest of this large cast, composed of characters speaking their own native languages—a disconnect both internal and external when watching 1899. For first-time watchers of Friese and bo Odar, 1899 might be too discombobulated to enjoy. It will lose viewers with its lack of satisfying answers, and its disconnected language gamble. But the mystery shifts and buzzes when given time and energy. It snatches at you, gnaws at you, wants to nestle inside your mind as you await the next episode, even if the story is as jumbled as many have experienced. It remains to be seen what this mystery is all about, but I'll continue to be on this journey. Friese and bo Odar have earned my, and many others', patience. —Michael Frank
---
9. Drink Masters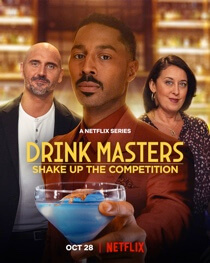 Netflix Release Date: October 28, 2022
Creators: Tim Warren, Matthew Hornburg
Stars: Tone Bell, Julie Reiner, Frankie Solarik
Genre: Reality competition
Rating: TV-MA
A cocktail/mixology competition show that evokes the likes of Masterchef is an idea that seems obvious enough in hindsight that we rather wonder why it hasn't already been done before—perhaps the more sinful association of hard liquor is a harder sell than watching contestants sear a filet for the 10,000th time. That novelty helps make Drink Masters a bit more fresh and unusual than other, similarly structured shows—we just haven't seen many pieces of media like this, where creatives are competing over the best negroni or New York Sour. The drinks are legitimately impressive, though they run toward the fanciful—the fact that contestants are given an hour to prepare a cocktail means that time is inevitably spent on absurdly complex preparations and cookery that the home cocktail enthusiast will likely never try to replicate, meaning that Drink Masters doesn't supply a lot of practical inspiration for home cocktails. At the same time, the judging can be a bit on the obnoxious side, but the visually resplendent cocktails were the real stars here, anyway. —Jim Vorel
---
10. Guillermo del Toro's Cabinet of Curiosities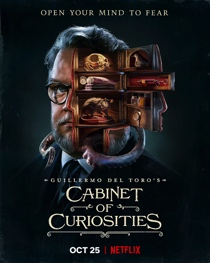 Netflix Release Date: October 25, 2022
Creators: Guillermo del Toro
Stars: Tim Blake Nelson, Sebastian Roché, Rlpidia Carrillo, F. Murray Abraham, Martin Starr, Kate Micucci, Dan Stevens, Crispin Glover, Charlyne Yi
Genre: Horror Anthology
Rating: TV-MA
Guillermo del Toro's name is often wielded as a selling point to genre fans—he has established such a recognizable niche for himself, in fact, that "Guillermo del Toro" is frequently spoken as a genre of its own, that fantastical mixture of wide-eyed wonder, scares and emotion that typify the director's most beloved works, movies like The Devil's Backbone and Pan's Labyrinth. Netflix's new Cabinet of Curiosities horror anthology series is volunteered by the streaming service as "a collection of the Oscar-winning filmmaker's personally curated stories," and del Toro steps into the host role himself, pulling forth trinkets from the titular cabinet to introduce each tale. But can the actual segments stand up to their association with a beloved director? I needn't have worried. Cabinet of Curiosities is a genuinely gorgeous collection of tales, featuring some of the most impressive visuals, production design and general cinematic craftsmanship that has been seen in the streaming world in recent memory. Its tales are often on the somewhat conventional side, but they succeed through sheer filmmaking talent and professionalism, guided by the hands of some of the genre's very best talents. This is the rare case where an anthology series can tell me that the luminary of a host/producer personally approved of the output of all of these filmmakers, and I truly believe it. Watching these episodes, I can imagine del Toro smiling in approval. —Jim Vorel
---
11. The Watcher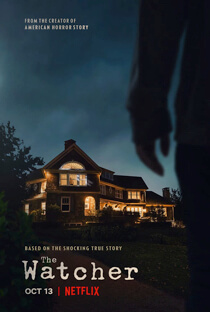 Netflix Release Date: October 13, 2022
Creators: Ryan Murphy, Ian Brennan
Stars: Evan Peters, Niecy Nash, Molly Ringwald, Michael Learned, Richard Jenkins
Genre: Crime Drama
Rating: TV-MA
In this limited series, Bobby Cannavale and Naomi Watts move into their dream home. But, you know, dreams are never what they seem—especially in a Ryan Murphy series. Fresh off her Emmy win, Jennifer Coolidge stars as real estate agent Karen Calhoun. Netflix is going all in on the promotion for the series including a Zillow listing and a video tour of the house, hosted by Coolidge! —Amy Amatangelo
---
12. The Midnight Club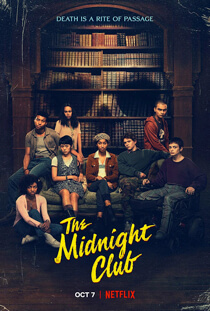 Netflix Release Date: October 7, 2022
Creators: Leah Fong, Mike Flanagan
Stars: Iman Benson, Isby Rigney, Ruth Codd, Heather Langenkamp, Annarah Cymone, Chris Sumpter, Adia, Aya Furukawa
Genre: Horror, Drama
Rating: TV-MA
Horror stories (and no small amount of other genre tales) have long been used as metaphors to discuss difficult real-life subject matter. And much like creator Mike Flanagan's other popular Netflix Hauntings, his latest effort, The Midnight Club, is less interested in horror for its own sake than it is in using the genre as a vehicle to tell larger stories about life, death, and faith. On the surface, The Midnight Club seems like a fun enough diversion for spooky season—it's got some pretty decent jumpscares and dark themes spread across its ten episodes, along with a bunch of campfire-style scary stories, and even a weirdo cult thrown in for good measure. But at the end of the day, this show isn't a murder mystery or a slasher flick. It's not even a ghost story, at least not in the way you might think it would be. Instead, The Midnight Club is a surprisingly thoughtful rumination on what it means to die, although its deeper truths come wrapped in the bright candy coating of a teen drama. The series follows the story of the members of the titular Midnight Club, a variety of teens with different ethnicities and backgrounds who all have two things in common: They each have a terminal illness and they've decided to spend their last days at the very spooky-looking Brightcliffe Manor. At its heart, The Midnight Club proves once again that Flanagan understands one simple truth about horror: The things we're most afraid of are often connected to, and driven by, the things we most long for. In a world where kids can die of cancer before they ever even make it to prom, what do we need monsters for, really? —Lacy Baugher Milas