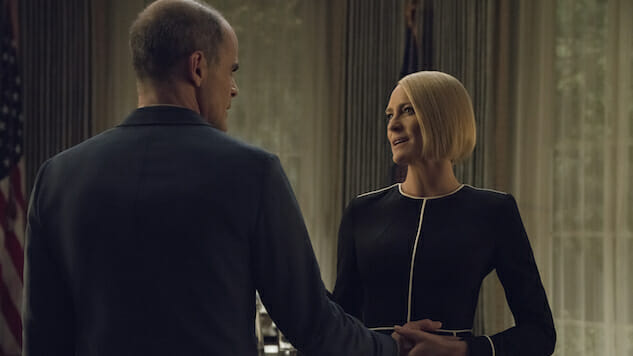 Editor's note: The following contains spoilers from the final season of House of Cards
In "Chapter 71" of Netflix's first original series, House of Cards, President Claire Underwood (Robin Wright) meets her late husband's right hand, Doug Stamper (Michael Kelly), in the Oval Office, and proceeds to explain her new stranglehold on power. The details are immaterial—creator Beau Willimon's American spin on the fourth wall-breaking BBC miniseries has been on the decline since Kate Mara "fell" in front of that train—but the scene's emphases and ellipses are nonetheless telling: Into the leads' usual sniping and jousting, "Chapter 71" shoehorns the assassinations of two of the series' most fascinating figures—Patricia Clarkson's enigmatic, strangely intimate powerbroker, Jane Davis, and Jayne Atkinson's stalwart Secretary of State, Catherine Durant—and the journalist Tom Hammerschmidt (Boris McGiver), an enduring thorn in the Underwoods' side. It's an idiosyncratic choice, killing off what remains of your supporting cast with two episodes left, but of course this is Netflix, the medium's most effective manipulator of the sunk-cost fallacy. The consequence is a two-hour denouement that counts among the most dreadful miscalculations of the year in television, so dully committed to its final confrontation that it loses all sense in the process. I endured the series' conclusion as if I had a letter opener pressed to my jugular, dreaming of ordering a commemorative T-shirt: I SPENT 73 HOURS OF MY LIFE WATCHING HOUSE OF CARDS AND ALL I GOT WAS THIS SHITTY ENDING.
With the streaming giant's first wave of flagship originals nearing its own denouement—following House of Cards, both Tina Fey and Robert Carlock's Unbreakable Kimmy Schmidt, which never managed to evolve past its intriguing premise, and Jenji Kohan's Orange Is the New Black, which has soured in recent seasons, are set to end in 2019—now is an apt time to reconsider Netflix's place in the TV ecosystem, and the truth, perhaps surprisingly, hurts. Though its viewership numbers remain the most frustrating secret in the business, the platform often seems to dominate the cultural conversation (see, most recently, The Haunting of Hill House), and the volume and cost of its original programming is more on par with that of a multi-channel media conglomerate than a single TV network. (In February, Netflix CFO David Wells estimated that 700 original series would be available on the service worldwide this year, along with more than 80 original movies, at a price of more than $8 billion.) The streamer has poached Shonda Rhimes and Kenya Barris from ABC, and Ryan Murphy from FX; it's brought foreign-language series to English-speaking audiences at an unprecedented rate; it has a deep bench of original comedies with subjects ranging from women's wrestling (GLOW) and race on campus (Dear White People) to adolescence itself (American Vandal, Big Mouth), including the tragicomic masterpiece that is BoJack Horseman. Still, there remains a gaping hole in Netflix's resume, one that can no longer be explained away as a consequence of its inexperience with scripted originals: More than five years after the debut of House of Cards, the most powerful entity in television has yet to produce a truly great drama.
And even that feels… generous. Netflix's finest ongoing drama, The Crown, made a great leap forward in its second season—after a debut run that felt as stuffy as Windsor Castle in the shoulder months. All but the most ardent fans of Stranger Things admit that its sophomore season failed to rekindle the first's nostalgic fire; Bloodline, after seeming to solve its intriguing Florida noir, proceeded to beat the dead brother for 20 more episodes; Narcos has outgrown its frustrating reliance on the metaphor of magical realism to explain the rise of the Medellín Cartel, but it's still steeped in the same understanding as Steven Soderbergh's 18-year-old Traffic. Of the other dramas to last more than one season, there are worthwhile experiments (Sense8), controversy magnets (13 Reasons Why), and Jason Bateman in "prestige" drag (Ozark), not to mention a quartet of Marvel properties that increasingly appear to have been either very expensive key art for The Defenders or a pre-Disney+ money grab, and none of which put together more than one season worth writing home about. Whichever way you slice it, though, not one of Netflix's original dramas has managed to combine the longevity, consistency, quality, and cachet that (rightly or wrongly) tends to define "greatness." House of Cards, the series Netflix once positioned as a potential challenger to AMC, FX, HBO, Showtime, and others for critical acclaim and Emmy awards, came to its merciful conclusion after a long slump, a major scandal, and losing out on bragging rights as the first streaming series to win Outstanding Drama to Hulu's The Handmaid's Tale. It's an ignominious metaphor for Netflix's entire dramatic slate, bristling with a certain arrogance: House of Cards hadn't earned a place among the top echelon of TV dramas when Netflix angled to put it there, and in the process the series lost sight of what it did do well.
The reasons for Netflix's drama problem are legion, but most boil down to a single, overarching one: the lack of constraints. Creative roadblocks—restrictions on running times, episode counts, and production budgets, to say nothing of content—are the art form's bread and butter; it was arguably the confines of network primetime, as much as the florid mind of David Lynch, that caused the court and spark of Twin Peaks, the desire to test basic cable's limits that made the stirring trio of Breaking Bad, Mad Men, and Halt and Catch Fire. Netflix has blown up the model, perhaps, but it has also, quite simply, blown up: I've (half-)joked before that there's no season of Orange Is the New Black that wouldn't benefit from being cut to 10 episodes (or eight), and no episode that couldn't be tightened to 42 minutes without losing more than a few niceties. From the outrageous costs that sunk Marco Polo and The Get Down to the not-unpleasant padding of Jessica Jones, Netflix's "house style," such as it is, might be described as "more is more": More minutes, more episodes, more money, more programs, more than you (or I) can conceivably watch and clearly more than it can handle. If a network's identity is made in the aggregate, Netflix's is "speak loudly and make poorly paced dramas."
The point is not that the streamer's dramas are absent potential—each has its detractors, but there's plenty to keep an eye on in The OA, Mindhunter, and Lost in Space—but that the amount of ink spilled over Netflix's dramas is not commensurate with their artistic success. (The Haunting of Hill House, which has attracted the most praise of Netflix's one-season dramas, has yet to be renewed.) In the course of its six-season run, for instance, House of Cards aired against The Good Wife, Justified, The Americans, The Leftovers, Rectify, Hannibal, and Better Call Saul, in addition to the three AMC titles noted above, and if you consider it—or any other of Netflix's multi-season dramas—the equal of the titles on that list, you might consider scheduling an appointment with your ophthalmologist. To be frank, a glance at the platform's original dramas suggests that Netflix itself has no real desire to compete against such ambitious, brilliant series, at least not on aesthetics. Rather, its strategy is to collate your favorite mediocre, plot-heavy dramas with high production values in one convenient place, at the low monthly cost of $9.99. This isn't an ignoble goal; it describes much of broadcast television since the 1990s, not to mention many of the original dramas on Hulu and Amazon Prime. But it is a reminder that Netflix may not always be a genuine "game-changer," despite the narrative that's grown up around it. To judge by its dramas, it's still just a TV network, and not a very good one at that.
---
Matt Brennan is the TV editor of
Paste Magazine
. He tweets about what he's watching @thefilmgoer.