Peter Dinklage and Jamie Dornan Make Unlikely Friends in HBO's My Dinner with Herve Trailer
Photos by Peter Iovino/HBO
TV
News
My Dinner With Hervé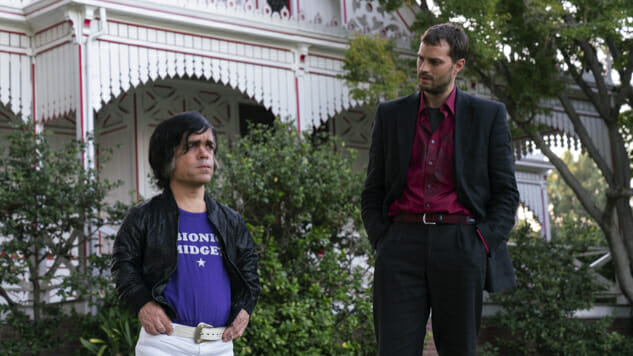 Coming on the heels of a record-tying third Emmy win for Game of Thrones, Peter Dinklage stars alongside Fifty Shades hunk Jamie Dornan in the wild trailer for HBO's television movie My Dinner with Hervé.
My Dinner with Hervé was written and directed by filmmaker and journalist Sacha Gervasi, who interviewed the late French actor Hervé Villechaize just days before his death in September 1994.
Villechaize is best known for coining the catchphrase "Ze plane! Ze plane!" on Fantasy Island and for playing a evil Bond henchman in The Man with the Golden Gun, in addition to his hard-partying lifestyle, but his life took a tragic turn in its last days. The movie is inspired by Villechaize's last ride, days before the star took his own life following a lifetime of health problems.
Based on a true story, My Dinner with Hervé sees an unlikely friendship unfold over one wild night in L.A., following party-animal actor Villechaize (Dinklage), described as "the most famous dwarf in the world," and struggling journalist Danny Tate (Dornan), one month sober and assigned Hervé's first interview in over 10 years.
The trailer promises a movie as wild and tragic as its real-life tale, with Dinklage taking a dark turn and sporting a choice French accent, with an unlikely companion in Dornan. Dinklage is currently in theaters starring in Reed Morano's I Think We're Alone Now, but fans looking for more from him on the small screen before the final season of Game of Thrones can check out his latest soon on HBO.
HBO airs My Dinner with Hervé on Saturday, Oct. 20, at 8 p.m. ET.
Watch the trailer below.