Comedy Bang! Bang!: "Michael Cera Wears a Blue Denim Shirt & Red Pants" (Episode 1.04)
TV
Reviews
Michael Cera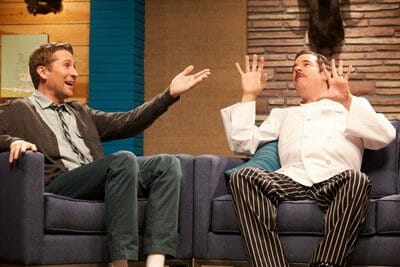 It's kind of a surprise that it took until Comedy Bang! Bang!'s fourth episode for the appearance of Paul F. Tompkins. On the podcast, Tompkins is the quintessential "second guest" who utilizes the show's open-door policy to wreak havoc on whatever interview Aukerman is trying to conduct with one of his characters such as Ice-T, Gary Marshall or as we see in this week's episode, Cake Boss.
Tompkins has been one of the few guest hosts of the show and appeared on 40 episodes on the podcast. To put it in perspective, he has been involved with more Comedy Bang! Bang! podcasts than his own podcast, The Pod F. Tompkast, and has never gone more than three months without making an appearance (the biggest gap being between 12 episodes). Maybe it's this familiarity with the show and Tompkins and Aukerman's chemistry that makes "Michael Cera Wears a Blue Denim Shirt & Red Pants" maybe the show's strongest episode yet.
This fourth episode starts with a take on an old Letterman bit, in which he used to throw watermelons off the studio's roof and tape it. Unfortunately Aukerman didn't tape the throwing, but only records the aftermath as old rotting fruit lays on the sidewalk, with cats eating it and people avoiding the mess he's made. This is followed by the return of the "Prize Patrol" segment introduced last week, where Aukerman visits a fan at home. The first time this segment was used, it didn't completely work, but this week when the fan can't be found at home, Aukerman seaches around town for five hours in a Law & Order parody where everyone thinks he is a cop. It's simple, but the little details here made this second try much stronger than the first.
Michael Cera is this week's guest, and his back and forth with Aukerman has a greater balance than past guests. Cera recounts how he lost his role in the upcoming Angry Birds movie to the kid from, as he calls it, Incredibly Loud & Extremely Close. Aukerman gets some nice bits, such as when he drinks his morning coffee, speeds up so much he dies, goes to hell and comes back, all during the interview with Cera.
Tompkins arrives next as Buddy Valastro, the Cake Boss. Out of Tompkins' characters, Cake Boss is one of the most evolved, as he quickly explains that he was bitten by a cake bug and given the power to see the future. It's an unusual twist on the character but is incredibly hilarious. Cake Boss looks into the future to see how Aukerman dies. It turns out Cake Boss kills Aukerman years from now by bashing his brains out with a baseball bat after Aukerman won't quit talking about how he prefers pies to cakes.
After a second product placement by Aukerman for Sullivan's Powder, Reggie Watts decides to have a talk with Aukerman, which becomes a parody of product placement and Volkswagen commercials. This episode continues its homage to Letterman humor with kid scientist Arlo Nadon, who starts off showing a simple science experiment but angers Aukerman after it turns out Nadon is just a normal scientist who has used a pill that reverses aging. This bit is followed by a CBB game, "Which Came First?" and then a highlight reel, in which Aukerman, Cake Boss and Watts have killed Michael Cera, which leaves Aukerman leaving the set in an homage to the finale of Cheers.
This fourth episode does what Comedy Bang! Bang! does best, utilizing the way that CBB has transformed into a TV show, parodying the segments and ideas of talk shows and combining guests who are game for anything with fun characters. The Aukerman-Cera-Tompkins dynamic is more fun than any guest and character combo so far, and everything in this episode just sort of clicks, with the most laughs and fun I've had with this show so far.