Is MasterClass the Real Deal? Paste Asked an Aspiring TV Writer to Test It Out
Image courtesy of MasterClass
TV
Features
masterclass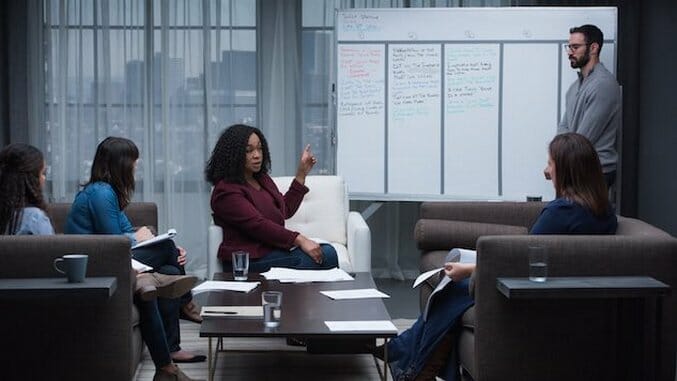 If you haven't heard of MasterClass by now, you must not be on Facebook much—or your browsing habits are very different than mine—so you aren't accosted with ads from MasterClass daily. As someone who spends far too much time analyzing every Golden Globe winning show I can access, Shonda Rhimes' MasterClass was made for me, and Facebook most likely knew this because I belong to screenwriting groups on the social media network. The class comes at a cost of $90, which, if you're a struggling writer trying to make ends meet, is a significant amount of money. But when you compare it to what you would pay for even the most basic in-person screenwriting courses (usually a minimum of $400), which do not provide a teacher with the experience of Rhimes, it's a steal.
The promotion of the class happened for months. I was losing patience waiting for it to be available. But once it was, I realized it was worth the wait—and all the hype. Rhimes, the mega-producer behind Grey's Anatomy, Scandal and How to Get Away with Murder, does not disappoint. If you want to learn TV writing and showrunning from a master, she is, indeed, the master.
Coming into the class relatively new to TV writing, but not at all new to writing, I found her advice and insights—like the importance of not talking too much, but also not falling into the trap of being too quiet once you get into the room for the first time—to be profoundly useful. I've read the books and taken classes and attended screenwriting conferences and joined writing groups, but this class is a way to get all of that in one streamlined and easy-to-digest (yet thorough) online platform.
The class itself includes more than six hours of Rhimes talking about the process, discussing her work, dissecting her own shows, and offering advice. While you could binge it all in one day, the program recommends that you digest it over six weeks, so you have time to complete the reading material and all the homework assignments, such as coming up with 10 ideas for potential TV series, so you can find the one you were meant to write. Ideally, you'll come out of the course with an original series bible—the document used to ensure that a series remains consistent over the course of its run, and in the hands of multiple writers—and pilot script.
It comes with invaluable resources, including both the first draft and final draft of the Grey's Anatomy pilot, along with the series story bible and original pitching document—the one-sheet created so the writer and producers can quickly and easily pitch the show in a meeting. Rhimes also includes the final draft of the script for Scandal's pilot episode and the Season Three premiere, along with the script for the alternative opening scenes she wrote for the pilot. A story bible and pitching document for a successful show were something I'd been hoping to get my hands on, and it has been incredibly helpful to see an example showing exactly how everything should be formatted and what should be included.
One of the most interesting parts of the class is when Rhimes does a case study with four emerging writers on the pilot episodes of both Grey's Anatomy and Scandal. Watching her dissect her own episodes, and answer the students' questions on why she made certain decisions—and how the pilot was laid out to grab the viewers and introduce them to these characters and this world—was absolutely fascinating, and a must for any screenwriter interested in what makes for a compelling pilot that sells. The discussion about why she didn't end up using the alternative opening scenes she wrote for Scandal, and why she went with the opening she did, is a master class in itself: As Rhimes explains, she scrapped a scene in which protagonist Olivia Pope struggles to run through the airport, with colleague Harrison Wright picking her up to help her, because she decided it was too young and sweet. Instead, we see Harrison and Quinn Perkins discussing the mythic Olivia, so we don't know if she's a good guy or bad guy — "making someone seem larger than life by having everyone talk about them."
Rhimes also offers suggestions I haven't heard from other writers I've studied, including the fact that many writers have encyclopedic knowledge of television now—the golden age of TV—but are not familiar with the history of the small screen. I realized I am one of those writers who needs to work on this. For the past 10 years, I've watched every great show that I can get my hands on, but I haven't really been exposed to what was on the air in the '60s, '70s or '80s. If you really want to be great at something, you have to understand its history and its progression, not just what it is now.
As someone who wants to write about my own experiences, I rarely think about the research aspect of TV writing. But Rhimes discusses how her original pilot idea about successful, driven, hard-drinking female war correspondents having fun despite covering conflict didn't sell because the subject was not appealing to networks at a time when the country was heading into another war. Instead of being defeated, she adapted her story to the medical world and gave networks the medical drama they were looking for. Your original idea might not work for a variety of reasons, but if you can adapt the story you want to tell into another setting, it has a better chance of selling. Rhimes wasn't familiar with the medical world, making research incredibly important in order to rewrite her characters into it. It also makes you realize how important it is to not be precious with your ideas. If you are determined to sell something, you need to be open to what is in demand with networks at the time.
So, after going through the class, do I now have a finished pilot? Not quite yet, but I am well on my way, and I will be returning to this class over and over again whenever I find myself stuck. Through it I have access to almost everything I need to know to get my script to where it needs to be in order to gain attention from agents and producers, and I now have a much stronger idea of what it actually means to run your own show.
"Shonda Rhimes Teaches Writing for Television" is available now from MasterClass.
---
Lisa Lagace is a Toronto-based entertainment writer and future TV writer whose words have appeared in
Marie Claire, New York Post, Time Out New York
, NY Observer, USA Today and more. Find her on Twitter at @lisalagace.