Netflix's Marvel Shows The Punisher and Jessica Jones Are Dead, Long Live Marvel
Images via Netflix, David Giesbrecht/Netflix
TV
News
Marvel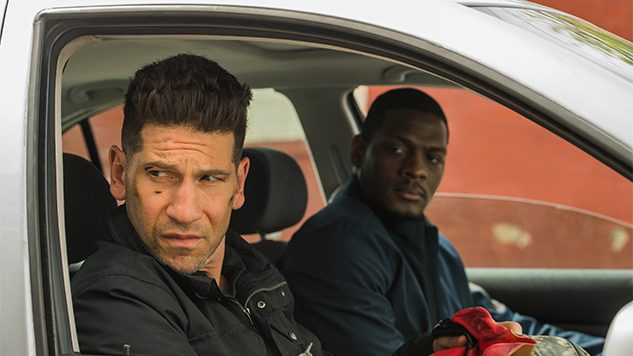 Netflix is saying farewell to both The Punisher and Jessica Jones, along with the already-dead Marvel shows Iron Fist, Luke Cage and Daredevil, as per Deadline. Frank Castle's story will be ending with its second season, which premiered in January 2019, while Jessica Jones' third and final season airs this year. Daredevil, Iron Fist and Luke Cage were all snuffed out in autumn 2018.
As Deadline reports, the end of the Netflix-Marvel partnership was inevitable considering the impending launch of Disney+, and the fact that much of Marvel's past and future content will be featured on the site. However, this isn't necessarily a bad omen for Netflix. While the series had their moments of brilliance, they were, for the most part, "overlong, over-plotted, overworked, like bread that's been kneaded with a jackhammer," as Paste's Matt Brennan once put it.
Marvel likely won't be giving up on these characters, though. Are you kidding? They can make a whole lot more money off this stuff, even if Frank Castle merch might be a bit dark for kids. It's already been hinted that Matt Murdock from Daredevil will appear in future Marvel projects. In fact, Jeph Loeb's Marvel Television team made a deal with Hulu (soon to be majority-held by Disney, we are truly in the second Gilded Age) for four unspecified series and one special.
Still, Loeb and the rest of the Marvel TV division released a statement to mark The Defenders series' final death knell, reading:
On behalf of everyone at Marvel Television, we couldn't be more proud or more grateful to our audience.
Our Network partner may have decided they no longer want to continue telling the tales of these great characters … but you know Marvel better than that.
As Matthew Murdock's Dad once said, "The measure of a man is not how he gets knocked to the mat, it's how he gets back up."
To be continued … !
Marvel will never die. You heard it here last, folks.