Watch Marvel's First Teaser for Disney+ Shows The Falcon and the Winter Soldier, WandaVision and Loki
Images via Marvel Studios
TV
News
Marvel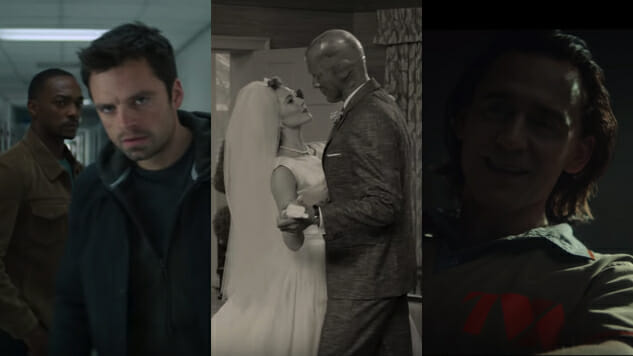 The entertainment overlords at Disney debuted the first footage from their Marvel Cinematic Universe-expanding streaming TV slate during Sunday night's Super Bowl LIV, sharing a 30-second teaser for Disney+ shows The Falcon and the Winter Soldier, WandaVision and Loki.
Marvel Studios' first wave of MCU-connected TV series looks to offer a Neapolitan ice cream-esque variety of flavors: There's the straightforward appeal of The Falcon and the Winter Soldier, in which Anthony Mackie's Falcon takes up the Captain America mantle vacated by Steve Rogers (Chris Evans) at the end of Avengers: Endgame and teams with Bucky Barnes (Sebastian Stan), aka the Winter Soldier; the sweet, sitcom-style silliness of the Scarlet Witch (Elizabeth Olsen) and the Vision (Paul Bettany) living together in domestic bliss in WandaVision; and the dark (literally) edginess of Tom Hiddleston's unpredictable antihero Loki.
We only see brief flashes from each show, but the gang's all here: Mackie, Stan, Olsen, Bettany and Hiddleston all reprise their MCU roles in their respective series, with Daniel Bruhl and Emily VanCamp also set to return as Baron Zemo and Sharon Carter, respectively, in The Falcon and the Winter Soldier, which has the look of Marvel's flagship Disney+ property. We see the least of Loki, by far, making it the definite wild card among this bunch. But it's WandaVision that ultimately stands out the most—it appears to possess a playfulness not quite like anything seen in the MCU to date, signaling that perhaps Marvel will be willing to hold the reins a bit more loosely when it comes to their Disney+ titles so as to allow more innovation to flourish.
Marvel shows still in development include a series centered on Jeremy Renner's Hawkeye, as well as shows starring She-Hulk, Ms. Marvel and Moon Knight.
Watch Marvel's Super Bowl teaser below. The Falcon and the Winter Soldier and WandaVision are expected to stream later on in 2020, with Loki to follow in 2021.