Scrolling Marquee: The Best Dance, Opera and Theater Performances to Stream
Photo: ©ROH, 2015 / Photographed by Tristram Kenton / Courtesy of Marquee.TV
TV
Lists
Marquee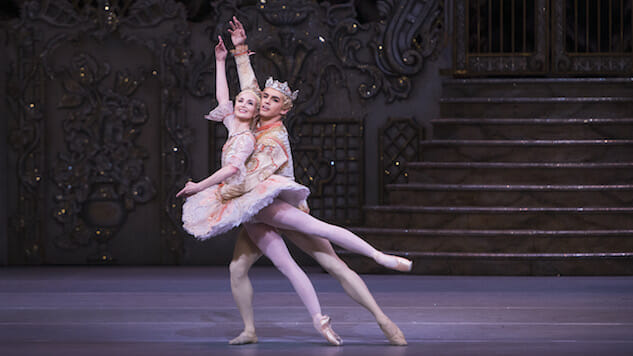 Previously in this space, I have covered niche streaming video platforms for the public media crowd (now celebrating the holidays!), for the comedy-loving horror/sci-fi/animation crowd (now featuring nostalgia machines NickSplat and Boomerang—A Jetson Christmas Carol, anyone?), and for The Youths™ (now, sadly, DOA). As the longest nights of the year creep in and the urge to snuggle up inside starts beating out the desire to hit the town for your weekend dose of culture, I come bearing gifts—namely, a guide to Marquee.TV, a new(ish) streaming video platform for snugglers who want to stream all the culture their missing from the comfort of their own living rooms.
Officially launched in 2018, the UK-based Marquee is not the first streaming platform for the performing arts to hit the Internet. But since one member of the team behind it, Marc Kirshner, also founded TenduTV, a digital performing arts content provider already making waves back in 2011, it could be considered the direct descendant of one.
While Marquee officially sets out to offer "an extensive, growing catalogue of contemporary and classic masterpieces, showing the very best in dance, opera, music, theatre and documentaries" for audiences who would, due to distance or cost, be unable to access them otherwise, it is in the categories of dance and opera that the streamer really shines. "They're two categories where audiences are really underserved," co-founder Kathleya Afanador tells Paste. "There are amazing works being created that audiences really don't have access to otherwise."
As for choosing which performances to license, Marquee considers several factors. Yes, the driving one can end up being as mundane as who the brand/partner organization is, but generally there's more creative intention involved. "Sometimes it's about a particular artist whose work we see being performed across various companies—we want to use those opportunities to connect live and digital audiences," Afanador explains. "And sometimes there's just something very unique and compelling about a production that we think deserves to be more widely seen. We also want to represent the creative community's diversity so that we're not just another platform exclusively disseminating the work of the same group of long dead white guys. Of course there are practical details […] but ultimately we ask ourselves two questions—can we get excited talking about this production? And do we think there's an audience for it?"
How much of an audience there is for streaming live performances, time will tell. But as to whether or not the performances Marquee has curated are easy to get excited over? Oh dang! I know I mostly write about television around these parts, with the occasional foray into the books section, but I am the product of a thrice-blessed childhood in a tiny Mountain West city that is astoundingly rich for arts culture—a culture that I miss in my adult life every day. Filmed (and cinematically edited) performances aren't at all the same thing, but the sheer variety and novelty of what Marquee made available to me absolutely tapped into a familiar feeling of wow, there's just so much odd and beautiful creativity in the world that I haven't felt in years. The lovely surreality of Dirk Gently's Holistic Detective Agency, I'm realizing now, gave me a frisson of that feeling, but even Dirk Gently's psychedelia pales in comparison to literally any spare minute of a Jirí Kylián production. And now I know that I can access that feeling anytime, on Marquee, for as much as it costs to feel exhausted by the bottomless pit of Netflix's ambition!
Being so young, there is still plenty of room for Marquee to grow. Most obvious to anyone who has opened Netflix even once, its library is still tiny, especially on the theater and documentary fronts. More important at the moment is something entirely functional: Unless you are watching from your desktop computer, turning on subtitles is currently not an intuitive operation (as in, as of press time, I still haven't found a way to access them on my Apple TV app), and even on desktop, only a fraction of the theater and opera performances seem to reliably have the option at all. While most of the performances available to stream are, by definition, wordless, that doesn't preclude the need for accessibility, and the fact that subtitles are so challenging to find on the app doesn't make the platform welcoming for Deaf and hard-of-hearing audiences who might otherwise burst at the chance to get to enjoy the kinds of performances that aren't all that accessible to them live to start with.
Also important to note for potential subscribers is the paucity of program notes available for each performance. One of the best and most necessary parts of attending performances of this sort live is getting the fat printed program full of detailed notes about the performance, written by experts: The history and cultural context of the music; the bios of the composers, directors, and principal artists; the history of the specific company or orchestra; plot synopses for operas, etc. Marquee does include a description for each offering, but only a few go beyond a TV Guide level of detail. One would imagine that the audience members who attended the original performances each of these productions originate from got such program notes—it would be a dream if Marquee could find a way to collect those original programs and make them a part of each performance's digital package.
That said, Marquee is a platform with major promise, and while it is a few years behind the thematically-adjacent American platforms Kanopy and Cennarium—the former offers a staggeringly robust library of documentaries and is free through your local public library; the latter offers an equally staggering collection dance, opera, theater, circus, and magic, and costs only a dollar more per month than Marquee's $8.99—Marquee is filling a niche with its dance, opera, and Royal Shakespeare Theater offerings that mainstream streamers like Netflix and Hulu haven't yet made any satisfying moves to tackle. Obviously Marquee is offering a service tailored to a limited audience, but if that audience includes you… this is not an #ad, but Marquee is a really cool deal. And sure, in the scheme of SVOD subscriptions, a full $8.99 per month for a library that is still small enough that one can reach its end may seem steep, but when you recall how pricey attending a live performance is—let alone how much it costs to make it a habit—that $8.99 seems almost scandalously low. (However, whether you do or do not get on board with Marquee, if you do still fit into your local arts companies' Youth pricing programs, SIGN UP. Take advantage of that shit while you're still young and lucky!)
Update: Marquee is now offering 30 days of free streaming to help support the performing arts while a lot of live performances aren't occurring because of coronavirus-related closures. As such, here are some currently available performances (courtesy of Marquee TV PR), until we are able to update our own list:
Betroffenheit – Kidd Pivot/Electric Company Theatre: Exclusive to Marquee TV, Betroffenheit is a riveting dance-theatre hybrid telling the tender-hearted story of loss, isolation and survival in the aftermath of a life-altering tragedy. It was named the "best dance show of the 21st century" by The Guardian and won the 2017 Olivier Award for Best New Dance Production.
Alice's Adventures in Wonderland – Christopher Wheeldon for Royal Ballet: The perfect combination of world-class dance and enchanting family entertainment.
Oscar Wilde Season – Classic Spring Theatre Company: Enjoy four performances of Oscar Wilde classics including A Woman of No Importance, The Importance of Being Earnest, An Ideal Husband, and Lady Windermere's Fan.
Midsummer Night's Dream – Alexander Ekman for Royal Swedish Ballet: In addition to it being a powerful contemporary dance piece, Swedish star pop singer Anna von Hausswolff sings through this great production, which is truly one of a kind.
The Feeling of Going – Malmo Opera/Skånes dansteater: The large-scale dance-theatre production by choreographer Ben Wright and Skånes Dansteater, set to the mesmerizing album GO, by Sigur Rós frontman Jónsi takes you on a journey into an extraordinary dream world where anything can happen.
Now back to our previous recommendations (which will be updated with new selections soon):
It would be an exercise in futility to try and list every performance Marquee has available right now that I'm excited to settle in for. Instead (and in the spirit of the season), I have collected a nice round 12—one for each verse of a uniquely Marquee-inflected version of the old English Christmas carol.
1. The Nutcracker (ballet)
Performed by: The Royal Ballet Company (choreographed originally by Peter Wright, orchestra conducted by Boris Gruzin)
Runtime: 110 minutes

Look, I know that it seems like everyone and the entirety of their extended family goes to The Nutcracker every Christmas, but actually, I think that most families aren't so motivated and/or lucky—especially if you don't have kids in your orbit to inspire/wheedle their way into such an outing. This year, try streaming The Nutcracker straight into your family's eyeballs instead. Bonus: Marquee's production is from London's Royal Ballet, featuring Peter Wright's iconic choreography. Double-bonus: The only kids getting overtired at the 110 minutes of the production's runtime will belong to you, and when they do, you can pause liberally and ply them with naps and Christmas cookies as needed.
2. Christmas Oratorio (ballet/concert)
Performed by: The Hamburg Ballet (choreographed by John Neumeier) and the Philharmoniker Hamburg (conducted by Alessandro de Marchi)
Runtime: 164 minutes

If you get your family to one long live holiday ballet any given year, it is going to be The Nutcracker, which is why it's so lucky that the Hamburg Ballet's interpretation of Bach's "Christmas Oratorio" is available to you and your family, no matter how far from Hamburg you are (you are probably very far from Hamburg). Fair warning: Christmas Oratorio is not as frothy and winsome as The Nutcracker, but, like, neither is the bulk of the story of Jesus Christ's birth. A bit of "everyone is wearing black because they are either freezing to death from poverty and baby sadness before Christmas, or they're evil kings" feels like the perfect balance to an otherwise saccharine arts season.
3. Jirí Kylián's BIRTH-DAY (dance/film) and Jirí Kylián: Forgotten Memories (documentary)
Performed by: Nederlands Dans Theater
Runtime: 37 minutes

WTF?! Just press play on this one, don't seek out anything else about it. It's only 37 minutes long. Give yourself (and Jesus) the weirdest birthday gift ever.
(OK, but also: Jirí Kylián, my new favorite choreographer by a mile, makes use of film as part of the staging, so the dancers being on film feels not as obtrusive as it does elsewhere, at the same time as it highlights the difference between performance and artifice. Also, this piece is performed by the NDT III, an ensemble within the NDT troupe at large in which all the dancers are 40 or older, which is, duh, very cool.)
4. Rare Birds (documentary) and Alexander Ekman's Swan Lake (ballet)
Directed by: T.M. Rives (featuring Alexander Ekman and the Norwegian National Ballet)
Runtime: 60 minutes

Marquee offers no fewer than eight different ways to stream Swan Lake—including a French hip-hop version—but this double feature is the real gem. The final product (which provides the header image for this column) is brazen and odd and great, but getting to see the whole road Ekman et al. took to get there is the coup de grâce. Plus, crafty reality shows are the bread and butter of holiday family TV time already—may as well make your family's version CLASSY.
5. Sacred Monsters (dance)
Performed by: Akram Khan and Sylvie Guillem with dance company Sadler's Wells, directed by Deborah May
Runtime: 63 minutes

As much as I relish the opportunity to get to see so many great performances that I would otherwise never have access to, the overuse of zooms and pans and jump cuts employed by most directors adapting performances for television sets my teeth on edge. The production of Sacred Monsters does hardly any of this, instead letting the camera linger on the intimidatingly masterful forms of Khan and Guillem as they weave their two styles of dance together on a minimally designed stage. I don't have any jokes here: These two are just excellent.
6. Boxe Boxe Brazil (dance)
Performed by: Compagnie Käfig (choreographed by Mourad Merzouki, directed by Mohamed Athamna) and Quatuor Debussy
Runtime: 63 minutes

I don't know about you, but when I think boxing, my mind immediately jumps to Debussy string quartet. Also: Boxing glove puppet show. Sure! Why not?! Honestly, the marriage between these two pieces is so compelling, and the artistry inherent to the Sweet Science made so clear—and the overhead shot for first collective 1-2 combinations within the dance ring such an effective use of camerawork—that I immediately brought the trailer in to my own boxing coach as an example of the one form of professional boxing I might ever get behind. Spoiler: He was into it.
7. FLA.CO.MEN (dance/music)
Performed by: Compañia Israêl Galván (Israël Galván, David Lagos, Tomás de Perrate, Eloísa Cantón, Caracafé) and Proyecto Lorca (Juan Jiménez Alba and Antonio Moreno)
Runtime: 67 minutes

As is true with Sacred Monsters, the fact that FLA.CO.MEN features one single dancer makes it harder (but not impossible) for the video production to obscure important artistic aspects of the performance. And that's great, as Glaván's performance is so odd and dynamic, even when it's just him sitting alone in a dark corner of the stage watching TV and eating snacks. It's a reminder of the rich surprises attending artistic performances at a whim can be, and while, alas, I can't capitalize on that reminder and dredge up a recording of the breathtaking harmonica senior recital I wandered into one night in college, I can at least recommend you turn on FLA.CO.MEN.
8. Transition (theater)
Performed by: Reggie Watts, Jess Klein, Beth Hoyt, Noel Allain (directed by Tommy Smith)
Runtime: 69 minutes

Transition is nowhere on Reggie Watts' IMDb, so consider this your last big insider's tip from Paste for 2018: If you want to call yourself a true Reggie Watts fan, get on this wildly odd, funny and moving (and ODD) performance. As they say—only the real ones know.
9. Ballet Boys (documentary)
Directed by: Kenneth Elvebakk (feat. the Norwegian National Ballet)
Runtime: 72 minutes

Ballet Boys is also available on Kanopy, but look: You're already here! And these teen boys are just so endearing and hard-working and ready to make good art in the world! Plus, it is pretty widely marketed as Billy Elliot meets First Position, and, like, I know what kind of catnip that is to the right people.
10. Maurice Béjart's The Ninth Symphony (symphony/dance)
Performed by: The Béjart Ballet and the Tokyo Ballet (choreographed by Maurice Béjart), the Israel Philharmonic Orchestra (conducted by Zubin Metha), the Ritsuyukai Choir (chorus master Fukiami Kuriyama) and Gil Roman (narrator/artistic director)
Runtime: 88 minutes

Beethoven, in dance, with a prologue from… Friedrich Nietzsche? Performed in Tokyo, in French, backed by an Israeli orchestra? Opening with percussion solos? By two percussionists who look almost like twins? SURE. I mean, this is literally something people fly across oceans to see. I am so glad I can save the jet fuel and TSA headaches and just marvel at it from my couch.
11. The Bolt (ballet)
Performed by: Soloists and Corps de Ballet of the State Academic Bolshoi Theatre of Moscow(choreographed by Alexei Ratmansky, with libretto by Viktor Smirnov) and the Orchestra of the State Academic Bolshoi Theatre of Moscow (conducted by Pavel Sorokin)
Runtime: 105 minutes

In college, I took an entire survey course on Shostakovich, then designed an independent study the following semester focused uniquely on Russian ballet, and still never got a chance to even imagine The Bolt on stage until I took the day off to drive into D.C. just to see a screening of this very production in this weird basement theater at one of the Smithsonians. It has GIGANTIC Constructivist robots looming multiple stories tall over the dancers. It opens with a scene of the factory workers all exercising together before work. There is a mad scientist. It's incredible, and you can watch it without having to set one bumper into DMV traffic, you lucky dog.
12. The Fairy Queen (opera/theater)
Performed by: Glyndebourne (dir. Jonathan Kent)
Runtime: 211 minutes

I struggled to find an opera that I could recommend (they're so hard for me without program notes!), but ten minutes of this lasciviously lush, unpredictably anachronistic Baroque opera/drama and I was hooked. I saw one description somewhere that called it "saucy." And, like, yes—exactly that. Keep your wife (husband, partner, best platonic friend, etc.), but hide your kids for this one, I think. Merry Christmas, one and all!
Editor's note:: Paste readers who use the discount code paste when signing up for Marquee anytime between now and December 31 will get 20% off their first year's annual subscription.
---
Alexis Gunderson is a TV critic whose writing has appeared on
Forever Young Adult
,
Screener
, and
Birth.Movies.Death
. She'll go ten rounds fighting for teens and intelligently executed genre fare to be taken seriously by pop culture. She can be found @AlexisKG.