Paste Power Rankings: The 5 Best TV Shows on Right Now
Illustration by Christine Fernando
TV
Lists
Power Ranking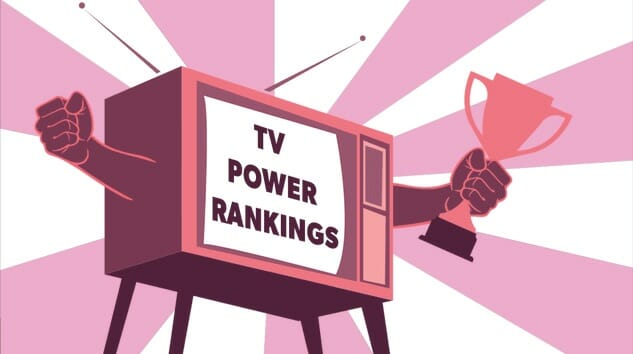 The rules for the Power Rankings are simple: Any current series on TV qualifies, whether it's a comedy, drama, news program, animated series, variety show or sports event. It can be on a network, basic cable, premium channel, Netflix, Amazon, Hulu, YouTube or whatever you can stream on your smart TV, as long as a new episode was made available within the past week (ending Sunday) —or, in the case of shows released all at once, it has to have been released within the previous four weeks.
The voting panel is composed of Paste Editors and TV writers with a broad range of tastes. TV is good right now and there's a lot of it, so we're here to help you find only the best. Below is what we're enjoying right now. Happy viewing!

For the week of February 27th:
Honorable Mention: My Hero Academia (Hulu/Crunchyroll), The Reluctant Traveler with Eugene Levy (Apple TV+), The Watchful Eye (Freeform/Hulu)
5. Shrinking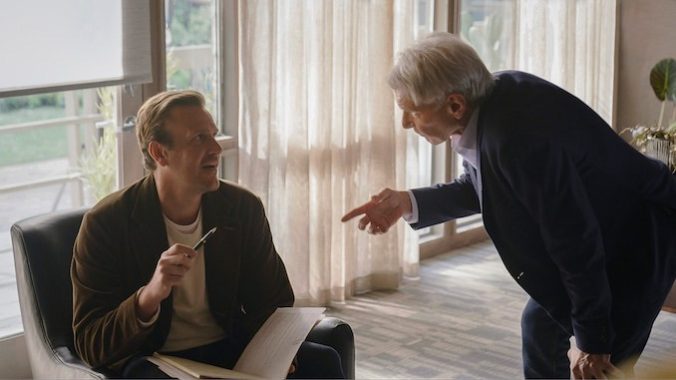 Network: Apple TV+
Last Week's Ranking: 3
This Week: The series remains a comforting staff favorite.
For avid fans of the sitcoms Scrubs, Cougar Town, and most recently, Ted Lasso, Bill Lawrence's name will be familiar. And his latest series, the 10-part Apple TV+ comedy Shrinking (co-created with Ted Lasso fan-favorite Brett Goldstein and comedy veteran Jason Segel), has every chance of blossoming into another crowd-pleasing success: it's unapologetically witty, charmingly heartfelt, and features a set of quirky characters that are irresistibly likable. The plot follows Jimmy (Jason Segel), a therapist and a single father who's been grieving his late wife for over a year. His apathetic mood has leaked into his professional life, turning him into a passive counselor without much progression to show for when it comes to his patients. Then one day, Jimmy snaps and loses his cool in an unprofessional outburst, but… it works. From that moment, he tells each one of his patients what he thinks their problems are and what they should do to get out of their own way, to varied success.
What Shrinking does right from the start is be upfront about every character's emotional baggage. Jimmy grieves, Gaby (Jessica Williams) has marital issues, and Paul (Harrison Ford) struggles to open up about his Parkinson's diagnosis. They might be shrinks, but they're also human beings dealing with the same personal problems as any of us (which they often ignore just like their patients do). Shrinking revels in the type of humor that's uncomfortably honest and filled to the brim with sarcasm. But it never goes too far to feel insensitive or insulting. That's a fine line, incredibly hard to walk, but the show does it with inherent confidence—even if the downside of that approach is that some jokes become cringey in various situations. But if you grow fond of these characters as fast as I did, you can easily pardon their occasionally embarrassing behavior. And undoubtedly, the cast does a tremendous job of making us fall in love with these flawed goofballs. The well-balanced dose of sarcastic and contagious humor (rooted in pain and heartache) is the kind of prescribed laughter we need to heal our souls after a long and hard day. —Akos Peterbencze [Full Review]
---
4. Party Down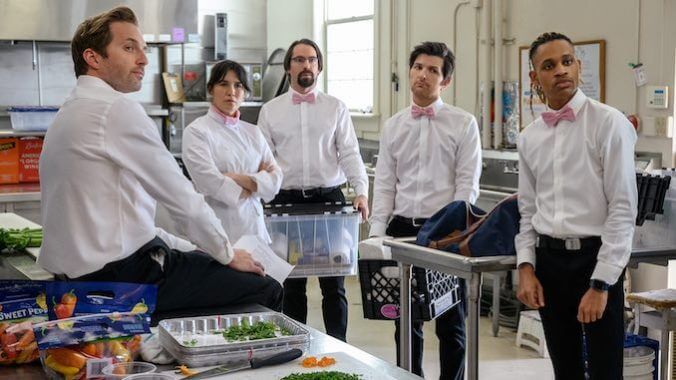 Network: Starz
Last Week's Ranking: Not Eligible
This Week: The show nailed its long-awaited return, in part by being the rare series to handle the pandemic right!
Set several years after the events of the second season finale, and catching up with most of the main cast, the new Party Down proves that not much has changed about the "haves and have nots" of the entertainment industry or the people who serve it besides the power of the internet (one of the new Party Down employees, played by Brockmire actor Tyrel Jackson Williams, is a rising TikToker with dreams of making "content."). Party Down was always about the fickleness of fame and the returning of star Adam Scott and most of the original cast to play people who (still) haven't made it and are (still) working as cater-waiters is (still) a set-up for some dark humor. But the majority of people who have jobs like the ones depicted in this show aren't doing it in the name of "waiting while waiting tables." They're doing it because a minimum-wage job is what they can get and what keeps their family fed. So make sure to tip them well. —Whitney Friedlander [Full Review]
---
3. Abbott Elementary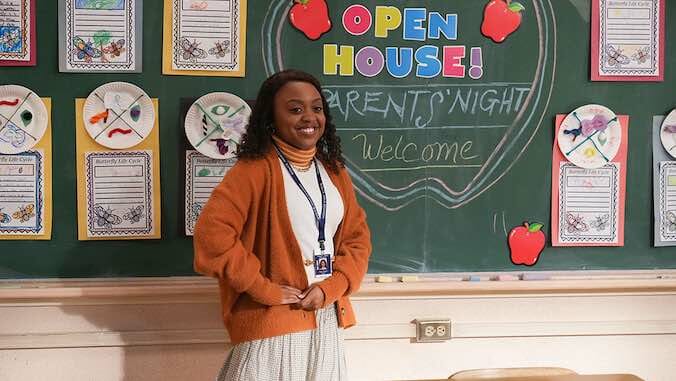 Network: ABC (streaming on Hulu)
Last Week's Ranking: Honorable Mention
This Week: The. Friggin. KISS!!
Sometimes there's that magical moment when you realize you are watching something truly exceptional. From the moment I watched the pilot of ABC's Abbott Elementary, I knew the show was much more than typical network sitcom drudgery (lame punchline, tinny laugh track, repeat). There was a grounded sweetness to the show. It was neither saccharine nor sardonic. We were introduced to the teachers of Philadelphia public school: the earnest Janine (series creator Quinta Brunson), veteran teachers Melissa (Lisa Ann Water) and Barbara (Sheryl Lee Ralph), as well as reluctant substitute Gregory (Tyler James Williams), the socially inept Jacob (Chris Perfetti), and the self-centered and clueless principal Ava (Janelle James). As a group, they immediately clicked; their combined comedic beats were perfect. The pilot was hilarious but also moving, all while shedding light on the underfunded public school system without being patronizing or exploitative, and the rest of the first season continued in kind.
And ever since, the show has remained everything you would want and expect it to be. Warm, hilarious, relatable… and damn if it doesn't sometimes make me cry. —Amy Amatangelo
---
2. The Last of Us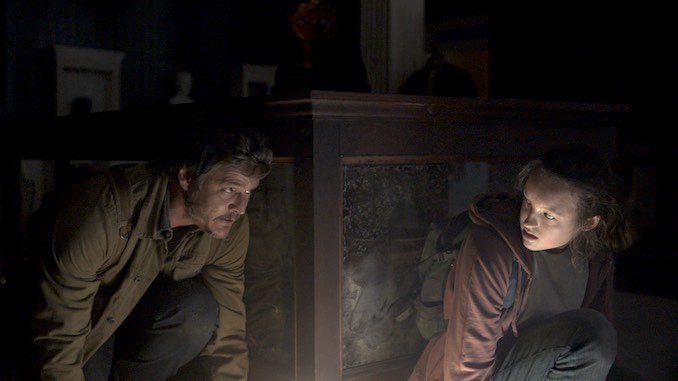 Network: HBO (streaming on HBO Max)
Last Week's Ranking: 1
This Week: A flashback episode gave us even more insight into Ellie and Joel's cycle of loyalty and loss.
You wouldn't think puns would work as connective tissue between characters in any television series, let alone a brutal post-apocalyptic drama, but it does just that whenever 14-year-old Ellie (Bella Ramsey) throws them at 50-something Joel (Pedro Pascal) throughout the first season of The Last of Us. In a world as dark and dangerous as the one viewers see onscreen, measured humor goes a long way.
Humor is one of the many tools that series creators/writers Craig Mazin (Chernobyl) and Neil Druckmann (designer of the videogame the series is based on) use to build layered characters to tell a heartbreaking, yet inspiring story filled with loss, hope, determination, and redemption. And it all revolves around Ellie and Joel.
Pascal positively shines as Joel, perfectly balancing the physical aspects of the role with an emotional heft that's hard to pull off in a character who is a man of action and few words. But the breakout star of The Last of Us is Ramsey. The actor, who was a scene stealer as Lady Mormont in Game of Thrones, is a wisecracking badass and certain to be a fan favorite. Together, the duo make a team that's easy to root for and more importantly, care about. Complex characters combined with stellar acting, a wonderfully paced story, and an emotionally engaging plot make The Last of Us a brilliant series that is now the template all other videogame-to-TV adaptations should follow. —Terry Terrones [Full Review]
---
1. Poker Face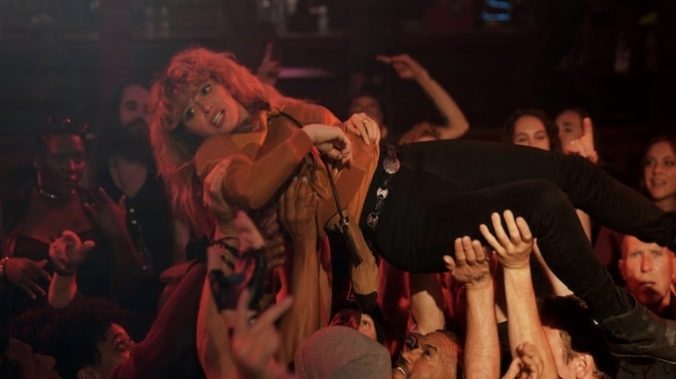 Network: Peacock
Last Week's Ranking: 2
This Week: Natasha Lyonne hit it out of the park directing her Phil Tippet-inspired episode; a perfect homage to a titan.
The deck is heavily stacked in the audience's favour with Rian Johnson and Natasha Lyonne's Poker Face, a case-of-the-week "howcatchem" that feels less like an ode to Columbo and more like a gleeful, excited squeal of adoration. Johnson writes and directs the pilot, giving us a welcome return to the darker, restrained type of genre filmmaking he showed in Brick and Looper, which provides an impeccable introduction to the world of Charlie (Lyonne), a nobody who can sniff out when anyone is ever lying. Our perceptive idol still has to slum it across America's backroads, seemingly drawn to impractical, impossible murders being staged in regional theaters, crummy punk bars, and a militant old folks home. There's a great deal of texture to the world that a team of capable writers and directors explore, and despite some repetitive structure issues, Poker Face makes us wonder why procedurals like these aren't on TV year-round. —Rory Doherty [Full Review]
---
For all the latest TV news, reviews, lists and features, follow @Paste_TV.