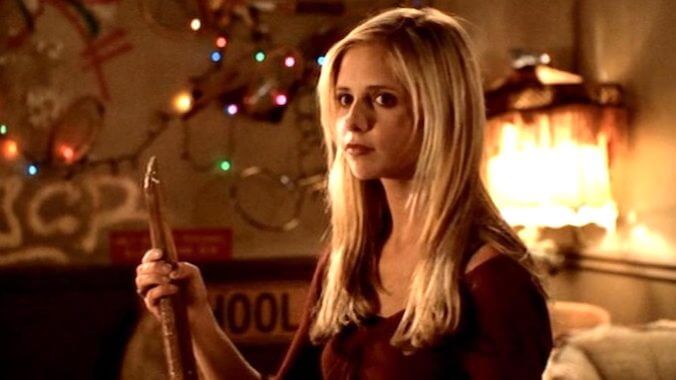 When we first started putting together our dedicated teen TV lists a couple of years ago, we were pleasantly shocked to discover that it was Hulu, of all the many, audience-hungry streamers out there, that boasted the most robust teen-centric catalog. Hulu! Initial shock aside, it only took two seconds of critical thinking to understand why that might be. First and foremost: Freeform (neé ABC Family). As a branch of the same behemoth Disney/ABC tree Hulu joined in 2019, Freeform gives the streamer access not just to its current slate of young adult-oriented programming, but also to a veritable time capsule of post-Y2K, pre-streaming American Teen Content. Add to that lot all the 20th Century Fox titles Disney scooped up with the same FOX acquisition that netted it majority stakeholder status in Hulu in the first place, a handful of iconic teen-centric shows from ABC's TGIF era, and the streamer's own ever-growing catalog of high school-set Hulu Originals, and you have a recipe for teen TV streaming dominance.
Not a streamer to rest on its laurels, Hulu has managed, in the brief period that's passed since we first published this list in 2020, to make its teen-centric TV catalog even stronger. One development that made this possible is that FX—one of Hulu's prestige-ier Disney-family partners—stepped into the teen TV space with 2021's standout Reservation Dogs. Another is that Hulu, somehow, solved the music-rights conundrum that had kept one of the best teen series, Freaks and Geeks, from ever having been available to stream. And these weren't the only teen heavy hitters Hulu brought on board over the course of a single year! 2021 also saw the return of Gen X/Millennial classics My So-Called Life, Felicity, and Blossom, as well as the establishment of another home for MTV's late, great Teen Wolf. (Now just to snag the rest of MTV's lost mid-2010s bangers…)
A note on our selection process: Teens are not a monolith. Middle school-aged teens are interested in different kinds of stories than those in high school, who are in turn interested in different things than those attending college and who will become the twentysomething young adults whose newly won freedom high schoolers can't wait to seize for themselves. As such, we endeavored to make sure the following list runs the gamut, including everything from the retro middle school growing pains of The Wonder Years and the mid-aughts thriller/high school rom-com that is Teen Wolf to the sleekly au courant college-year shenanigans of grown-ish and, well, whatever it is PEN15 has spent the last three years perfecting. Which is to say: We hope this list is, in short, as thorough and entertaining a mix as any discerning connoisseur of teen TV could ever hope for.

Honorable Mentions: Skins UK, Looking for Alaska, The Hardy Boys, Blossom, Beverly Hills, 90210, PLL: The Perfectionists, Moesha, and Good Trouble
30. Roswell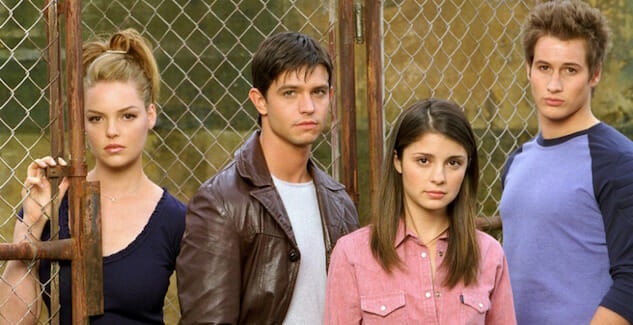 Roswell is one of those shows that died before its time, likely a victim of network tinkering. I know it's a running gag to blame "the suits," but more often than not it is their fault. With Roswell, they took a perfectly good high school drama about aliens and the Earthlings who love them and ratcheted up the science fiction elements to extreme, often absurd levels. Season 1 was by far the best, and actually did a great job of capturing high school on a number of levels. There's the love triangle between Liz (Shiri Appleby), Max (Jason Behr), and Kyle (Nick Wechsler) and there's Michael (Brendan Fehr), the bad boy with the (deeply hidden) heart of gold, and of course Alex (Colin Hanks), the nerd who's in love with Isabel (Katherine Heigl) the (literal, it turns out) princess. And really, who doesn't feel like an alien at least a few times during high school? The show also had some nice touches, like the aliens' addiction to Tabasco and the casting of John Doe, bassist of the seminal LA punk band X, playing Liz's father. At least the series was allowed to end with a real finale, rather than being canceled mid-story. But the silliness and muddled plotlines mean that the ending came as more of a relief than a disappointment—it's the perfect example of a good show being murdered by tinkering network execs.—Mark Rabinowitz
---
29. Doogie Howser, M.D.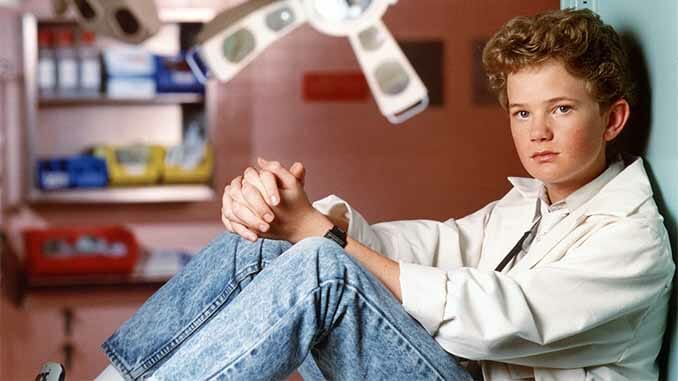 Ah, Doogie Howser, M.D. Cute, blond, and in possession of both a driver's and a medical license, Neil Patrick Harris' fashion-forward, computer-diary-keeping teen prodigy wasn't just the 1990s' answer to what if child labor, but legal? He was an immediate and undeniable icon: Gen X grew up writing fanfiction about him; Millennials grew up wanting to be him; and Gen Z has grown up to become him. And now thanks to Hulu, teens-at-heart from every generation can binge his professional (if medically dated) successes and heartfelt (if hormonal) teenage misadventures whenever they want. Better still? If you've got the Disney Bundle(™), you can flip between Doogie Classic on Hulu and Doogie Kamealoha, M.D. on Disney+, and really lean in to the idea that the more teen prodigy doctors change, the more they stay the same. Mahalo, vertical corporate synergy. What would we do without you? —Alexis Gunderson
---
28. Sabrina, the Teenage Witch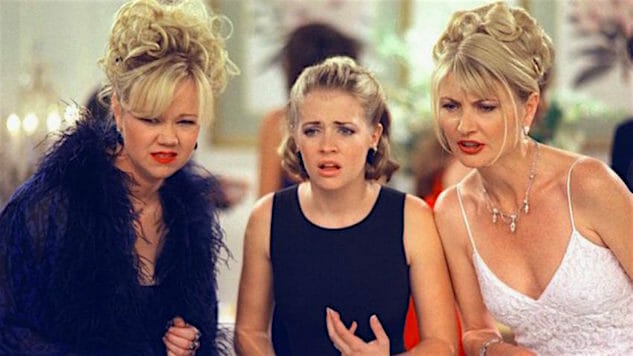 Melissa Joan Hart's other television show, Clarissa Explains It All, began with her character in junior high. The long-running Sabrina, the Teenage Witch, on the other hand, saw Sabrina (Hart) heading to college in the fifth season. Before that, it was the tale of a young woman dealing with teenage issues, but as a witch. Obviously, there was a bit of metaphor at play here. Sabrina learning how to be a witch and dealing with the issues of being a witch ran parallel to the issues that teenagers face. Hart was a dynamic and entertaining presence, making her a great choice to serve as the center of the show. Sure, the series was silly and frothy. It began life as a TGIF show, after all. But its delightful silliness was the show's strong suit. However, it must be said that the real highlight of Sabrina was not Sabrina herself, but her cat, Salem (voiced by Nick Bakay). Salem was a supremely, wonderfully goofy presence. Whenever they trotted out the incredibly fake puppets designed to allow Salem to talk and do crazy things, it was usually terribly funny—and not always intentionally. To this day, there's something so delightful about those moments, as the litany of Salem GIFs online can attest. This is not to say that Hart was upstaged on her own show by a talking cat puppet … but it was close. —Chris Morgan
---
27. Misfits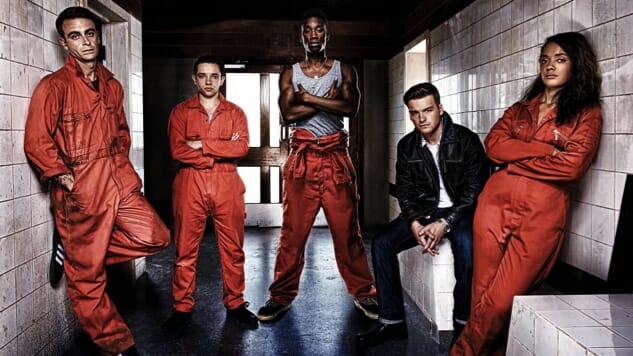 A handful of juvenile delinquents experience a strange universal shift during an electrical storm that causes each of them to gain various super powers. Thus, they become "superhoodies." On the surface, it seemed like the plot of a science fiction show, and that's not incorrect. The early episodes of Misfits were some of the most underrated and low-key sci-fi episodes on television—it was sci-fi for people who weren't sure they liked sci-fi. Admittedly, Misfits often doesn't get a fair shake, thanks to the cast turnover and lack of satisfying story follow-through in later seasons. That said, the one thing Misfits got exceedingly right was its look at the lives of working class, high school-aged kids who are often shrugged off or labeled "trouble." While you'd never see the likes of Simon (Iwan Rheon), Kelly (Lauren Socha), or Nathan (Robert Sheehan) sitting in a history class, viewers still witnessed their struggle with everyday teenage life.
The closest you'd find to a stereotypical goody two shoes on Misfits was Simon. Rheon's portrayal of the shy and often overlooked group member was one of the most captivating parts of the show. When Simon, faced with Alisha's super sexual appeal, would mutter his darkest fantasies, you saw a completely different, but very real side of the average boy. The things that came out of his mouth could only come from a porn-obsessed teen. His foil came in the form of Nathan, a goofy, loud-mouthed jokester who seemed to think his greatest gift was his ability to have a smart answer for absolutely any topic … that is until he discovered his super power. The superhoodies of Misfits were, without a doubt, the sort of kids you'd roll your eyes at on the street. Yet, creator Howard Overman (Atlantis, Dirk Gently) turned the miscreants into humans who, though they were flawed, were absolutely worth rooting for. —Deirdre Kaye
---
26. Marvel's Runaways / 25. Cloak & Dagger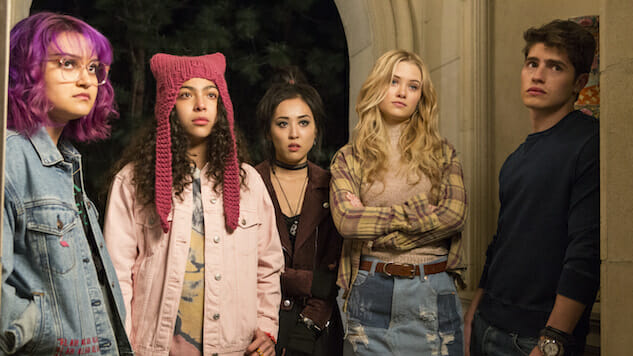 Watch Runaways on Hulu
Watch Cloak & Dagger on Hulu
A bit of a cheat to lump these two series together—not least because Marvel's Runaways is a Hulu Original and Marvel's Cloak & Dagger aired originally on Freeform—but as the two big serial storytelling swings that aimed to bring the Marvel Cinematic Universe to the Teen TV space (before, at least, Disney+ swooped in to change up the Marvel TV game), they are more rewarding to watch in concert than they are to watch separately.
Playing more with the cartoon-ish elements of the Marvelverse, Runaways is an ensemble drama that features a magical scepter, a telepathic T. Rex, and a Scientology-adjacent cult of celestial immortality—oh, and the main teens' parents (James Marsters among them) forming a villainous cabal willing to kill their own kids in pursuit of some mysterious Grand Plan. Cloak & Dagger, meanwhile—set with care in New Orleans by showrunner Joe Pokaski and featuring a Black teen boy (Aubrey Joseph) and white teen girl (Olivia Holt) whose emotionally entwined powers work best when working together—traffics in more serious issues like trauma, addiction, and racial injustice. One may speak to you more than the other, but whatever your preference, both absolutely prove the demo-spanning potential of the MCU—especially in an era in which teen TV has more latitude than ever to take on deeply weird, deeply complex, deeply radical themes. —Alexis Gunderson
---
24. Saved by the Bell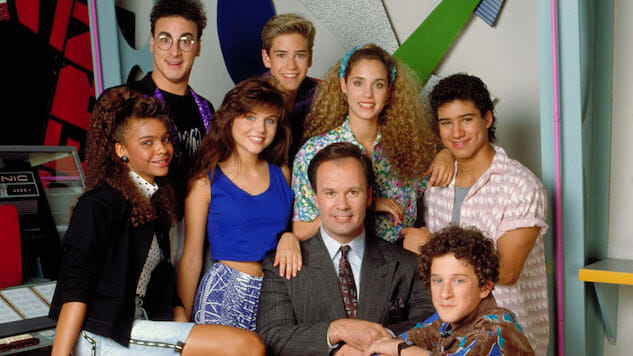 The definitive high school sitcom of the early 1990s, Saved by the Bell reflects the day-glo colors of the era perfectly. As a central character, Zack Morris (Mark-Paul Gosselaar) is like a slightly preppier version of Ferris Bueller, a schemer and philanderer with no shortage of friends. Everyone on the show perfectly falls into their tropes of the era, whether it's "perfect girl" Kelly Kapowski (Tiffani Thiessen), brainiac Jessie Spano (Elizabeth Berkley), jock A.C. Slater (Mario Lopez), or weirdo geek Screech Powers (Dustin Diamond)—one of the '90s more instantly recognizable characters. A mainstay of Saturday mornings growing up, the series now has an almost ubiquitous place in our memory. Sing it with me now: it' s all right, because I'm saved by the bell. —Jim Vorel and Amy Amatangelo
---
23. Felicity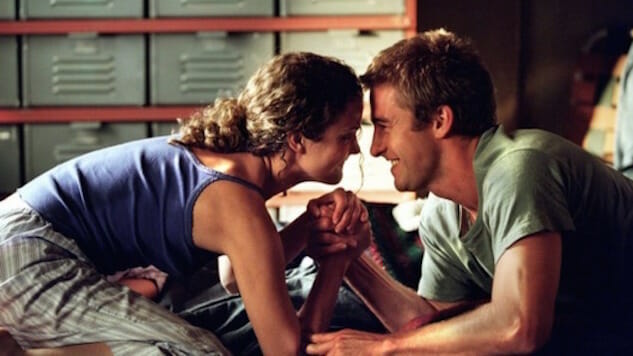 Long before Keri Russell was a covert Soviet spy, she was Felicity Porter, a college student who traveled across the country for a boy. That boy was Ben Covington (Scott Speedman), and with his lackadaisical smile and dreamy eyes, you really couldn't blame her. The series posited the question fans are still wrestling with—the elusive Ben or nice guy Noel (Scott Foley)?—while dealing with the college experience of weird roommates, parents who don't understand your choices, midterm stress, and balancing a part-time job with your studies (although no one has ever had a boss as wonderful as Javier, so delightfully played by Ian Gomez). When Felicity cut her luxurious locks at the start of Season 2, it was the haircut heard 'round the world. The series was not only a defining one for the nascent WB network but also for executive producer J.J. Abrams, who went on to create Alias with the pitch "What if Felicity were a spy?" (Oh, and for the record, I'm totally #TeamBen.) —Amy Amatangelo
---
22. Sister, Sister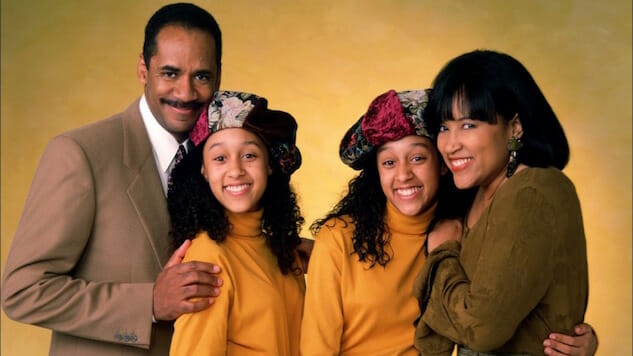 Originally developed as part of ABC's TGIF lineup before moving to the WB in its third season, Sister, Sister is the quintessential '90s sitcom. The bucket hats. The layers upon layers of neon prints. The $350 rent. For so many Millennials, Tia and Tamera are an institution, but you might not realize just how deeply their small-screen personas embedded themselves in your consciousness until you turn on the pilot one late night and then blink and find yourself many hours and half a dozen episodes deep in an unintentional, joyful binge. (And in case the pure nostalgia isn't enough of a draw for you, try this: the first half of Season 1 features a very young, very bubbly Brittany Murphy as one of the twins' suburban middle school friends. A genuine delight, all around!) —Alexis Gunderson
---
21. Steven Universe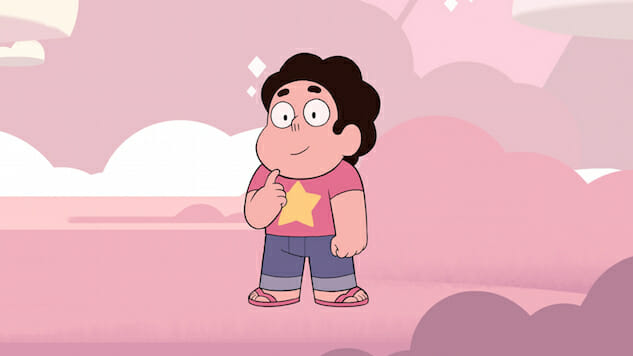 Steven Universe was the best show on Cartoon Network for quite some time. Like Pixar's great films, it transcends its "target" audience of children by distilling nuanced, powerful emotions into a universally comprehensible form without losing any of its intellect. Here's an incomplete list of the themes the show traded in: abusive love, Marxism, unmitigated bereavement, depression, self-hatred, PTSD, matricide. Such a cheerful show, right? Actually, yes: The core of Steven Universe, despite its unbelievably heavy subject material, is love—not only of every creature on Earth, good or bad, but of life itself, regardless of the terrible circumstances it hurls your way. Sure, that's an aspirational message, but Steven is essentially the Chance the Rapper of animated television: He'll make you believe in his infectious, hard-nosed optimism. —Zach Blumenfeld
---
20. The Wonder Years (1988) / The Wonder Years (2021)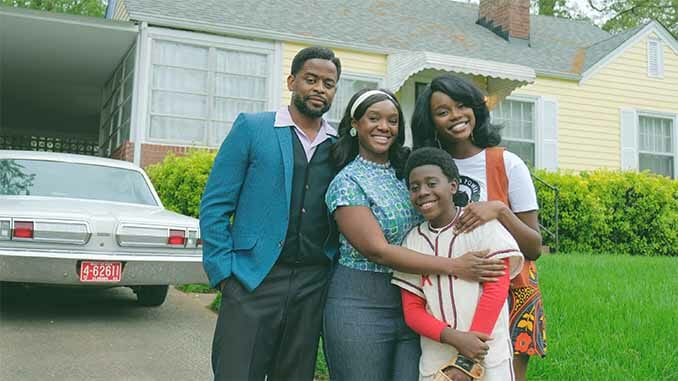 Watch The Wonder Years (1988) on Hulu
Watch The Wonder Years (2021) on Hulu
Running for what would eventually be 115 episodes between 1988 and 1993, The Wonder Years didn't just establish Fred Savage and Danica McKellar as America's suburban sitcom sweethearts—it set the stage for what would become some of the most iconic tropes in sitcom and teen-centric TV and movies alike. In the pilot alone there's a lunchroom clique tour to rival Mean Girls, a chagrined adult narrator to rival The Goldbergs, a soundtrack to rival Freaks and Geeks, and an awkwardly sweet first kiss to rival, well, every awkwardly sweet first kiss, from Boy Meets World to Girl Meets World and every other live-action Disney Channel Original Series in between and since. On top of all that, The Wonder Years used its late-1960s/early-'70s setting to incorporate serious themes, including the Vietnam War, all without getting overly didactic or sentimental. Is it closer to a family sitcom than many of the other selections on this list? Sure. But one of the most enduring and infuriating aspects of being a teenager is feeling utterly tied up by your family. Which is to say, between Kevin Arnold's social life throwing apples and touching boobs at school and in the wider world, and his home life getting noogies from his older brother in suburbia, The Wonder Years is a wholly complete teen show.
Happily, ABC's 2021 reboot—which takes the "1980s adult reminiscing on coming of age in the late '60s" format and reimagines it as the story of Dean Williams, a Black boy (Elisha Williams) growing up in post-white-flight Montgomery, Alabama—has thus far proved itself to be just as wholly complete a teen show, even if it's barely prepubescent with just 13 episodes and one Valentine's Day dance under its belt. From its awkward first crushes to its soulful '60s soundtrack, the Don Cheadle-narrated update has more than got the goods to be the original's sitcom successor. That said, where The Wonder Years of 1988 touched on more serious topics, The Wonder Years of 2021, by necessity, makes them as central to its young protagonist's story as his love of Avengers comics or his crush on the cute girl (Milan Ray) down the block. In young Dean's remembered Wonder Years, after all, there wasn't a "nice" (white) suburban bubble to shield him from the aftereffects of desegregation, or from the pressures of maintaining a "respectable" image when sharing public space with, say, an all-white baseball team visiting from across town, or from the shattering communal loss heard ripping down the Williams' leafy Montgomery street as the evening news announces the assassination of Dr. King at the end of the pilot.
Still, for as real as the new Wonder Years is ready to get, it remains The Wonder Years. Which is to say, it's just as frank and charming and awkward and sweet as fans of the original could possibly want it to be, with good jokes, a great cast, and an even better soundtrack. Plus, living as it does on Hulu—right alongside Carol Black's and Neal Marlens' original—it's perfectly set up for a back-and-forth teen sitcom binge. —Alexis Gunderson
---
19. Dawson's Creek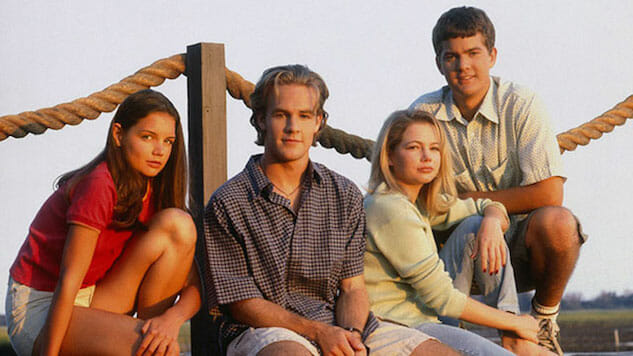 From the moment in the pilot when Pacey (Joshua Jackson) told his teacher "I'm the best sex you'll never have," we knew Dawson's Creek would be different. Originally centered on four teens—Dawson (James Van der Beek), Joey (Katie Holmes), Jen (Michelle Williams), and Pacey—the series took young love triangles to a whole new level. These eloquent teens probably didn't talk like any adolescents you knew, but the angst they brought to their everyday lives was palpably relatable. The show was groundbreaking. Season 2 introduced Jack (Kerr Smith), the first gay teen character who was a series regular, as opposed to just a guest on a very special episode. The show became even more groundbreaking when Jack and his boyfriend shared an onscreen kiss at the end of Season 3. (Credit creator Kevin Williamson and executive producer Greg Berlanti for handling Jack's storyline so authentically.) To this day, talk of Team Dawson or Team Pacey will elicit passionate, well-considered responses. As for me, I'm #TeamPacey forever. He remains the best sex … I never had. —Amy Amatangelo
---
18. One Tree Hill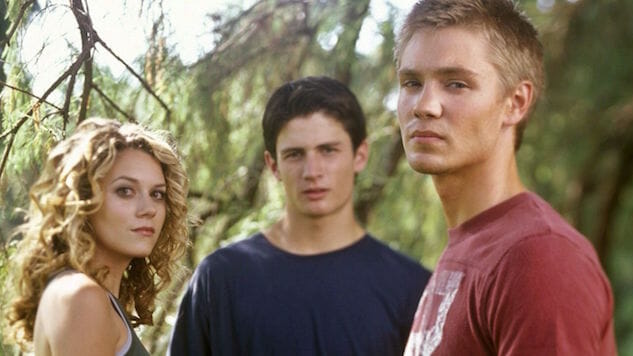 A giant of the late-aughts WB/CW teen drama era, One Tree Hill is one of those deeply beloved, increasingly bizarro shows that managed to not only launch nearly as many Hollywood B-team careers as it had characters (look no further than Hallmark and Lifetime anytime a holiday-themed movie season rolls around for proof), but also to survive such wild storytelling decisions as—and this is not a joke—having a dog eat a main character's heart. (A DOG. EATING A HEART. The most fun teen shows always just go there, don't they?) Even if you weren't in the target demo when this series originally aired, its shadow over pop culture loomed so large that you at least knew that even mentioning the idea of half-brothers playing basketball in a small town in North Carolina would be enough to tip fans into an avalanche of feelings. Maybe now is the time to catch up and see what all the fuss was about. —Alexis Gunderson
---
17. East Los High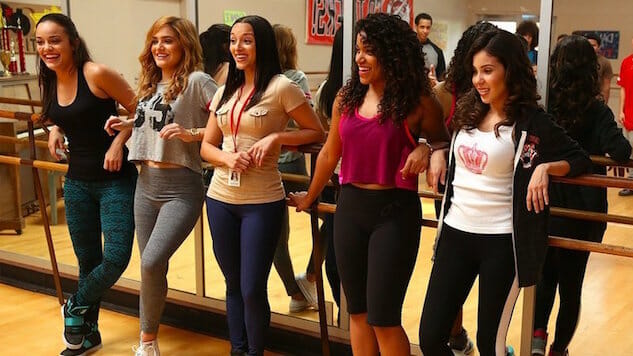 In the grand tradition of so many teen dramas that came before, Hulu's own East Los High, whose original run on the streamer lasted four seasons before it was canceled in 2017, is pure soap. That said, having set itself up as one of Teen TV's most notable groundbreakers of the last decade both by being one of Hulu's first original series (only the miniseries The Confession preceded it) and by being the first to feature an all-Latinx cast and crew (a rarity across the greater television landscape as a whole), it's at least soap of an elite vintage. Featuring a plethora of Very Attractive Teens, a raft of storylines developed in collaboration with public health organizations with the goal of encouraging Latinx teens to make healthy choices, and a lot of dancing, it's a genuine 2010s teen classic. —Alexis Gunderson
---
16. Everything's Gonna Be Okay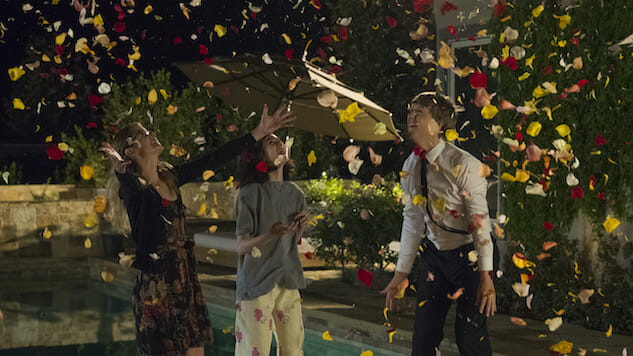 Australian writer/comedian Josh Thomas has been a favorite in American TV critic circles since his trenchant, comically devastating debut sitcom, Please Like Me, first made its quiet way across the ocean to air on a little-known network that doesn't even exist anymore (RIP Pivot). It's only with the L.A.-set sitcom Everything's Gonna Be Okay—which brings Thomas' rambling-but-fierce way of cutting right to the heart of the awkwardness of being young to the extraordinary awkwardness of being a teenage girl—that mainstream American audiences have fallen in love with his idiosyncratic approach to using comedy as a way to cut through life's deepest darknesses.
Thomas stars as Nicholas, a twentysomething Australian entomologist whose extended vacation to visit his semi-estranged dad, his teenaged American half-sisters, and their excellent giant dog becomes permanent after said dad (Christopher May) reveals he is dying of an aggressive form of cancer. As such, he needs Nicholas to take over guardianship duties of 14-year-old misanthrope Genevieve (Maeve Press) and 17-year-old composer Matilda (Kayla Cromer). This is a pitch-black set-up, sure, but May's short paternal turn in the first episode is warm and open, setting the siblings up for an equally warm and open ride once he's gone. It's not a ride without its bumps, of course—it wouldn't be a Josh Thomas joint if domestic affairs unspooled without getting tangled, or young people grew up without making excruciatingly awkward mistakes. But with such a strong family bond at its core, and with Nicholas' personal romantic life so neatly settled with Adam Faison's extremely endearing Alex within the first couple of episodes, Everything's Gonna Be Okay makes room for all kinds of messiness. There's the nightmare of miserably toxic friends (Ivy Wolk's Tellullah is a delicious horror-show of a character a flailing Genevieve just can't quit); the confusing chaos of losing your best interpreter of inconsistent rules re: social cues and sex positivity (like Cromer herself, Matilda has high-functioning autism); the intense embarrassment of having to share so many Firsts with a brother you barely know (first period, first crush, first pretend high, first time having sex)—and all of it happens without ever making the viewer worry that things might break. —Alexis Gunderson
---
15. My Mad Fat Diary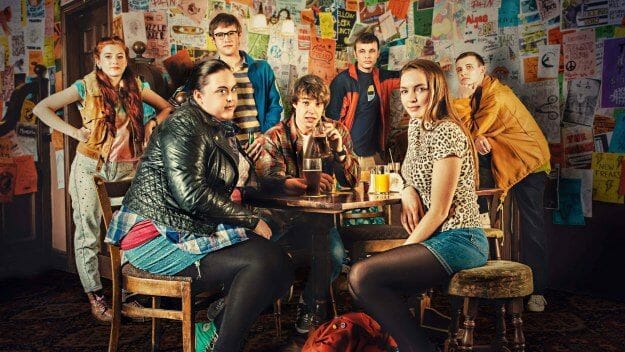 There are so many reasons why everyone needs to watch the U.K.'s excellent My Mad Fat Diary. Rae Earl (Sharon Rooney in her first role) is the fat teenage protagonist of our dreams. She weighs 16 stone (224 pounds) and has a dirty mouth, which she uses to describe all the things she would like to do to her crushes. It's hilarious and riveting, raw and honest. But the emotional tone of the show (set between 1996 and 1998) is defined by the knowledge that Rae's attempted suicide landed her in a mental hospital for four months. Much to her dismay (and luck), she is then reacquainted with her oldest friend, Chloe (Jodie Comer). In the first season, Rae has to straddle her two worlds: the mental hospital and a new group of friends. The characters deal with abortions, parental abandonment, sex, body issues, and the difficulties of friendships and relationships with an imperfect protagonist who continuously hits rock bottom. But, somehow, hope is felt throughout. Teenagers and their mental health issues are rarely shown on TV, especially with this much realness. But the dark comedy and our desire for Rae to win consistently provide relief. Oh, '90s Brit-pop, we love you so! —Iris Barreto
---
14. Pretty Little Liars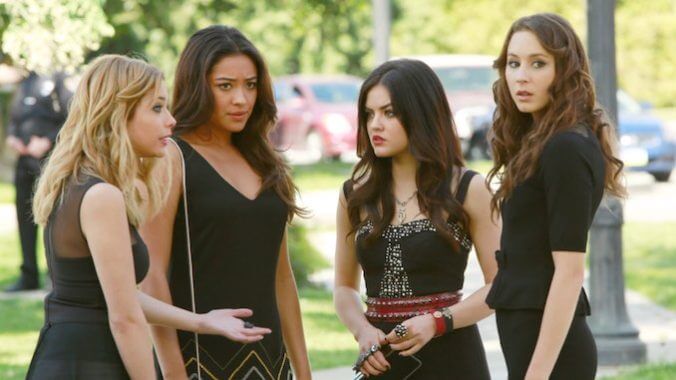 Pretty Little Liars, ABC Family / Freeform's long-running series based on the novels of the same name, revolutionized teen TV (in fact, live-tweeting as we know it was made popular by this show). Having jumped the shark at least half-way through its 7-season run, the series has become a cultural touchstone in the same way that Buffy or The O.C. was before it. After queen bee Alison DiLaurentis disappears one night in the well-off town of Rosewood, her friend group (Aria, Spencer, Emily, and Hanna) begin receiving messages from the mysterious, all-knowing tormentor "A," threatening to uncork the secrets they each hold dear. What follows is a mystery box inside of a mystery box as the Liars attempt to uncover A's true identity, leading to numerous reveals and plot-twists—-only some of which actually end up making sense. In spite of its frustrating mysteries and sometimes unsatisfying conclusions, Pretty Little Liars' staying power is a testament to the heartfelt friendship between the Liars, the addictive nature of its format, and the series' ability to take risks throughout its entire run. And now with numerous spin-offs having come and gone (all except HBO Max's stellar Original Sin), Pretty Little Liars has finally gained what Alison had always sought after: "Immortality, my darlings." —-Anna Govert
---
13. The O.C.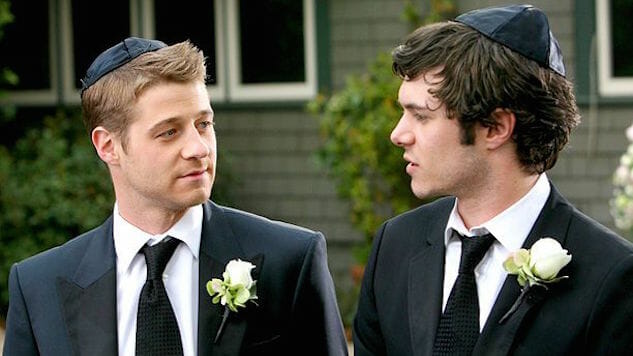 Welcome to The O.C., bitch. This Fox teen soap simultaneously celebrated and mocked the genre it brought back to life in the mid-2000s. Full of inside jokes, yet featuring a compulsively watchable story of two boys who become unlikely best friends and the girls who love them, the series quickly became can't-miss television. The show also helped popularize several acts—like Death Cab for Cutie, Modest Mouse, and The Killers—among a whole generation of high-schoolers, thanks to creator Josh Schwartz and music supervisor Alexandra Patsavas. —Shaina Pearlman and Amy Amatangelo
---
12. Veronica Mars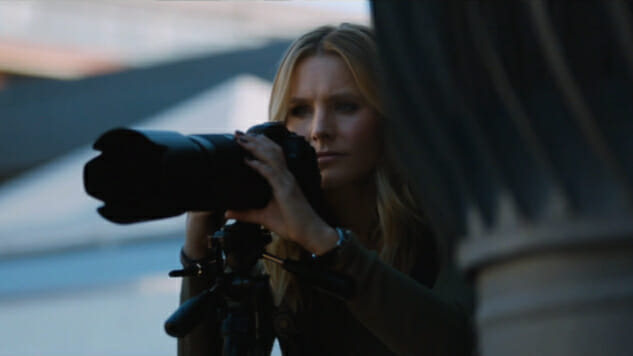 Equal parts witty and riveting, Veronica Mars follows the title character, who is an ostracized high-school student moonlighting as a private eye for her classmates. Kristen Bell uncannily portrays someone who is simultaneously smart, vulnerable, tough and injured. The series, which received a fan-funded movie revival in 2014 and a recent Hulu revival, is thematically compelling, stylistically coherent, and fully realized TV show (despite the controversy of the revival's conclusion). The first season followed Veronica as she solved the murder of her best friend Lilly (Amanda Seyfried) and uncover who assaulted her at a party. The eventual reveal of the murderer was shocking but the show proved it was much more than a one-trick pony. Subsequent seasons introduced new mysteries and corruption all while delivering some of the most fantastic dialogue on television ("Love stinks. You can dress it up in sequins and shoulder pads, but one way or another, you're just gonna end up alone at the spring dance strapped in uncomfortable underwear.") For UPN, the series represented a foray into critically acclaimed television. The show was then and remains one of the best TV series of all time. And marshmallows, we pause here to give a special shout out to Jason Dohring, who brought a nuanced combination of cockiness and hurt to bad boy Logan Echolls. —James South and Shaina Pearlman
---
11. Love, Victor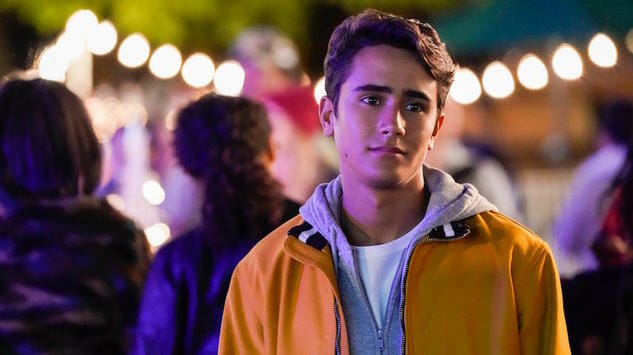 It's not an earth-shattering statement to announce that teen dramas on TV have remained predominately white and predominantly heterosexual. Hulu's original series Love, Victor finally makes a gay teen and his origin story the main storyline. Victor (Michael Cimino) isn't the sidekick, he's the hero. Love, Victor pays homage to all its predecessors, sharing much in common with teen dramas of yesteryear with unrequited romances, love triangles, quirky best friends, parental drama, winter carnivals with Ferris wheels, and momentous school dances. Victor is a 16-year-old boy who thinks he might be gay and is figuring out how to navigate his feelings, his conservative family, and societal pressure. The result is a series that's poignant, funny, smart, full of fun pop-culture references (from The Breakfast Club and Billy Joel to Billie Eilish and the Ann Taylor Outlet, there's something for everyone) and clever, believable dialogue.
While the show's message is a great, life affirming one, Love, Victor never feels like work or a pedantic "very special episode." The message of the show never takes over the entertainment value. It's just a consistent hum throughout. Be yourself. Love who you are. Stand up for what you believe in. Although groundbreaking in and of itself in many ways, Victor's story is most special because of how normally the show treats it and its charismatic and adorable title character. There's just so much here to love. Honestly, what more could you want in a half-hour series? —Amy Amatangelo
---
10. Switched at Birth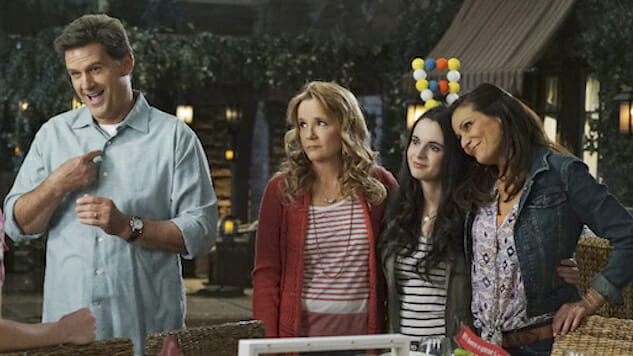 Switched at Birth is from the bygone TV era of Everwood and Gilmore Girls—an entertaining, sincere, relatable series that a teen could watch with her parents and grandparents. The kids had sex, but the show wasn't hypersexualized (looking at you, Riverdale). They weren't trying to solve a mystery (13 Reasons Why), or living among the undead (The Vampire Diaries). They were also more mature than their counterparts on the tween shows that permeate the Disney Channel, who are prone to histrionics and exaggerated hijinks (Liv and Maddie, K. C. Undercover). Switched-at-birth leads Bay Kennish (Vanessa Marano) and Daphne Vasquez (Katie Leclerc) were, for the most part, typical teenagers. Sure, Switched at Birth may have veered into sappy territory on occasion, but the protagonists' problems, although heightened, were always relevant. —Amy Amatangelo
---
9. The Fosters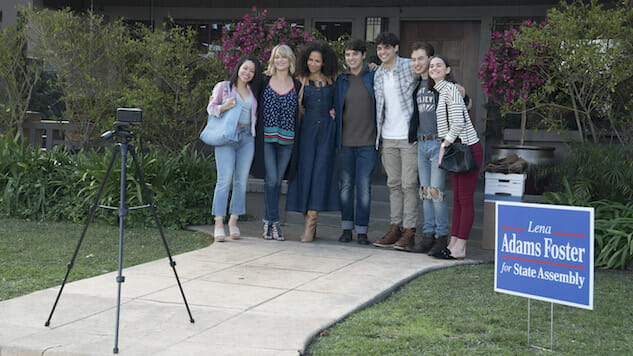 Premiering in 2013, The Fosters checked all the social progressive boxes. The show followed Stef (Teri Polo), her wife Lena (Sherri Saum), Stef's biological son, Brandon (David Lambert), and the couple's four adopted children—twins Mariana (Cierra Ramirez) and Jesus (Noah Centineo), Jude (Hayden Byerly), and his half-sister, Callie (Maia Mitchell). Over the years, this show about a gay couple raising ethnically diverse teens took on immigration, the foster care system, adoption, abortion, eating disorders, gun control, and LGBTQ rights. (And that's just what I can remember off the top of my head.) When Jude realized he was gay and embarked on several romances, they were treated the same as the show's other teen romances. The series regularly featured transgender characters, one of whom (Aaron, played by Elliot Fletcher) became Callie's boyfriend. The show did all this while always being an entertaining, well-executed family drama that educated viewers without being pedantic. —Amy Amatangelo
---
8. PEN15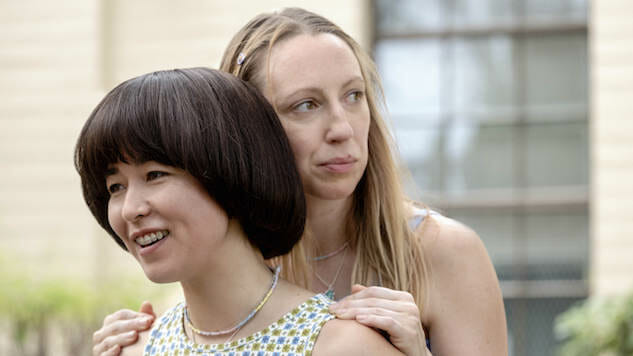 Two young women make a comedy about middle school. It's based on their own experiences, and they name the characters eponymously: Maya (Maya Erskine) and Anna (Anna Konkle). Then they make a really interesting choice, casting their 30-ish selves as the 13-year-old principal characters, and surround themselves with a supporting cast of actual middle schoolers. The result is so excruciatingly awkward it probably out-awkwards actual middle school, which is no small feat. Erskine and Konkle absolutely hurl themselves into the roles, sparing nothing in their quest to anatomize seventh grade in all its disgusting, giddy glory. They're hilarious, and there are moments when you entirely forget they're adults. And then there are moments when that fact sticks out like a sore thumb and those moments are possibly the best, because they evoke the competing impulses of the age—to race into adulthood and to go back to the safety of childhood—with a kind of zany, surreal brilliance. These are young people for whom every single minute seems momentous and defining, and who cannot realize that nothing momentous and defining has yet happened to them. —Amy Glynn
---
7. Buffy the Vampire Slayer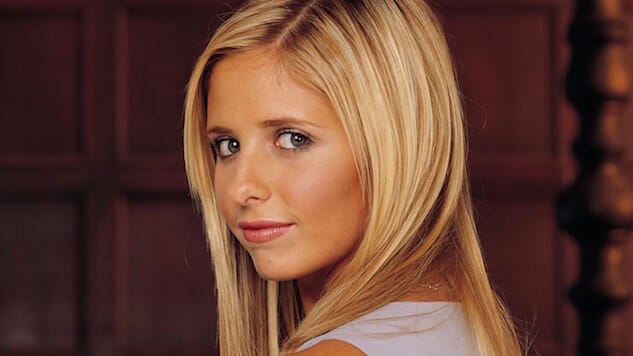 Buffy the Vampire Slayer had it all: Romance, drama, tragedy, suspense. The show took the teen-soap formula and elevated it to an art. It was a unique combination of tragic romance, apocalyptic fantasy and the clincher: emotional realism. It also featured the most serious and realistic depiction of human loss ever witnessed on the small screen (in "The Body" dealing with the death of Buffy's mom by natural causes). Humor? The writers understood the campy sheen that must accompany any show named Buffy. They also knew how to use snappy dialogue and uncomfortable situations to full effect. Complex characters? You'd be hard pressed to find another program that had the same range and consistency of character development. Everyone matured (or devolved) at his or her own realistic rate. As some feminist writers have argued, TV had never before seen the complexity of relationships among women that you saw with the likes of Buffy, Willow, Joyce, and Dawn. Plot? The writers employed elaborate multi-episode, multi-season story arcs. People and events of the past always had a way of popping back up, the way they do in real life. Philosophy? Series creator Joss Whedon was all about the meta, the ideas and story behind the story. He succeeded, creating a WB/UPN show that bears closer resemblance to the works of Dostoevsky and Kafka than Beverly Hills, 90210 or Dawson's Creek. —Tim Regan-Porter
---
6. grown-ish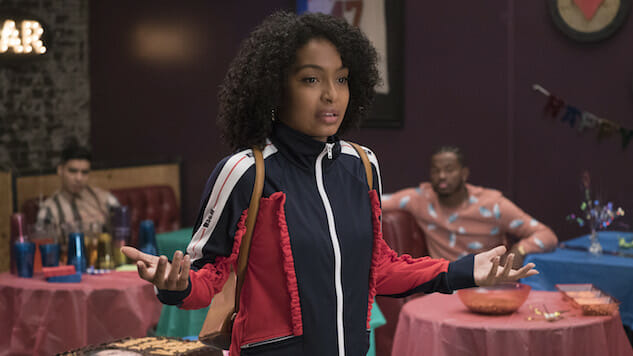 Even when the process is kept entirely in-house, it's hard to know what to expect when an established series spins fan-favorite characters off to anchor something new. For the resulting spin-off to not only shift its target demographic, but move to a different network, like Yara Shahidi's college-focused grown-ish did when it landed on Freeform after breaking away from ABC's black-ish? That was more than unexpected—it was bold. Happily, it also proved to be a savvy play, the spin-off's charming young cast, sharp writing, and fourth-wall-breaking confessional tone combining to give it real legs. As the black-ish-exported lead, Zoey, Shahidi is a blast to watch (even as Zoey makes bad decision after bad decision, as young adults alone at college for the first time are wont to do), but truly no more so than the rest of the ensemble cast, any one of whom could be considered a particular standout, depending on the mood you're in. For the purposes of this list, Francia Raisa comes to mind, as her character, Ana Torres, is so diametrically opposite of the one she played for years on ABC Family's The Secret Life of the American Teenager, but pop phenoms Chloe x Halle might be who you're most drawn to, or Luka Sabbat's overly chill Luca, or Emily Arlook's kinda-messy Nomi, whose arc saw her coming out to herself (and the professor she inadvisably made out with) as bisexual. There's just so much going on on grown-ish, and while much of it is as awkward and painful as the growing pains of real young adulthood can be (especially in the age of social media), it's never not a delight. —Alexis Gunderson
---
5. My So-Called Life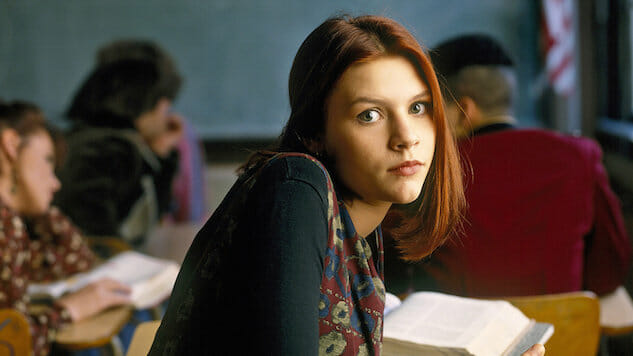 Surprisingly mature, critically adored, and canceled immediately, My So-Called Life was a refutation of all the school shows that had come before it, both comedies and dramas. It seemed to have special disdain for the "very special episode" format, and instead took those social issues and wrapped them into the entire ongoing storyline. The problems faced by 15-year-old Angela Chase (Claire Danes) didn't arise and get wrapped up at the end of the episode, they festered and spurred personal growth. The nervous hair-flip, semi-requited love, and existential confusion of Angela made the world less lonely for the sort of artsy grunge-era high school kids who would go on to rule the world—or at least work at indie magazines. We leave you with this quote that epitomizes the way the show so beautifully captured the high school age: "I'm in love. His name is Jordan Catalano. He was left back—twice. Once I almost touched his shoulder in the middle of a pop quiz. He's always closing his eyes, like it hurts to look at things." —Josh Jackson
---
4. Cruel Summer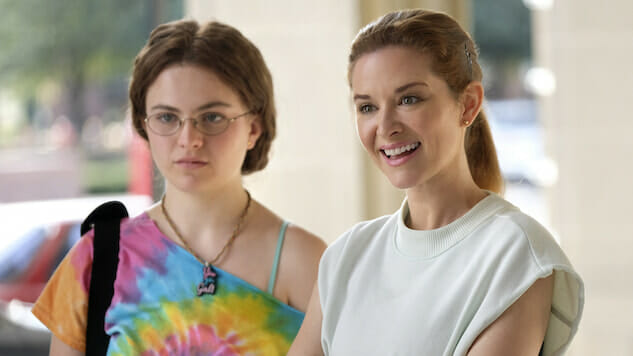 I had to give up taking notes on Cruel Summer, Freeform's '90s-set teen mystery series, about 2,000 words in. That said, the very density that prompted me to get 2,000 words deep into a meticulous kind of madness before changing course is precisely the thing that turned Cruel Summer into the internet's latest generation-spanning hit. Truly, from its complex, triple-layered timeline to its compellingly intimate POV-flipping narrative structure to its viscerally accurate mid-'90s details, Cruel Summer is custom-built to be an object of social media obsession.
In the one corner, you have Chiara Aurelia's Jeanette Turner, who at any given moment is a sweetly awkward 15, or a recently popular 16, or a universally despised 17, and who may or may not be guilty of compounding another girl's trauma. In the other corner, you have Olivia Holt's Kate Wallis, who at any given moment is a universally beloved 15, or a freshly traumatized 16, or an acidly angry 17. In between them, you have a gulf of not-knowing regarding a chilling kidnapping and its sprawling consequences—a not-knowing that at any given moment might come from one character's inherent duplicity, the natural gaps in another's first-hand knowledge of a situation, or the fundamental unreliability of memory even before intense emotion is involved. There are some truths that are more real for some characters, and less for others; some realities that are more tangible in one moment than they are in the next.
The likelihood that one girl is lying and the other telling the truth hangs over Cruel Summer like a thundercloud, but in giving the audience just one walled-off chunk of each girl's side of the narrative at a time, the possibility that they're both telling a trauma story that's true to them is just as present. In floating the mid-'90s media's take on Jeanette and Kate to the top of its story over and over again, Cruel Summer adds an important third perspective on the nature of reality, and all the ways in which it can be warped in the name of "truth;" oh, and the needle drops are killer. —Alexis Gunderson
---
3. Teen Wolf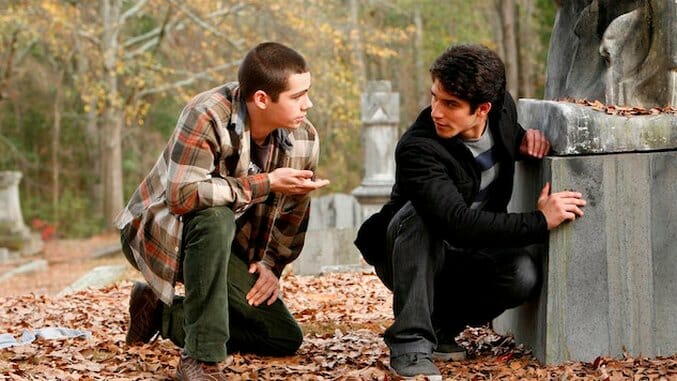 When MTV announced it was making Teen Wolf, a series based on the ridiculous 1985 Michael J. Fox comedy of the same name, I was less than excited. It would be like someone suggesting that it was a good idea to make a series based on 1992's execrable Buffy The Vampire Slayer film. Oh, wait… What I mean is, it's hard enough to make a good show out of a good film. For every Friday Night Lights or Fargo, there are a dozen Ferris Bueller or Clueless debacles. But using a bad film as source material? You damned well better tweak the hell out of it. Well, wouldn't you know it? Creator Jeff Davis did just that and pulled a particularly fearsome were-rabbit out of his hat. Teen Wolf is a genuinely terrifying and unapologetically sexy piece of work. (While I'll admit to a teenage crush on Boof from the original film, the series raises the lascivious lupine bar a few dozen notches.) Of course, with a series, one runs out of source material rather quickly. But Davis and his team did their homework and created an intriguing and well thought out world, complete with magic, banshees, were-coyotes and even kitsune, populated by a surprisingly talented group of young actors. Like Sunnydale and Mystic Falls before it, Beacon Hills seems to be a magnet for mystical happenings and things that go "Grrrrr" in the night and thankfully we've got Scott (Tyler Posey), Stiles (Dylan O'Brien) and the rest to at least try and make sense of it all. —Mark Rabinowitz
---
2. Reservation Dogs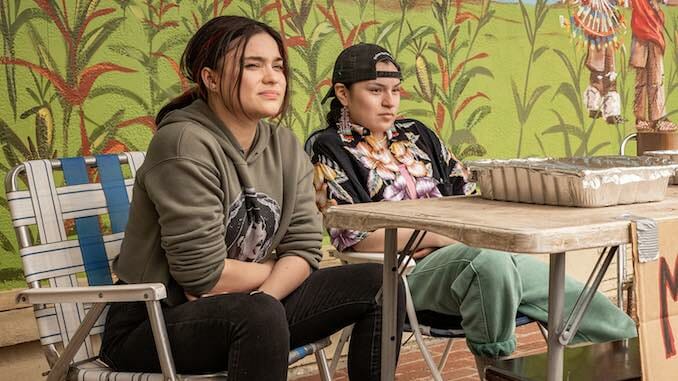 FX has found its niche in telling close-up, intimate stories extremely well, and Reservation Dogs is no exception. It focuses on four friends—Bear (D'Pharoah Woon-A-Tai), Elora (Devery Jacobs), Willie Jack (Paulina Alexis), and Cheese (Lane Factor)—who accidentally form an unofficial "gang" dubbed the "reservation bandits," because of their penchant for light crime. Their hope is to get enough money to get to California, an ideal that's always just out of reach.
The lived-in, slightly surrealist comedy is a low-fi exploration of an Indigenous community in Oklahoma, whose leads shuffle around the "rez" among other misfits and sundries, and stumble into a variety of adventures that range from stealing a chip van to dealing with a snarky and overworked healthcare system. FX has touted Reservation Dogs, created by Sterlin Harjo and Taika Waititi, as revolutionary. In many ways, it is; it features an all-Indigenous writers room, for one. But the show makes its boldest statement by not feeling like it's making a statement at all. It's an easy-going show, foul and funny, specific and accessible. It's not about the kids being noble heroes or crime-loving villains; they're just people. But they are also Indigenous people, which does mean something, and is all-too-rare to see on television—especially portrayed in such a wonderfully casual way.
But more than anything, Reservation Dogs is a languid series that moves at an unhurried pace. The kids make plans, scrounge for food, wander around, get into fights. They don't talk or act like adults, and they're not beaten down by cynicism. They have hopes and dreams, a love for family, an un-ironic embrace of community, and make a lot of silly mistakes. To say there is an innocence or even wholesomeness to Reservation Dogs would not be to quite hit the mark on how casually crass the show can be (it is ultimately a comedy for adults); but like its leads, it has a good heart. The friends are trying their best and hold each other close, even as they rib one another for their choices. It's this balance that the show gets so right; not overly precious nor incredibly vulgar, just truth with an edge. Or as they would say, "Love ya, bitch." —Allison Keene
---
1. Freaks and Geeks (with the original soundtrack)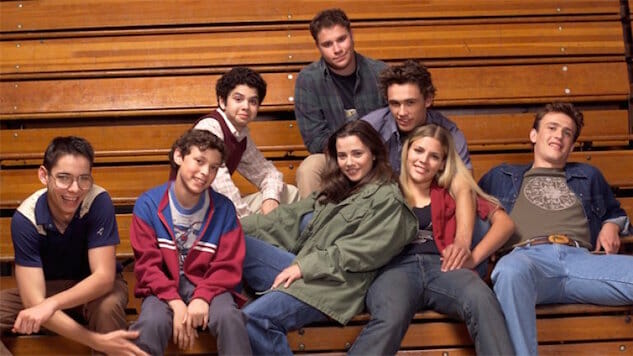 We've had more than a decade to come to terms with Freaks and Geeks' untimely cancellation, and while the axe's blow still smarts, in some ways the series' scant 18 episodes have proved an ideal offering. Like a musty old yearbook, the short run preserved one gloriously specific time in the lives of McKinley High's do-gooders and reprobates, and now we remember the trials and tribulations of Lindsay and Sam Weir, Daniel Desario, Bill Haverchuck, and the whole gang like those of so many long-lost high-school friends of our own. Despite the intervening years (and starring roles in raunchier Judd Apatow fare), we remember the characters precisely as they were then, in 1980—sweetly fraught, awkward, hilarious, and unsullied by the harsh realities of post-graduate life (or trite plot-lines, forced love triangles, or sweeps-week shenanigans). —Rachael Maddux
---
For all the latest TV news, reviews, lists and features, follow @Paste_TV.