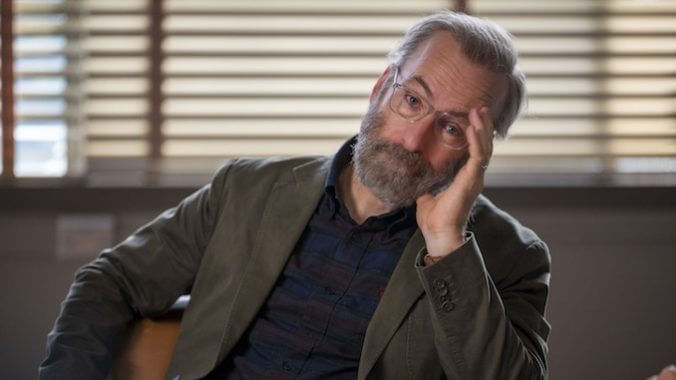 I'm not one to believe in conspiracy theories but I'm fairly certain all the networks and streaming platforms had a secret meeting where they agreed to premiere absolutely every single TV show during the month of March. I mean if I can't keep up and I do this for a living, what hope is there for people who watch TV just for fun?
Keeping with my conspiracy theory, March is the third month of the year and so many shows are finally returning for a third season. After more than a two year break, The Mandalorian returns March 1 on Disney+. The beloved Ted Lasso and his optimism are back March 15 on Apple TV+, and PBS's swoony Sanditon returns on March 19.
But wait! There's so much more. Succession AND Yellowjackets both return March 26 on HBO and Showtime respectively (who is going to blink first on that scheduling snafu?). The long-awaited Daisy Jones and the Six premieres March 3 on Prime Video. Mel Brook's History of the World, Part 2, the sequel 40 plus years in the making to his 1981 movie History of the World, Part 1 comes to Hulu on March 6. And truly that's just scratching the surface of all this month has to offer.
We will have coverage on all of that and more, but now more than ever we don't want under-the-radar gems to slip through the cracks. Here are the five new shows you can't miss this month.
1. UnPrisoned
Stars: Kerry Washington, Jordyn McIntosh, Delroy Lindo, Marque Richardson, Faly Rakotohavana
Premiere Date: All eight episodes premiere March 10 on Hulu
This eight-episode comedy series, part of Hulu's Onyx Collective, is based on series creator Tracy McMillan's real life. After 17 years in federal prison, Edwin Alexander (Delroy Lindo) is getting out of jail. His daughter Paige (Kerry Washington), now a family therapist, must reconcile her complicated feelings about her (very charming) dad while raising her teenage son Finn (Faly Rakotohavana), navigating the purchase of her first home and pursuing a romantic relationship with guest star Tim Daly. Paige is great at helping others sort out their lives. But how is she at helping herself?
---
2. Gotham Knights
Stars: Oscar Morgan, Olivia Rose Keegan, Fallon Smythe, Tyler DiChiara, Misha Collins, Anna Lore, Navia Robinson
Premiere Date: March 14 at 9 p.m. on CW
In the CW's latest superhero show, from Chad Fiveash, James Stoteraux and Natalie Abrams, Bruce Wayne is dead. He's not only dead: Batman has been murdered. Things in Gotham take a turn for the worse when Bruce's adopted son, Turner Hayes (Oscar Morgan) is accused of killing his Caped Crusader father. Turner teams up with Duela (Olivia Rose Keegan), Harper Row (Fallon Smythe), and Cullen Row (Tyler DiChiara) to clear his name and find Batman's real killer. Standing in their way is District Attorney Harvey Dent (Misha Collins) who we meet before he becomes the notorious villain Two-Face.
---
3. Lucky Hank
Stars: Bob Odenkirk, Mireille Enos, Sara Amini, Diedrich Bader, Suzanne Cryer, Olivia Scott Welch, Cedric Yarbrough
Premiere Date: March 19 at 9 p.m. on AMC
In his first series role since Better Call Saul ended last summer, Bob Odenkirk stars as William Henry "Hank" Devereaux, Jr., head of the English department at Railton College. Frustrated by his student's hubris, Hank makes the mistake of speaking a little too frankly in one of his classes incurring the wrath of not only his students but his fellow faculty members. Mireille Enos (The Killing) co-stars as Hank's calmer and more optimistic wife. Keep an eye out for a guest star turn from Oscar Nunez as a college administrator trying (unsuccessfully) to rein in Hank and his behavior.
---
4. The Night Agent
Stars: Gabriel Basso, Luciane Buchanan, Hong Chau, Sarah Desjardins, Fola Evans-Akingbola, Eve Harlow, Enrique Murciano, Phoenix Raei, DB Woodside
Premiere Date: All 10 episodes premiere March 23 on Netflix
Based on the novel of the same name by Matthew Quirk, this 10-episode series follows Peter Sutherland (Gabriell Basso), an FBI agent working in the White House basement. His job is pretty boring until one night the phone that never rings actually rings—sending Peter head-first into a dangerous conspiracy that goes all the way up to the Oval Office (the best political thrillers always do!). The series comes from executive producer Shawn Ryan, the man behind The Shield, Terriers, and Timeless, among others.
---
5. The Big Door Prize
Stars: Chris O'Dowd, Gabrielle Dennis, Ally Maki, Josh Segarra, Damon Gupton, Crystal Fox, Sammy Fourlas, Djouliet Amara
Premiere Date: March 29 on AppleTV+ The 10-episode series will premiere globally on Apple TV+ with the first three episode, followed by one new episode weekly, every Wednesday.
Based on M.O. Walsh's novel of the same name, this 10-episode comedy from David West Read (Schitt's Creek) looks at what happens to the small town of Deerfield when something called the Morpho machine reveals everyone's true life potential. This series begins on Dusty Hubbard's (Chris O'Dowd) 40th birthday. He thinks he's happy with his life, but will the machine begin to convince him and the residents of Deerfield otherwise?
---
Amy Amatangelo, the TV Gal®, is a Boston-based freelance writer and a member of the Television Critics Association. She wasn't allowed to watch much TV as a child and now her parents have to live with this as her career. You can follow her on Twitter (@AmyTVGal).
For all the latest TV news, reviews, lists and features, follow @Paste_TV.