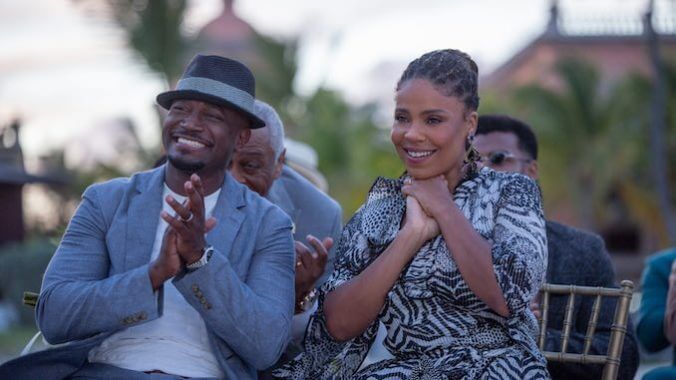 Oh the holiday planning can be frightful,
But the TV is so delightful.
You have so much to do you want to scream,
But let TV stream, let it stream, let it stream!
Oh TV doesn't show signs of stopping,
So forget about all your shopping.
As a viewer, the amount of options are just a dream—
Let it stream, let it stream, let it stream.
The television elves are as busy as ever this December with a slew of new and returning shows coming your way. The new season of HBO Max's Gossip Girl begins December 1 and His Dark Materials returns for its final season on December 5 (HBO). Noah Centineo (To All the Boys I've Loved Before) headlines the new Netflix series The Recruit on December 16. And toss a coin to Netflix's The Witcher spin-off The Witcher: Blood Origin on December 25. And we'll have coverage of it all!
But which new series are lumps of coal and which are worth unwrapping? We've made our list and checked it twice to come up with the five new and under-the-radar shows you can't miss this month:
1. Branson
Stars: Richard Branson, Joan Branson, Holly Branson and Sam Branson
Premiere Date: December 1 at 10 p.m. on HBO, also available to stream on HBO Max
This four-part documentary series follows Richard Branson for the 16 days leading up to the launch of his spacecraft on July 2021. Filmmaker Chris Smith interviews Branson, his wife, his children, his colleagues, and the journalists who cover him to get a more complete picture of the man who was a millionaire by the time he was 22. First up, how Branson dropped out of school when he was 15 years old and started a magazine aptly titled Student. "He's a hard ass that is absolutely focused on the bottom line. Don't be too fooled by the packaging," John Arlidge, The Times' senior business writer, says as the series begins.
---
2. Dr. Seuss Baking Challenge
Stars: Tamera Mowry-Housley, Clarice Lam and Joshua John Russell
Premiere Date: All eight episodes stream December 13 on Prime Video and Amazon Freevee
Nine teams compete for the grand prize of $50,000 in this latest baking competition. Tamera Mowry-Housely hosts as trained pastry chefs and self-taught cake artists bring the world of Dr. Seuss to life. Their creations will be judged on taste, creativity, accuracy, and storytelling. Pastry chefs Clarice Lam and Joshua John Russell decide the ultimate winner each episode. After the installment, the winning recipe will be available for free in Amazon's Dr. Seuss Baking Challenge store. So you have to ask yourself: Would you like the show in a house? Would you like the show with a mouse? Would you eat the baked goods in a box? Would you eat them with a fox?
---
3. Litvinenko
Stars: David Tennant, Mark Bonnar, Margarita Levieva, and Neil Maskell
Premiere Date: All four episodes stream December 16 on Sundance Now
Based on a true story, David Tennant stars as the title character, former KGB officer Alexander Litvinenko. In November 2006, Litvinenko knew he had been poisoned and was dying. Before his passing, he accused Vladimir Putin as being the one to order his death. Now London police must figure how the connection between Litvinenko's death and a chemical attack and bring those responsible for Litvinenko's murder to justice. "What follows is based on extensive research, interviews and published accounts," the show tells us before it starts—making the unfolding episodes all the more chilling.
---
4. The Wheel
Stars: Michael McIntyre
Premiere Date: December 19 at 10 p.m. on NBC
Okay here's something a little more cheery. In each episode, six celebrities help contestants at their chance to win $100,000. Episodes air every night at 10 p.m. during the premiere week and every night at 8 p.m. in the second week. Each celebrity claims to be an expert in a certain area. Over 50 celebrities are taking part in the show including Jaime Camil, Margaret Cho, Deepak Chopra, Chrissy Metz, Kyla Pratt, Amber Riley, Tori Spelling, Raven-Symone and Carnie Wilson. First up Cat Cora, Mark McGrath, Todrick Hall, Steve Kornacki, Christina Ricci and Amber Ruffin answer trivia questions tackling a range of categories from Beyoncé to the '90s to elections.
---
5. The Best Man: The Final Chapters
Stars: Morris Chestnut, Melissa De Sousa, Taye Diggs, Regina Hall, Terrence Howard, Sanaa Lathan, Nia Long and Harold Perrineau
Premiere Date: All eight episodes stream December 22 on Peacock
Taye Diggs is everywhere this month! He's the host and executive producer of the new Hulu unscripted series Back in the Groove (premiering December 5). He's one of the celebrities on the aforementioned The Wheel. And he's back reprising his role as Harper Stewart , a role he first originated in the 1999 movie The Best Man and then again in 2013's The Best Man Holiday. Now Harper, Robyn (Sanaa Lathan), Jordan (Nia Long), Lance (Morris Chestnut), Quentin (Terrence Howard), Shelby (Melissa De Sousa), Candace (Regina Hall), and Murch (Harold Perrineau) return in a series that sees how the characters are dealing with middle age. "Hollywood is obsessed with sequels," Harper's agent tells him as the series begins. And if you don't remember all the details of what happened in the first two movies, fret not! The Final Chapters kicks off with a very handy recap.
---
Amy Amatangelo, the TV Gal®, is a Boston-based freelance writer and a member of the Television Critics Association. She wasn't allowed to watch much TV as a child and now her parents have to live with this as her career. You can follow her on Twitter (@AmyTVGal).
For all the latest TV news, reviews, lists and features, follow @Paste_TV.