Criminal Charges Against Actor Jussie Smollett Dropped, Expunged from Record
Photo by Nuccio DiNuzzo/Getty
TV
News
Jussie Smollett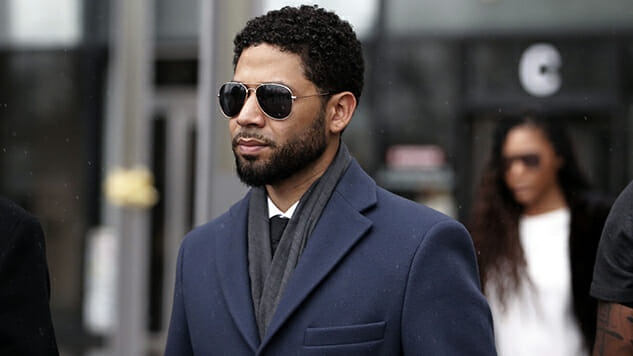 Actor Jussie Smollett, who was accused of staging a fake hate crime against himself, has had his criminal charges regarding disorderly conduct dropped and expunged from his record.
The actor appeared in an emergency court hearing in Chicago where the case was ultimately dismissed, per the Chicago Tribune.
Smollett's attorneys followed up the ruling with a statement:
Today, all criminal charges against Jussie Smollett were dropped and his record has been wiped clean of the filing of this tragic complaint against him. Jussie was attacked by two people he was unable to identify on January 29th. He was a victim who was vilified and made to appear as a perpetrator as a result of false and inappropriate remarks made to the public causing an inappropriate rush to judgement.
Jussie and many others were hurt by these unfair and unwarranted actions. This entire situation is a reminder that there should never be an attempt to prove a case in the court of public opinion. That is wrong. It is a reminder that a victim, in this case Jussie, deserves dignity and respect. Dismissal of charges against the victim in this case was the only just result.
Jussie is relieved to have this situation behind him and is very much looking forward to getting back to focusing on his family, friends and career.
Smollett thanked his supporters and the state of Illinois during a new conference at the courthouse, calling the ordeal "an incredibly difficult time for me." He went on to tell reporters, "I have been truthful and consistent from day one."
The black, openly gay actor's alleged attackers, brothers Ola and Abel Osundairo, were previously arrested, then released without charges after claiming that Smollett paid them $3,500 to carry out the hate crime. Smollett claimed the brothers approached him yelling racial and homophobic slurs when they began to beat him, placed a noose around his neck and poured liquid chemicals on him.
Following Smollett's arrest in February for disorderly conduct, 20th Century Fox removed the actor's appearances in Empire for the last two episodes of its newest season.