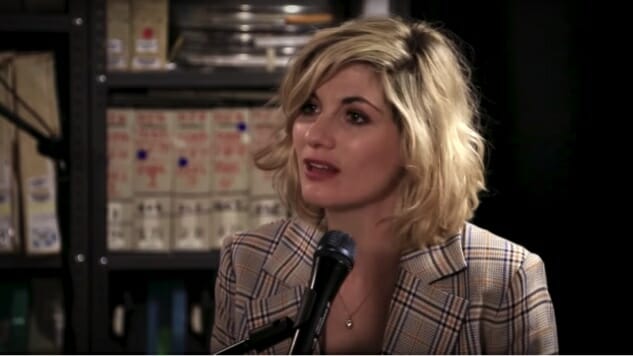 I'm pretty sure Jodie Whittaker is Doctor Who. I mean, I know she's the 13th actor to take on the role of The Doctor in the long-running sci-fi series from the BBC. But I think she also may secretly be a Time Lord. I just don't have any other explanation for the enthusiasm, energy, curiosity and generosity of spirit she displayed from the moment she stepped into the Paste Studio in New York to moment she left.
"I think what's incredible about Jodie," showrunner Chris Chibnall told me back before her first season premiered, "from the minute she sort of crash-landed into the episode, is how much she sort of is instantly the Doctor."
Before our interview, Whittaker was sending a video message to a young fan and volunteered to send one to my kids when I showed her a photo of the TARDIS-themed soapbox derby car I'd built for them years ago. She was digging into our library of original live tapes like a kid in a candy store. Taping a season of Doctor Who lasts more than nine months, and her duties extend well beyond acting in front of the camera, as she's often interacting with fans and media.
"She's just an absolute ball of fizzing energy," says Mandip Gill, who plays one of the Doctor's companions, Yasmin Khan. "She's so professional. She knows her stuff. But she's just full of enthusiasm all the time. It can be four in the morning and she's just so excited about running around. I think there's not many people who could play the Doctor. You need a certain quality I think. She's bold, makes bold choices. She's very clever. You watch her make really intelligent decisions or questioning stuff. I've learned so much from her without her realizing from just stepping back and going 'oh yeah, the way she just dissected that scene or the energy that's she's brought. From day one, she's gone in there and she knows all the crews' names. She's talking about their kids. She's buying them presents. She's the person you need to carry such an enormous character."
Now in her second season in the role (the 12th season since the show's return—or the 38th since its inception in 1963), Whittaker has developed her own take on the character.
"The thing I really wanted to capture was … that fizzing energy," Whittaker says. "And that ability to dance between thoughts, not just mentally but physically. I loved the fact that this role could encompass all aspects of yourself. It could be in your hand gestures. I love the idea of the fidgeting and the unsettledness. But always done with curiosity and not with judgment. For me, I'm not hugely cerebral. I'm very emotional. And so I love the idea that Chris [Chibnall] celebrates that side of me, as well, which is kind of thinking with my two hearts going forward. And the idea that there's always hope."
Watch our full interview with Jodie Whittaker at the Paste Studio in New York:
Watch our interview with Whittaker's co-stars Mandip Gill and Tosin Cole:
And listen to our Doctor Who episode of The Paste Podcast: