Puny Humans, Prepare to Meet Your Doom: Invader Zim: Enter the Florpus Gets Netflix Release Date
Images via Netflix
TV
News
Invader Zim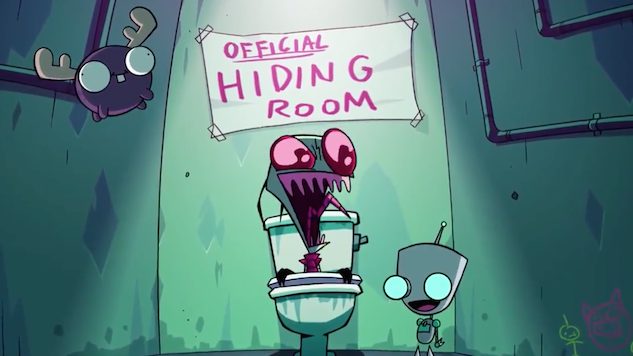 Fans of the turn-of-the-millennium Nicktoon Invader Zim know its titular star is nothing if not tenacious. New episodes featuring the diminutive Irken stopped airing 13 years ago, but a new promo clip for Invader Zim: Enter the Florpus finally gives us a release date for the forthcoming Netflix special: Aug. 16, 2019.
Though brief, the video manages to capture the darkly humorous tone of the original series, created by cartoonist Jhonen Vasquez in 2001. Yes, Zim's menacing laugh ranks with the best (worst?) supervillains, but his "official hiding room" is a bathroom stall with a floating moose balloon. Fan favorite GIR—his completely useless sidekick robot—makes an appearance, as well.
As expected, things are not going well for the would-be conqueror, as Netflix's official synopsis explains:
Zim discovers his almighty leaders never had any intention of coming to Earth and he loses confidence in himself for the first time in his life, which is the big break his human nemesis, Dib has been waiting for.
Invader Zim's initial run ended in 2002, leaving much of the second season unreleased until 2006. Enter the Florpus brings back Vasquez as writer and director, with Breehn Burns, Gary Wilson and Jake Wyatt all contributing. The original voice actors—Richard Steven Horvitz (Zim), Rosearik Rikki Simmons (GIR) and Andy Berman (Dib Membrane)—also return for the next chapter in the Zim saga.
Watch the clip below.
You asked for it, so we're delivering a fresh order of doom right to your doorstep. Zim is back. pic.twitter.com/VePp3kfFUa

— NX (@NXOnNetflix) July 23, 2019