Impulse: Maddie Hasson on Season Two, the Legacy of Trauma, and Superpowers as Self Defense
Maddie Hasson knows exactly how powerful Henry Coles' origin story is.
Photo Courtesy of YouTube Premium
TV
Features
Impulse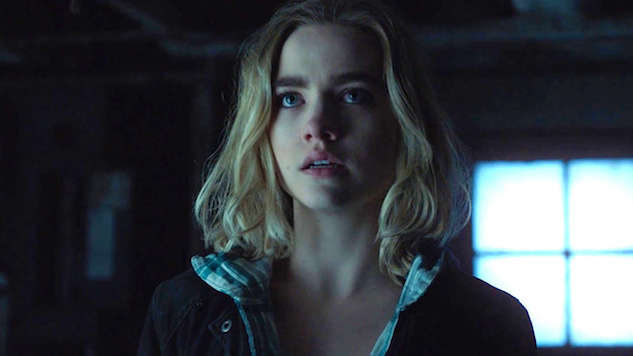 Henrietta Coles, the rebellious graffiti artist/traumatized teenaged teleporter protagonist at the heart of YouTube Premium's original sci-fi drama, Impulse, doesn't give a fuck what you think about her. Maddie Hasson, the actress charged with bringing Henry to life, loves it.
"I was drawn to the show because of Doug, of course," Hasson told Paste when we get her on the phone in the lead-up to the YouTube Original drama's Season Two return. (Doug Liman, whose Jumper was adapted from the same books as Impulse, is an executive producer on the series.) "From the very beginning, though, I also just loved Henry as a character. I thought she was strong and weird, and vulnerable in her own way. She just seems like a real person, you know? And nobody [behind the show] is caught up in trying to make Henry a likable young woman, which I think a lot of shows in the past, especially young adults shows, have done with their female characters. I have never felt that with Henry, for even one second. She's very guarded, and she pushes people away, but then when it's convenient for her to have someone close to her, she pulls them back. She's selfish in that way, and I think that's really, really interesting. I like that she's not likable, I love playing that."
"Plus," Hasson laughs, "working with YouTube, they let us say fuck a lot, which is how teenagers really talk. I mean, that's like, Henry's main word! She's, uh, not great at communicating."
To call this an understatement would be, in itself, an understatement. In writing about the series's first season last year, I used words like "terse" and "tightly wound" to describe Hasson's superpowered sixteen-year-old alter-ego. I also used "electric," but anyone who's watched even just a trailer will know that what I meant by that wasn't electric as in life of every party, but rather, thickly insulated but cracked live-wire that will spark at a single touch and also might possibly kill you. All of these qualities make sense for a character whose only real home, after being abandoned by her dad when she was little, has been her always-on-the-move, unlucky-in-love single mom (played with delicate fortitude by Missi Pyle), and whose superpowers only reveal themselves as a violent form of self-defense when she is being sexually assaulted by a classmate. Of course Henry is tender and bad at communicating. Of course "fuck" is her favorite word.
As the series has progressed, the ever-blossoming complexity of Henry's reactions to the intense, traumatic events hitting her from all sides have only endeared Hasson to her more.
"I love the way that she reacts to emotional situations," she explains. "What happens to Henry, the assault, and all of the trauma from the teleportation and what's going on around her, really forces her to be close to people for the first time in her life, so in a way, she has to open up. By the end of Season One, you get to see her be more emotional and sensitive and open and caring. But Henry's so great because in a second she can just close right up, you know, like a clam. It's never a clear trajectory for her, you know what I mean? Getting over trauma, it's never a straight line—it's up and down, it ebbs and it flows. That's another thing that Lauren's done so well."
The Lauren she is referring to is showrunner Lauren LeFranc, who was behind the decision to have Liman do a total re-shoot of the sexual assault that cracks Henry's open powers in the series' pilot, consulting with assault survivors about the experience and aftermath of that kind of trauma in order to more responsibly—and effectively—center Henry's perspective. The fallout of that assault, while not the central force in Henry's life or the series as a whole, is nevertheless critical to who Henry becomes as she grows into both the powers it triggers, and the strength she has to find to survive them both. It's also one of the reasons Impulse, as a character-first drama, is so strong. Under LeFranc's watchful eye, Henry's assault is never treated like a mere plot device, even as the more superpowered aspects of the story come into greater focus. Like Hasson says, Henry's healing ebbs and flows, and how she handles all the shit life throws at her after she escapes that initial assault ebbs and flows with it—Season One ends with an ebb so deep a man dies.
The dangerous repercussions of that death set the tone for Season Two, with Callum Keith Rennie's mysterious Nikolai rising to a more central figure in the sci-fi part of Henry's world at the same time as Henry tries to find a place for herself in the everyday mundanity of teenage life.
"In Season Two we've really broadened the scope of Henry's universe," Hasson agrees. "She's trying to gain control over her abilities, and after her powers grow, she can travel more—we actually got to go film in Bucharest, Romania, which was so fun—but at the same time, what's fun this season is Henry tries to be a normal teenager. Like, she gets a job! And she also starts to think about her future, because I think she looks around and she realizes she's been so tied up in all of this other stuff that she's not been thinking about what everybody else has been thinking about. Because, you know, before she had these crazy powers, she didn't give a shit. And then she had them and she was like, well, I don't I don't know if I have a future, anyway, so what's the point? But this season I think she starts to really take her future into account, which is interesting to watch."
And then there's the boy.
Impulse being a story about teenagers, the inclination should be to add an of course there, but as Season One so deftly proved, there's nothing of course about how romantic connections are used in the show. Yes, both Henry's almost-stepsister Jenna (Sarah Desjardins) and her friend/sidekick Townes (Daniel Maslany) have interesting romantic subplots, and Henry herself had an old boyfriend (Amadeus Serafini) show up for a couple episodes just when she needed a different world to take shelter in, but Henry getting a boyfriend has never been one of the show's driving concerns. This season, though, that might change—and you better believe LeFranc has plans for pulling it off with serious care.
"There is a boy that she starts to like, yes," Hasson says. "And I think that's another thing Lauren has done really well. You get to watch Henry try to let her guard down, which is really a struggle for her, you know? After trauma, any kind of relationship can become difficult, especially if it's a physical or romantic one, but also friendships and relationships with your family can become really, really strained. It can be hard for you to be close to somebody." Hasson is careful not to give anything away, but she does note that this strain will extend to Henry's nascent friendship with both Jenna and Townes, both of whom she turns her dangerous live-wire energy on before the season is out. ("Without spoiling anything, she makes some bad decisions.")
Ultimately, the greatest takeaway from our long, chill conversation with Hasson is that however strong Impulse was in Season One, and however much we all liked how prickly and unpredictable Henry was that early in her journey, Season Two is going to be that much stronger—both as a sci-fi joint, and as a prestige-level drama.
"I think what Lauren and our producers have done so well is make Impulse be a show where nothing is ever clear cut, you know?" Hasson says, summing up two seasons of Henry saying fuck you to a world that keeps kicking her down in one short sentence. "Like, Lauren has really left it up to the audience to decide whether Henry is a protagonist or antagonist. It's not black and white, which is a lot like life—there are no heroes or villains in real life, no matter how much we might want there to be. Life is about your own perception of yourself. You can perceive yourself as a good person that's done a bad thing, or you can determine that because you've done that bad thing, you're a bad person. Our show really grapples with things like that, and watching Henry work through that [puzzle] in our sci-fi fantasy world in Season Two has just been so interesting."
Well, we're still rooting for Henry to come out of everything a hero, but we're more than ready to watch Hasson and LeFranc take her through a half dozen more seasons in order to really earn it.
Both seasons of Impulse are available uninterrupted with YouTube Premium now. If you don't have a Premium/Google Play subscription, you can still currently watch Season One for free, with new Season Two episodes dropping for free weekly with ads for a limited time.
---
Alexis Gunderson is a TV critic and audiobibliophile. She can be found @AlexisKG.