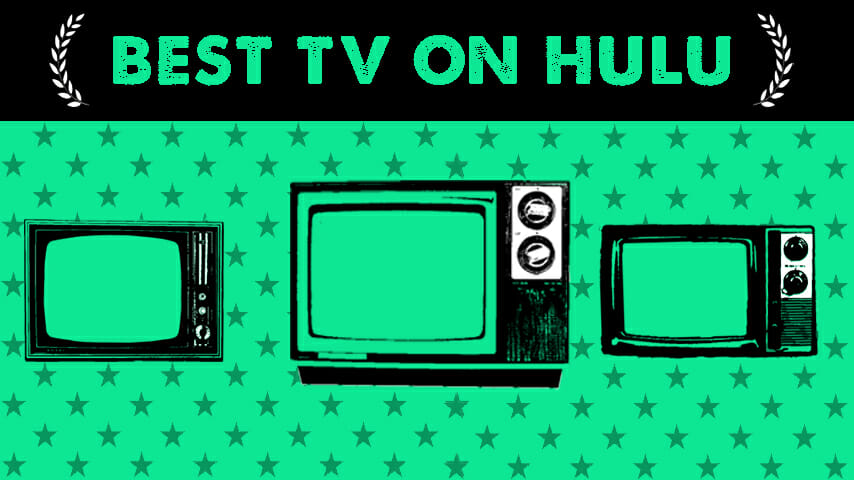 Don't be discouraged by the not-always-intuitive interface and many instances of commercial breaks even in the paid tiers—Hulu boasts some of the best programming of any streaming service. A joint venture among Disney/ABC, FOX, NBCUniversal, and Time Warner, Hulu benefits in particular from a rich back catalogue of titles, including a terrific array of current and classic network series as well as must-sees from Britain (Peep Show, Prime Suspect) and Australia (Please Like Me).
With its FX partnership, Hulu is not only home to the entire FX library (almost—no The Americans yet, sadly), but also some great new collaborations like Mrs. America. Plus, Hulu originals are also stepping up with series like The Great. Because of this, while you can add Starz, Showtime, and other premium networks to your Hulu subscription (including a Live TV option that also opens up more series On Demand), we are keeping this list to just what you can get with a basic tier, and saying goodbye to Homeland, Party Down, and others.
Below are our ranked picks for 50 of the best TV series you can find on Hulu, which should keep you bingeing happily for many months to come. And of note, we're starting with #1!

1. I Love Lucy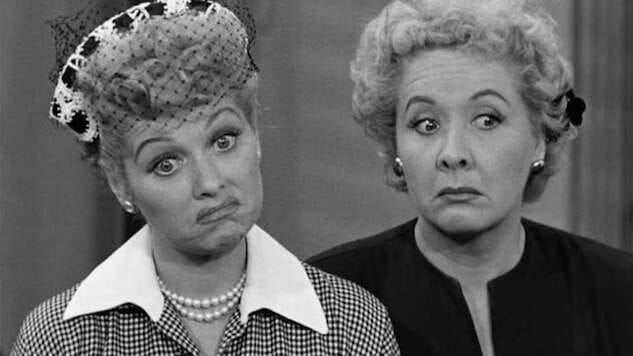 Created by: Lucille Ball, Desi Arnaz
Stars: Lucille Ball, Desi Arnaz, Vivian Vance, William Frawley, Richard Keith
Original Network: CBS
I Love Lucy is one of the most iconic sitcoms of all time. It's a show so well-structured, and so beloved, it continues to air on television even though the last new episode premiered in 1957. It was the first show inducted into the Television Hall of Fame, and multiple publications, including TV Guide and TIME, have named it one of the best television shows of all-time. Many series have clearly been (and still are) influenced by the wacky adventures of Lucy and Ricky Ricardo, but I Love Lucy also played a major role in what would become a staple of the sitcom genre—reruns and syndication, born out of necessity after Ball became pregnant while filming. Ball and Arnaz were consistently determined to bring their unique vision to television, which ultimately resulted in a reinvention of the modern sitcom. Even if the generations to come don't get to experience the magic in the same way that some of us have, the legacy of Ball and Arnaz, and how they made and re-made television, will always be apparent. —Chris Morgan
---
2. "The Office (U.K.)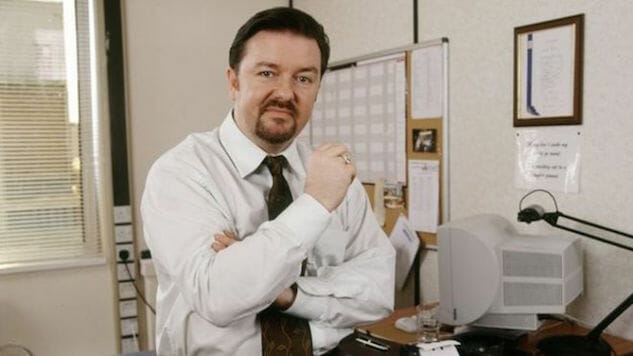 Created by: Ricky Gervais, Stephen Merchant
Stars: Ricky Gervais, Martin Freeman, Mackenzie Crook, Lucy Davis, Oliver Chris, Patrick Baladi, Stacey Roca, Ralph Ineson, Stirling Gallacher
Original Network: BBC
Ricky Gervais' immortal Britcom deserves full marks for establishing this comedy franchise that killed the laugh track and introduced us to a hilarious bunch of paper-pushing mopes. Defying expectations that it would pale in comparison, NBC's The Office became an institution unto itself. Before there was Steve Carell's Michael Scott and endless "that's what she said" jokes, there was Ricky Gervais' equally clueless David Brent and his fantastical dancing. Before there were John Krasinski and Jenna Fischer's adorable Jim Halpert and Pam Beesly, there were Martin Freeman and Lucy Davis' star-crossed Tim Canterbury and Dawn Tinsley. And, of course, before there was Rainn Wilson's assistant [to the] regional manager, Dwight Schrute, there was Gareth Keenan—Mackenzie Crook's retired Territorial Army member, who is both obsessed with his slightly senior workplace status and his one-sided friendship with his boss. The series synonymous with the use of the mockumentary format on TV (see also: Modern Family, Reno 911!) is the tightly compacted, original version of the long-running, Emmy-winning American spinoff (This is the U.K., after all, so there's only two six-episode seasons, a Christmas special and a reunion episode). But its short run was truly pitch-perfect. —Nick Marino and Whitney Friedlander
---
3. Cowboy Bebop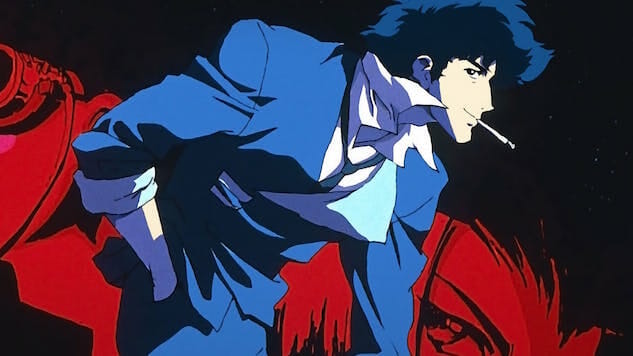 Created by: Hajime Yatate
Original Network: TV Tokyo
Every debate over whether or not Cowboy Bebop—Shinichir? Watanabe's science-fiction masterpiece—is the pinnacle of anime is a semantic one. It is, full stop. Its particular blend of cyberpunk intrigue, Western atmosphere, martial arts action, and noir cool in seinen form is unmatched and widely appealing. Its existential and traumatic themes are universally relatable. Its characters are complex and flawed, yet still ooze cool. The future it presents is ethnically diverse and eerily prescient. Its English dub, boasting some of America's greatest full-time voiceover talents, somehow equals the subtitled Japanese-language original. Its 26-episode run was near-perfect, and episodes that might have been filler in another series are tight, taut, and serve the show's thesis even as they do not distract from its overarching plot, which is compelling but not overbearing. It's accessible to new hands and still rewards old-timers with every repeated watch. Yoko Kanno's magnificent, jazz-heavy soundtrack and score stand on their own. Its opening credits are immaculate. It's an original property, not an adaptation. It feels like a magnum opus produced at the pinnacle of a long career despite being, almost unbelievably, Watanabe's first series as a director. It is a masterwork that should justly rank among the best works of television of all time, let alone anime. We eagerly await a rival. We're not holding our breath. —John Maher
---
4. Pride and Prejudice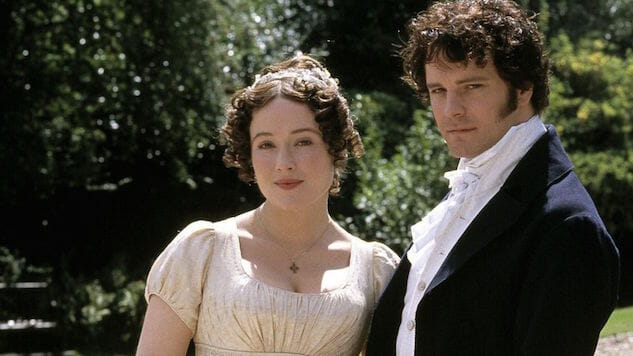 Created by: Simon Langton
Stars: Colin Firth, Jennifer Ehle, Susannah Harker,Julia Sawalha
Original Networks: BBC, A&E
Horse riders make their way through a 16mm-colored countryside, Colin Firth makes his way into a lake, and Austen makes her way onto TV in what remains the definitive adaptation of Austen's work for the screen (the breathtaking opening three minutes of Joe Wright's 2005 film adaptation aside). The music bounces from scene to scene with curlicue youthfulness. The acting prods the lines around it with sly good cheer. Through it all, the spirit of the adaptation by Andrew Davies can be found in his describing it so: "Let's have Elizabeth on a hillside seeing these two tasty blokes galloping along, and something about them makes her skip down the hill." And, for the implicit back and forth that inspires (let alone what follows), we follow, too. —Evan Fleischer
---
5. Frasier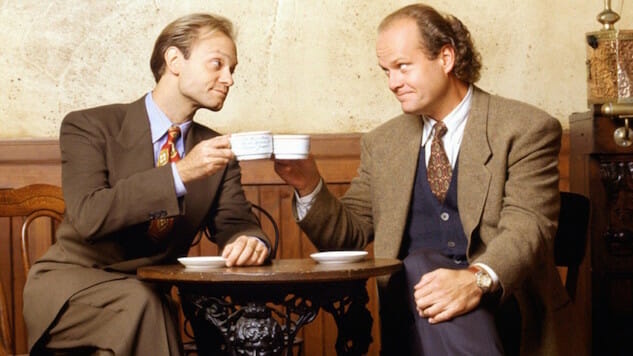 Created by: David Angell, Peter Casey, David Lee
Stars: Kelsey Grammer, David Hyde Pierce, Jane Leeves, John Mahoney, Peri Gilpin, Moose
Original Network: NBC
Many classic sitcoms are paeans to blue-collar family life, but Frasier was the odd show that made cultural elites and eggheads somehow seem like lovable characters to a mass audience. Both Frasier and his brother Niles can be infuriatingly snobbish, but audiences soon found that when their petty jealousies were directed at each other, they could also be hilarious. The show quickly became an off-hand representation of the idea of "smart comedy" on TV, but it was also still a sitcom full of relationship humor. Viewers waited a hell of a long time in particular for the long-teased relationship between Niles and Daphne to finally come to fruition (seven full seasons). Frasier, on the other hand, is never really lucky in love, but he was always better as a semi-depressed single, turning his probing mind on himself. —Jim Vorel
---
6. Cheers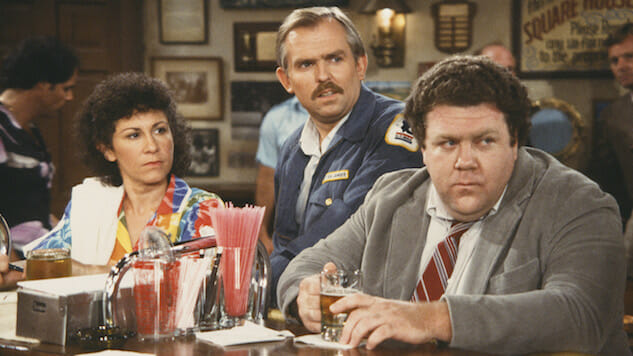 Created by: James Burrows, Glen Charles, Les Charles
Stars: Ted Danson, Shelley Long, Kirstie Alley, Rhea Perlman, Nicholas Colasanto, John Ratzenberger, Woody Harrelson, Kelsey Grammer, George Wendt
Original Network: NBC
Like many long-running sitcoms, the Cheers of the 1990s was really a fundamentally different show than it was in the 1980s, less about the dating life of Ted Danson's Sam and much more of an ensemble device, full of characters who were by this point beloved by all. The final years of Cheers were when all these characters got to shine, especially Rhea Perlman as Carla and Kelsey Grammer, who joined the cast full-time before spinning off into Frasier. The finale episode received mixed reactions at the time, but nostalgia has pushed it into favorable territory, especially given the happy endings that most characters receive. The fact that Sam decides to "stay with the bar" makes perfect sense—it is of course his one true love. —Jim Vorel
---
7. Atlanta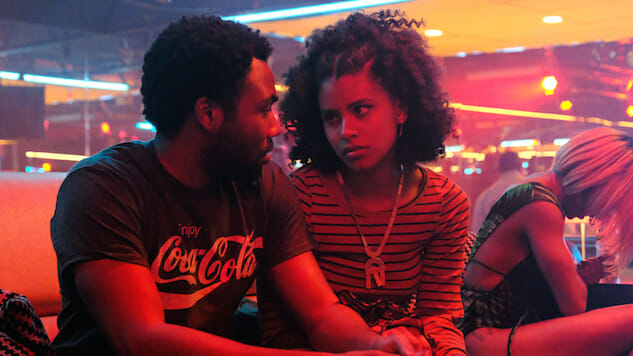 Created by: Donald Glover
Stars: Donald Glover, Brian Tyree Henry, Lakeith Stanfield, Zazie Beetz
Original Network: FX
Though it had traces of an anarchic streak (most notably in the memorable departure "B.A.N.") Atlanta's first season read mainly as a laconic slice of life, rendering the experiences of Earn (series creator Donald Glover), Alfred (Brian Tyree Henry), Darius (Lakeith Stanfield), and Van (Zazie Beetz) in all their hilarious particulars. Its second (or robbin') season, by contrast, comes as close to understanding the uncanny as any series on television: As directed by Glover, Amy Seimetz, and Hiro Murai, the germ of Darius' "Florida Man" parable—an "alt-right Johnny Appleseed" forcing his chaotic, angry, even violent fantasies on an innocent populace—bears its strange fruit across 11 arresting, often unsettling episodes, woven from the same materials as fairy tales, folklore, fables, and myths. From the laughing wolf of "Helen" and the night-dark "Woods" to the terrifying title character of "Teddy Perkins" (played, in whiteface, by Glover himself), Atlanta becomes a wickedly funny, unspeakably beautiful anthology of American horror stories, one that reckons with the definition of both "blackness" and "whiteness," and treats the latter, rightly, as a malevolent force. Ultimately, the series' tremendous sophomore effort grabs hold of the genre's brass ring, confronting its audience with a simple, startling, profound proposition: If Atlanta doesn't scare the fuck out of you, you might be the monster. —Matt Brennan
---
8. The Great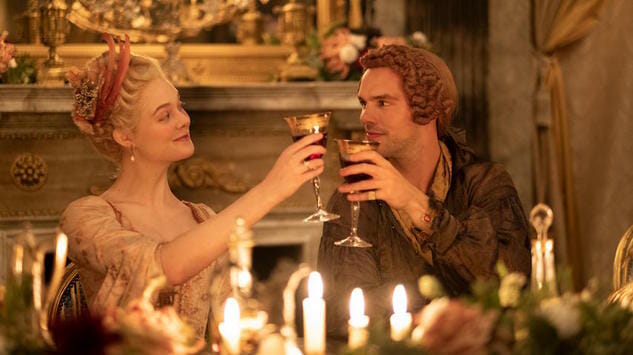 Created by: Tony McNamara
Stars: Elle Fanning, Nicholas Hoult, Phoebe Fox, Sacha Dhawan, Charity Wakefield, Gwilym Lee, Adam Godley
Original Network: Hulu
For those who adored The Favourite, writer Tony McNamara is back with "an occasionally true story" for Hulu focused on the rise of Catherine the future great, when she was just "a 20-year-old who's been in Russia six months, and who—with the aid of a drunken general, an angry maid, and a nervous bureaucrat#8212;is going up against the violent regime that is Peter's empire," (as one character succinctly states). The 10-episode series has a crisp, fast-moving script and sumptuous costuming that looks like a traditional historical drama but feels refreshingly modern in its approach. Bathed in a Marie Antoinette meets Death of Stalin aesthetic (and never going Full Dickinson), the series' acid, winning humor understands the familiar absurdity of an age filled with the constant juxtaposition of wealth and brutality. Emotionally affecting as a complicated dance of horror and hope, Catherine's outright victories may be few and far between, but the journey is thrilling.
The Great begins in the mid-18th century, with Catherine's (Elle Fanning) arrival at the Russian court as a naive German bride for Peter (Nicholas Hoult) the not-so-great and in fact very-much-awful. A script this cleverly bombastic requires very specific handling to balance its humor and drama, and both Hoult and Fanning are luminous as the ill-matched new couple. But though Catherine has a distaste (quite rightfully) for Peter, she does have a heart for her new country. "I want a strong, vibrant Russia alive with ideas, humane and progressive, where people live with dignity and purpose," she says dreamily. "Russia?" the Emperor's advisor Orlo (Sacha Dhawan) says in a questioning tone. "It needs to be believable." Catherine's maid, Marial (Phoebe Fox)—a former noble lady stripped of her position—adds, "Just tell them … no one will rape and kill you and your children, and you'll have some bread. That would be sufficient."
The way the series charts Catherine's quiet but brave attempts to take power by growing a voice at court and discovering new things about herself is a really beautiful journey, punctuated by completely absurd events. It's strange and wonderful and a fantastically funny ride. But it will also leave you pondering the nature of sacrifice and real change, and the courage it takes to overthrow a despot. Huzzah. —Allison Keene
---
9. Freaks and Geeks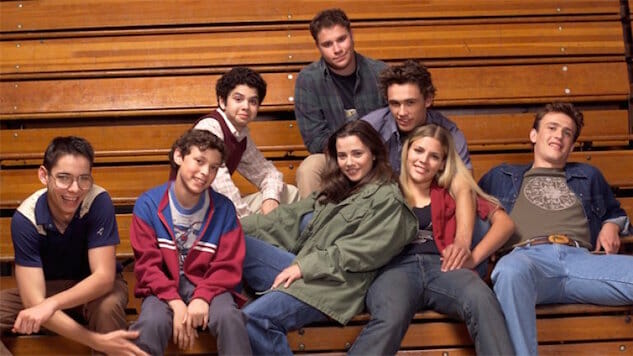 Created by: Paul Feig
Stars: Linda Cardellini, John Francis Daley, James Franco, Samm Levine, Seth Rogen, Jason Segel, Martin Starr, Busy Philipps
Original Network: NBC
We've had more than a decade to come to terms with Freaks and Geeks' untimely cancellation, and while the axe's blow still smarts, in some ways the series' scant 18 episodes have proved an ideal offering. Like a musty old yearbook, the short run preserved one gloriously specific time in the lives of McKinley High's do-gooders and reprobates, and now we remember the trials and tribulations of Lindsay and Sam Weir, Daniel Desario, Bill Haverchuck and the whole gang like those of so many long-lost high-school friends of our own. Despite the intervening years (and starring roles in raunchier Judd Apatow fare), we remember the characters precisely as they were then, in 1980—sweetly fraught, awkward, hilarious and unsullied by the harsh realities of post-graduate life (or trite plot-lines, forced love triangles or sweeps-week shenanigans). —Rachael Maddux
---
10. Mrs. America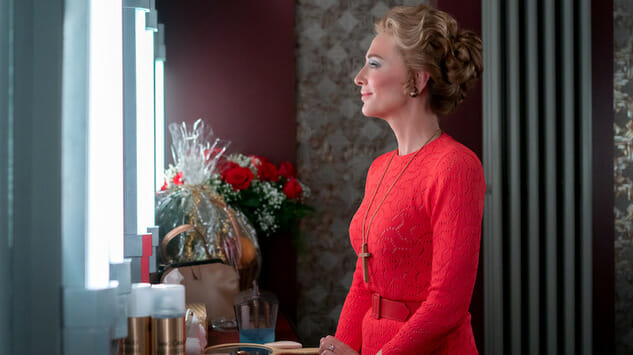 Created by: Dahvi Waller
Stars: Cate Blanchett, Rose Byrne, Uzo Aduba, Ari Graynor, Margo Martindale, John Slattery, Tracey Ullman
Original Network: Hulu/FX
Equality is at the heart of Mrs. America. The series, which starts in 1971 and runs through 1979, examines the national debate taking place over the Equal Rights Amendment, meant to put women on the same legal footing as men. For some housewives across America, though, the amendment was concerning because it was ushered in by second-wave feminists who (they believed) threatened to dismantle traditional family values. And at the head of that anti-ERA movement was Illinois housewife and mother of six, Phyllis Schlafley (an elegant Cate Blanchett).
Phyllis is the nexus of everything happening in Mrs. America, but each episode also spends time with one or two other important women on the opposite side of the movement, from Gloria Steinem (Rose Byrne) to Betty Friedan (Tracey Ullman) to the first black woman to run for President, Shirley Chisholm (Uzo Aduba). Where the limited series, created by Dahvi Waller, really excels (and manages to eschew the issues of other series dealing with similar topics) is that it's not overly reverential to these real-life characters. It also, crucially, doesn't treat them as caricatures—there is a deep, recognizable, and very true humanity to each of these women that is immediately authentic, as they move in and out of each other's lives.
Mrs. America is juggling a lot, but it never feels like too much. Like the ever-present (worthless) question of "can a woman have it all?" Mrs. America does have it all, and more. It illuminates an essential part of the women's liberation movement and the real women behind it (and against it) in ways that are engrossing, enlightening, and sometimes enraging. —Allison Keene
---
11. Arrested Development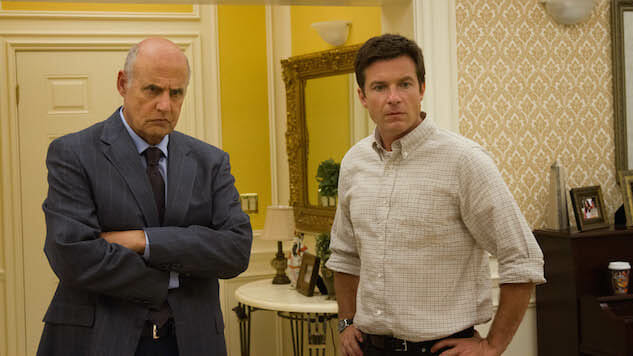 Created by: Mitch Hurwitz
Stars: Jason Bateman, Will Arnett, Portia de Rossi, Tony Hale, David Cross, Michael Cera, Jeffrey Tambor, Jessica Walter, Alia Shawkat, Ron Howard
Original Networks: Fox, Netflix
Mitch Hurwitz' sitcom about a "wealthy family who lost everything and the one son who had no choice but to keep them all together" packed a whole lot of awesome into three short seasons. How much awesome? Well, there was the chicken dance, for starters. And Franklin's "It's Not Easy Being White." There was Ron Howard's spot-on narration, and Tobias Funke's Blue Man ambitions. There was Mrs. Featherbottom and Charlize Theron as Rita, Michael Bluth's mentally challenged love interest. Not since Seinfeld has a comic storyline been so perfectly constructed, with every loose thread tying so perfectly into the next act. Arrested Development took self-referencing postmodernism to an absurdist extreme, jumping shark after shark, but that was the point. They even brought on the original shark-jumper—Henry Winkler—as the family lawyer. And when he was replaced, naturally, it was by Scott Baio. Each of the Bluth family members was among the best characters on television, and Jason Bateman played a brilliant straight man to them all. The series' return to Netflix for fourth and fifth seasons has not been nearly as auspicious, so ending your watch with that original run may, in fact, be best. —Josh Jackson
---
12. Justified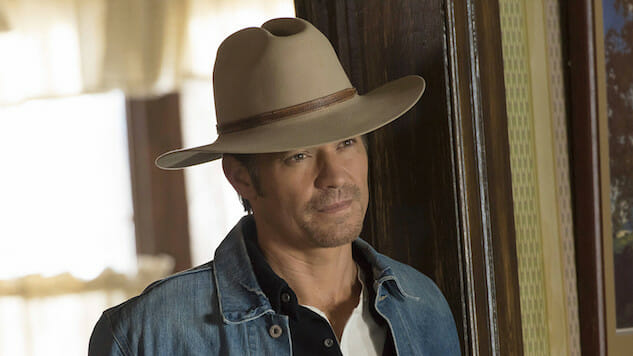 Created by: Graham Yost
Stars: Timothy Olyphant, Nick Searcy, Joelle Carter, Jacob Pitts, Erica Tazel, Natalie Zea, Walton Goggins
Original Network: FX
Look, we'll keep it simple: Award-worthy guest stars (Margo Martindale, Mykelti Williamson, and Neal McDonough) were the rule not the exception on this Kentucky-based gem. Combine that with the best ensemble on television (anchored by Timothy Olyphant, Walter Goggins and Joelle Carter), firecracker writing from show-runner Graham Yost with a dependable stable of wordsmiths, and the feature-film quality direction and cinematography from Francis Kenny, Michael Dinner and others, and what do you get? An instant classic that improbably translates Elmore Leonard's twisted humor, Western deconstruction and damaged psyches into hour-long gems episode after episode. —Jack McKinney
---
13. Buffy the Vampire Slayer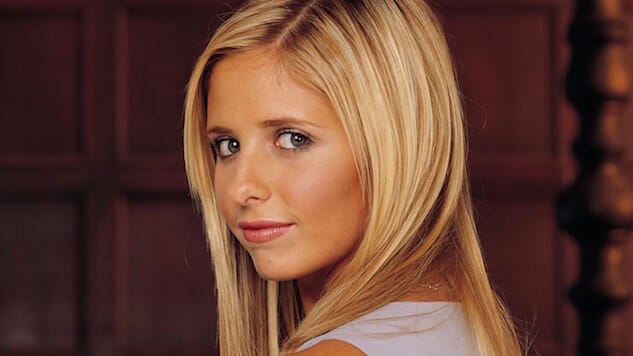 Created by: Joss Whedon
Stars: Sarah Michelle Gellar, Nicholas Brendon, Alyson Hannigan, Charisma Carpenter, David Boreanaz, Seth Green, Marc Blucas, Emma Caulfield, Michelle Trachtenberg, Amber Benson, James Marsters, Anthony Stewart Head
Original Networks: The WB, UPN
Buffy the Vampire Slayer had it all: Romance, drama, tragedy, suspense. The show took the teen-soap formula and elevated it to an art. It was a unique combination of tragic romance, apocalyptic fantasy and the clincher: emotional realism. It also featured the most serious and realistic depiction of human loss ever witnessed on the small screen (in "The Body" dealing with the death of Buffy's mom by natural causes). Humor? The writers understood the campy sheen that must accompany any show named Buffy. They also knew how to use snappy dialogue and uncomfortable situations to full effect. Complex characters? You'd be hard pressed to find another program that had the same range and consistency of character development. Everyone matured (or devolved) at his or her own realistic rate. As some feminist writers have argued, TV had never before seen the complexity of relationships among women that you saw with the likes of Buffy, Willow, Joyce, and Dawn. Plot? The writers employed elaborate multi-episode, multi-season story arcs. People and events of the past always had a way of popping back up, the way they do in real life. Philosophy? Series creator Joss Whedon was all about the meta, the ideas and story behind the story. He succeeded, creating a WB/UPN show that bears closer resemblance to the works of Dostoevsky and Kafka than 90210 or Dawson's Creek. —Tim Regan-Porter
---
14. Friday Night Lights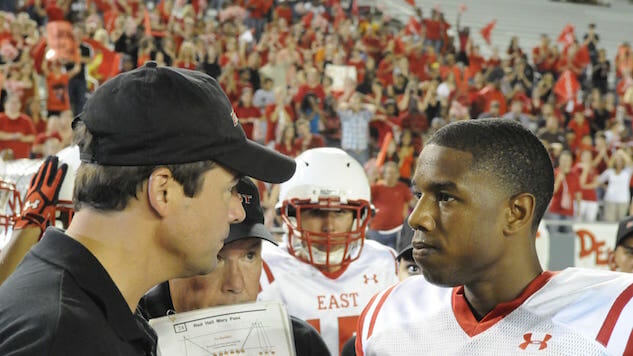 Created by: Peter Berg
Stars: Kyle Chandler, Connie Britton, Taylor Kitsch, Jesse Plemons, Aimee Teegarden, Michael B. Jordan, Jurnee Smollett
Original Network: NBC
Who ever thought football, a sport infamous for its meatheads and brute force, could be the cornerstone of one of television's most delicate, affecting dramas? Heart-rending, infuriating, and rife with shattering setbacks and grand triumphs—Friday Night Lights is all of these, and in those ways it resembles the game around which the tiny town of Dillon, Texas, revolves. "Tender" and "nuanced" aren't words usually applicable to the gridiron, but they fit the bill here, too. Full of heart but hardly saccharine, shot beautifully but hyper-realistically, and featuring a talented cast among which the teenagers and parents are—blessedly—clearly defined, the show manages to convince episode after episode that, yes, football somehow really is life. Clear eyes, full hearts, can't lose. —Rachael Maddux
---
15. 30 Rock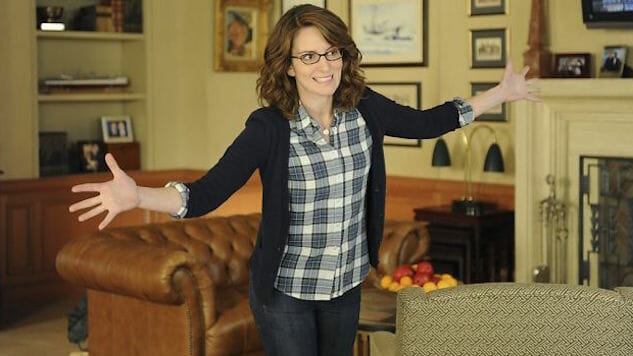 Created by: Tina Fey
Stars: Tina Fey, Alec Baldwin, Tracy Morgan, Jane Krakowski, Jack McBrayer, Scott Adsit, Judah Friedlander
Original Network: NBC
The spiritual successor to Arrested Development, 30 Rock succeeded where its competition failed by largely ignoring the actual process of creating a TV show and instead focusing on the life of one individual in charge of the process, played by show creator Tina Fey. 30 Rock never loses track of its focus, and creates a surprisingly deep character for its circus to spin around. But Fey's not the only one who makes the series so outstanding. Consistently spot-on performances by Tracy Morgan—whether frequenting strip clubs or a werewolf bar mitzvah—and Alec Baldwin's evil plans for microwave-television programming create a perfect level of chaos for the show's writers to unravel every week. 30 Rock doesn't have complex themes or a deep message, but that stuff would get in the way of its goal: having one of the most consistently funny shows ever on TV. Suffice to say, it succeeded. —Sean Gandert
---
16. The Shield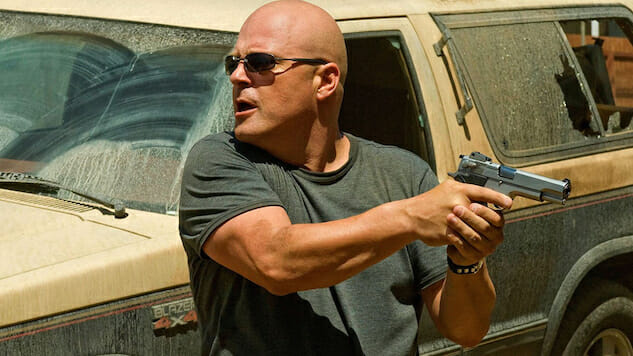 Created by: Shawn Ryan
Stars:Michael Chiklis, Michael Jace, Walton Goggins, CCH Pounder, Benito Martinez, Forrest Whitaker, Glenn Close
Original Network: FX
Shawn Ryan's cop drama masterpiece premiered on FX a few months before David Simon's cop drama masterpiece The Wire premiered on HBO. Years later, if you ask anybody which cop drama masterpiece they believe to be the Greatest Of All Time™, they'll probably say The Wire. That's fine. The Wire's laurels are well-earned, but give a little more consideration to The Shield, too, huh? In many ways, The Shield is The Wire's equal. In some, it is superior; a vivid, graphic entertainment that's no less profound than Simon's musings on Baltimorean crime and punishment. The Shield is grimdark stuff from back before grimdark became de rigeur in our pop cultural diet; there are no straight-up good guys or bad guys here, just good guys who occasionally do bad things and bad guys who occasionally do good things. The series is fueled by enough doom to make the Bard himself crack a wry smile, and it's loaded with dubious morality. We were caught in the thrall of Vic Mackey's reckless, self-serving corruption long before Game of Thrones made character survivability a guessing game, and Breaking Bad made us root for ethically suspect protagonists. Most of all, though, The Shield put a spotlight on law enforcement malfeasance without irrevocably blurring the line between social critique and theatricalized excitement. —Andy Crump
---
17. Adventure Time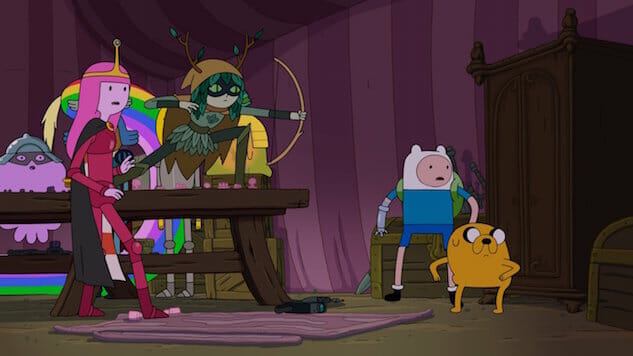 Created by: Pendleton Ward
Stars: Jeremy Shada, John DiMaggio, Hynden Walch, Niki Yang, Tom Kenny
Original Network: Cartoon Network
There is a world where the Adventure Time creative team is content with rehashing its brand of surreal, candy-infused tomfoolery ad nauseam. Luckily, this is not the world we live in. Indeed, Pendleton Ward and Co. have spent the latter half of this magnificent and groundbreaking series' run not only stretching the bounds of the show's weirdass sandbox, but actively working to push the characters forward. More than anything, Adventure Time realizes that to avoid change is to become tired and stagnant. Thus, rather than adhering to the typical "floating timeline" structure of most animated programs, the show has allowed its characters (be it a human child, a stretchy dog, a peppermint butler, or a bubblegum princess) to grow and develop, often in ways that are more heartbreaking and dramatically potent than anything a prestige cable drama could throw out. Never was this sensibility more apparent than in Stakes, the eight-part miniseries that went a long way towards exploring the backstory of vampire Marceline, one of Adventure Time's most beloved, mysterious and tragic characters. Throughout its run, Adventure Time remains the strange, yet endlessly innovative little gem that fans know and love. —Mark Rozeman and Allison Keene
---
18. Reservation Dogs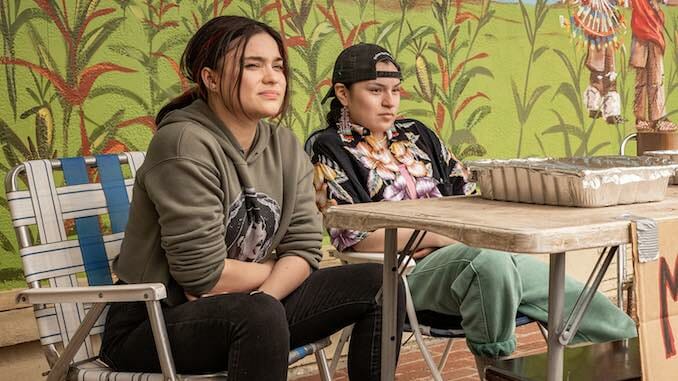 Created by: Sterlin Harjo, Taika Waititi
Stars: Devery Jacobs, D'Pharaoh Woon-A-Tai, Lane Factor, Paulina Alexis
Original Network: FX on Hulu
FX has found its niche in telling close-up, intimate stories extremely well, and Reservation Dogs is no exception. It focuses on four friends—Bear (D'Pharoah Woon-A-Tai), Elora (Devery Jacobs), Willie Jack (Paulina Alexis), and Cheese (Lane Factor)—who accidentally form an unofficial "gang" dubbed the "reservation bandits," because of their penchant for light crime. Their hope is to get enough money to get to California, an ideal that's always just out reach.
The lived-in, slightly surrealist comedy is a low-fi exploration of an Indigenous community in Oklahoma, whose leads shuffle around the "rez" among other misfits and sundries, and stumble into a variety of adventures that range from stealing a chip van to dealing with a snarky and overworked healthcare system. FX has touted Reservation Dogs, created by Sterlin Harjo and Taika Waititi, as revolutionary. In many ways it is; it features an all-Indigenous writers room, for one. But the show makes its boldest statement by not feeling like it's making a statement at all. It's an easy-going show, foul and funny, specific and accessible. It's not about the kids being noble heroes or crime-loving villains; they're just people. But they are also Indigenous people, which does mean something, and is all-too-rare to see on television—especially portrayed in such a wonderfully casual way.
But more than anything, Reservation Dogs is a perfect summer series, one that takes places on languid afternoons and moves at an unhurried pace. The kids make plans, scrounge for food, wander around, get into fights. They don't talk or act like adults, and they're not beaten down by cynicism. They have hopes and dreams, a love for family, an un-ironic embrace of community, and make a lot of silly mistakes. To say there is an innocence or even wholesomeness to Reservation Dogs would not be to quite hit the mark on how casually crass the show can be (it is ultimately a comedy for adults); but like its leads, it has a good heart. The friends are trying their best and hold each other close, even as they rib one another for their choices. It's this balance that the show gets so right; not overly precious nor incredibly vulgar, just truth with an edge. Or as they would say, "Love ya, bitch." —Allison Keene
---
19. Descendants of the Sun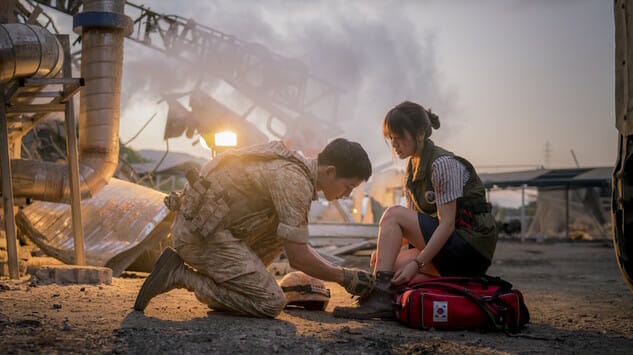 Created by: Kim Eun-sook, Kim Won-seok
Stars: Song Joong-ki, Song Hye-kyo, Jin Goo, Kim Ji-won
Original Network: KBS
You'll have to read subtitles for this 2016 K-drama that follows the love story of an elite soldier and the trauma surgeon who's stolen his heart, but I promise it is worth it! Set against the backdrop of life-and-death situations, Descendants of the Sun is a military drama with a well-placed sense of humor that stars Song Joong Ki as Yoo Shi Jin, a captain in a special forces unit who falls in love with the beautiful and talented Kang Mo Yeon (Song Hye Kyo), an emergency room doctor seeking a professorship, despite their differing philosophies on life—he believes death is sometimes necessary to protect others, while she values life above all else. Having given up hope of making a relationship work because of the nature of their lives and the secrecy of his profession, fate brings the two together once more when Shi Jin is deployed to a war-torn country and Mo Yeon joins a group of humanitarian aid workers there. A fated romance that will at times leave you breathless, Descendants of the Sun is a must-watch series for romance fans and a perfect introduction to K-dramas, if you've yet to experience them. —Kaitlin Thomas
---
20. The Mary Tyler Moore Show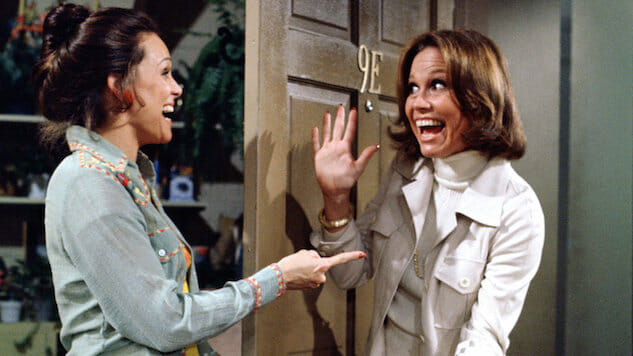 Created by: James L. Brooks, Allan Burns
Stars: Mary Tyler Moore, Ed Asner, Valerie Harper, Gavin MacLeod, Ted Knight, Betty White, Cloris Leachman
Original Network: CBS
Even if you were born long after the show premiered, you probably are familiar with its most iconic moments—Mary triumphantly tossing her hat in the air, the death of Chuckles the clown, or the traveling group hug that ended the series. Mary Richards (Moore) remains iconic as the first single, career woman to ever be the subject of a television show. She lived by herself! Made her own decisions! And wasn't worried about getting married! Can you believe it? Set in the newsroom of WJM in Minneapolis, Mary's co-workers included her irascible boss Lou Grant (Asner), affable news writer Murray Slaughter (Gavin MacLeod), and goofy anchorman Ted Baxter (Knight). This was an office-based comedy at a time when family comedies were all the rage. The groundbreaking series paved the way for shows as varied as Murphy Brown, 30 Rock and The Mindy Project. Plus Mary had spunk, and we love spunk. —Amy Amatangelo
---
21. Cruel Summer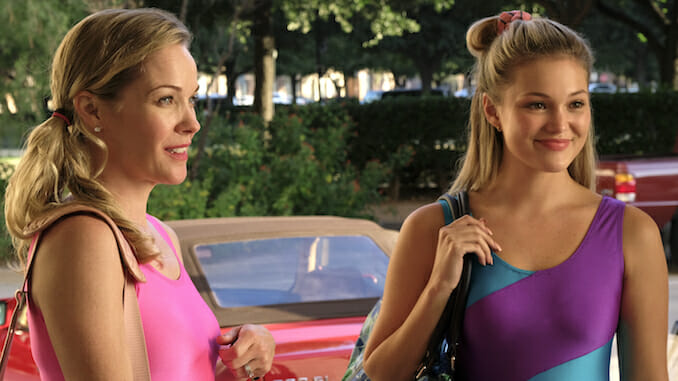 Created by: Bert V. Royal
Stars: Olivia Holt, Chiara Aurelia, Froy Gutierrez, Harley Quinn Smith
Original Network: Freeform
I had to give up taking notes on Cruel Summer, Freeform's 90s-set teen mystery series, about 2,000 words in. That said, the very density that prompted me to get 2,000 words deep in a meticulous kind of madness before changing course is precisely the thing that's likely to turn Cruel Summer into the internet's next big generation-spanning hit. Truly, from its complex, triple-layered timeline to its compellingly intimate POV-flipping narrative structure to its viscerally accurate mid-90s details, Cruel Summer is custom-built to be an object of social media obsession.
In the one corner, you have Aurelia's Jeanette Turner, who at any given moment is a sweetly awkward 15, or a recently popular 16, or a universally despised 17, and who may or may not be guilty of compounding another girl's trauma. In the other corner, you have Holt's Kate Wallis, who at any given moment is a universally beloved 15, or a freshly traumatized 16, or an acidly angry 17. In between them, you have a gulf of not-knowing—a not-knowing that at any given moment might come from one character's inherent duplicity, the natural gaps in another's first-hand knowledge of a situation, or the fundamental unreliability of memory even before intense emotion is involved. There are some truths that are more real for some characters, and less for others; some realities that are more tangible in one moment than they are in the next.
The likelihood that one girl is lying and the other telling the truth hangs over Cruel Summer like a thundercloud, but in giving the audience just one walled-off chunk of each girl's side of the narrative at a time, the possibility that they're both telling a story that's true to them is just as present. In floating the mid-90s media's take on Jeanette and Kate to the top of its story over and over again, Cruel Summer adds an important third perspective on the nature of reality, and all the ways in which it can be warped in the name of "truth." —Alexis Gunderson
---
22. A Teacher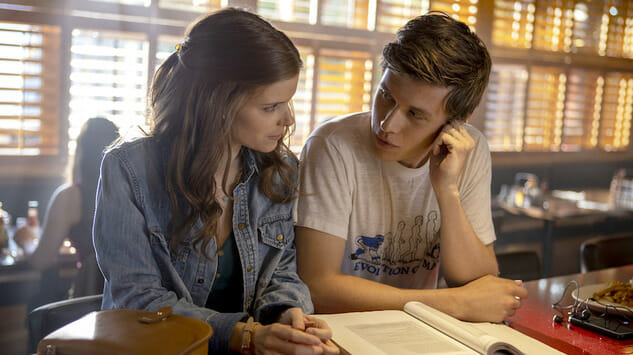 Created by: Hannah Fidell
Stars: Kate Mara, Nick Robinson
Original Network: FX on Hulu
How do you tell a story about a 30-something teacher (Kate Mara) who has a sexual relationship (read: predatory) with her high school student (Nick Robinson) well? One that presents emotional truths without suggesting outright villainy, and yet, never lets her off the hook? One that meanwhile explores the hesitant understanding of trauma by the student himself? Extremely carefully. And that is what Hannah Fidell improbably achieves, with aplomb, in A Teacher.
The 10-episode FX on Hulu series is Fidell's expansion (and tweaking) of her 2013 indie film of the same name. But the series, with its taught half-hour structure, doesn't feel like a movie. It leans into its episodic structure in a way that allows it to hit upon the exact story beats it finds most crucial with deadly accuracy. There is no filler here—everything is essential.
It's admittedly hard to garner enthusiasm for a show that is ultimately about trauma and abuse, but Fidell presents this chronicle (which starts and ends with trigger warnings of grooming, as well as links to resources) in a way that never feels like either an after-school special or a glorification of its content. It is a teacher, a student, a story. If you give it a chance (despite its misleading marketing and misguided weekly episode release), A Teacher will surprise you. It feels like an easy pass, something perhaps not worth engaging in because it is so difficult to handle this subject well (and why, perhaps, should it be handled at all?) It is, however, a stunning character study that understands all of the stakes and implications of the story it is telling. And if you saw Fidell's 2013 film, this version is very, very different, and goes further in many ways. The story is all the richer for doing so. It is a fascinating consideration, well told. And well worth your time. —Allison Keene
---
23. Normal People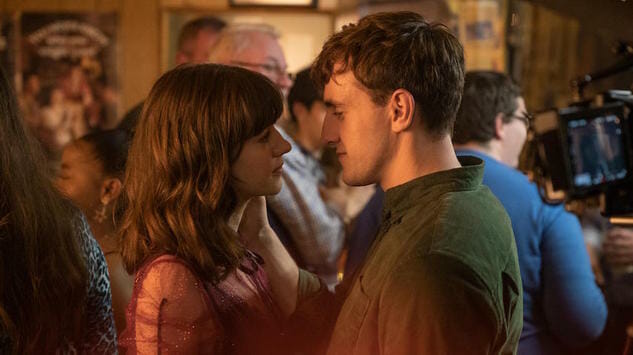 Created by: Sally Rooney, Alice Birch, Mark O'Rowe
Stars: Daisy Edgar-Jones, Paul Mescal
Many people are confined to their homes with various family members right now, but Hulu's new show Normal People is not one to watch with your mom. Trust me on this. Normal People is a journey best taken alone in a dark room. The series, especially in the beginning, is uninhibitedly horny and would certainly make for an awkward group watch. If you've read the book, all this hot-and-bothered business probably sounds familiar (author Sally Rooney writes freely and without using conventional punctuation structures, bringing the reader even closer to the action). But it's also a deeply felt story.
For the uninitiated, Normal People is the tale of two Irish teens, outsider Marianne and cool-kid Connell who, against all the odds (namely, a high school social hierarchy) fall in love and float in and out of each other's lives into their university years. In the new adaptation starring Daisy Edgar-Jones and Paul Mescal (both poised for breakouts), the plot is treated delicately and with great care, allowing for lots of small, quiet moments with these characters as they change, mature, break up, have sex, and make up over the years. At first, they hide their relationship from Connell's popular friends, a group of random hot Irish people who stalk the halls of a high school that looks inexplicably like an airport terminal. Connell comes across as quite a scumbag early on, but the imperfectness of both his and Marianne's youthful mistakes are part of what makes Normal People so real and endearing.
In the end, Normal People isn't just some erotic but sweet story of turbulent young love. It's a portrait of intimacy itself—and I do mean both kinds, sexual and emotional. There's an earnestness to it that you won't find in other TV shows aimed at young adults. But take away all the dynamic storytelling and so-real-it-hurts humanity, and you're still left with a steamy quarantine binge that'll leave your heart racing in the best way. But you've been warned: Just don't watch with your friends or loved-ones if you, like Connell, are prone to blushing. —Ellen Johnson
---
24. The X-Files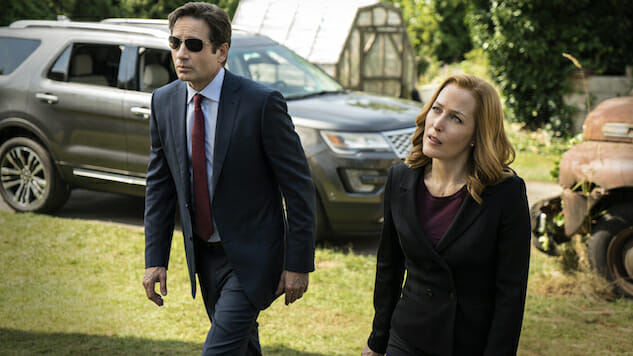 Created by: Chris Carter
Stars: David Duchovny, Gillian Anderson, Robert Patrick, Annabeth Gish, Mitch Pileggi
Original Network: Fox
Pairing Scully-the-skeptic and Mulder-the-believer as they investigated the paranormal, The X-Files at its best is one of TV's most exceptional programs. Some of its greatness waned in the later years, but the early seasons did more than investigate the implausible—it accomplished it, by taking aliens and conspiracy theories to the mainstream. —Josh Jackson
---
25. The Golden Girls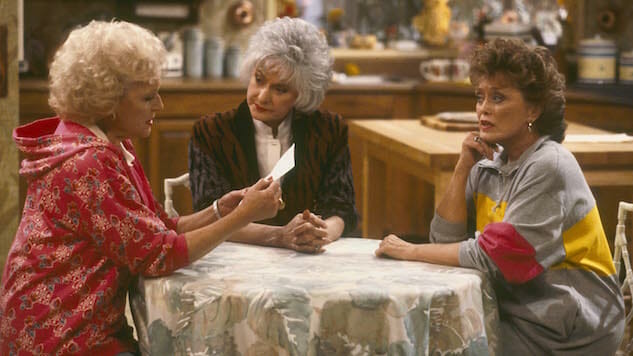 Created by: Susan Harris
Stars: Bea Arthur, Betty White, Rue McClanahan, Estelle Getty
Network: NBC
If you were born in the 1990s, you probably missed out on this gem of a comedy. Now all seven seasons are available finally on a streaming platform. The story of four senior citizens—the sarcastic Dorothy (Bea Arthur), her take-no-prisoners mom Sophia (Estelle Getty), the flirtatious Blanche (Rue McClanahan) and the daffy Rose (Betty White)—resonates to this day because it's an honest story about friendship and building a family out of your community. And the show was surprisingly progressive, tackling topics including gay marriage, teen pregnancy and the AIDS epidemic. But mostly it was hilarious. Once you've watched, you'll thank these four amazing women for being your friend. —Amy Amatangelo
---
26. Over the Garden Wall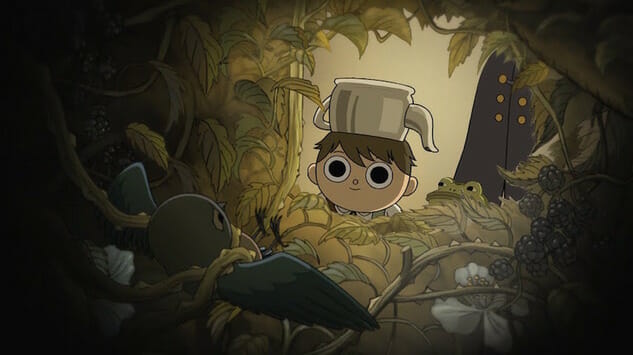 Created by: Patrick McHale
Voice Stars: Elijah Wood, Collin Dean, Melanie Lynskey, Christopher Lloyd
Original Network:Cartoon Network
Patrick McHale's Cartoon Network miniseries Over the Garden Wall feels ripped out of a previous decade (to say which, exactly, is a bit of a spoiler), and its creepiness is incidental yet pervasive in the way that only old-timey artifacts often achieve. Two half-brothers, Wirt (Elijah Wood) and Greg (Collin Dean), follow a bluebird named Beatrice (Melanie Lynskey) through the Unknown, an increasingly disorienting realm inspired by vintage Americana and haunted by The Beast (Samuel Ramey), a terrifying figure seen only in short glimpses throughout the show. For all of its charms, The Unknown operates on its own nightmare logic, and Wirt, the stuffier brother (voiced to anxious perfection by Wood), wants little to do with its demon-possessed house girls or living pumpkin towns. The emissaries of The Beast, beginning with a rabid, wide-eyed hell-wolf in the first episode, are not at all toned down for the show's ostensibly young audience, and the twist revealed in the final two episodes is much heavier than one would expect to see on Cartoon Network. If you wrote off Over the Garden Wall as just another manic children's comedy, think again—and consider watching with the lights on. —Steve Foxe
---
27. ER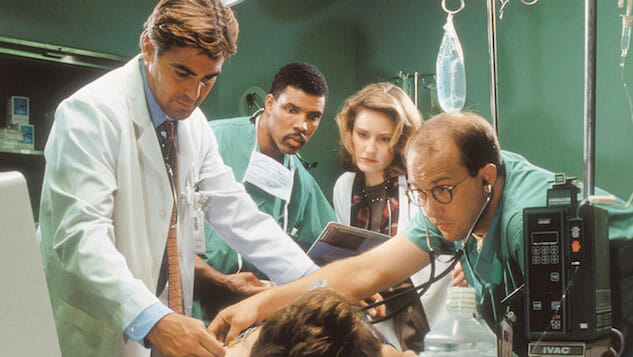 Created by: Michael Crichton
Stars: Anthony Edwards, George Clooney, Julianna Margulies, Noah Wyle, Sherry Stringfield, Eriq La Salle, Laura Innes, Alex Kingston, Gloria Reuben, Maura Tierney, Goran Visnjic
Original Network: NBC
As one of the longest-running medical drama ever to air on American television, I remember ER as a landmark in my own TV-watching life: It was the first series my mom let me stay up to watch, I think because she loved it so much she needed someone to talk about it with. An era-defining success with critics, audiences, and Emmy voters alike, ER drew on the conventions of the hospital procedural, the primetime soap, and creator Michael Crichton's real-life experiences to lend Chicago's fictional County General layers of nuance, depth, energy, and excitement that few TV series before or since can claim to match. At least one episode, Season 1's "Blizzard"—in which a quiet day erupts with the carnage of a 40-car pileup—remains so thoroughly seared in my memory I'm almost afraid to watch it again, lest I disturb the experience. I could list all of ER's milestones and accomplishments, from turning George Clooney and Julianna Margulies into major stars to its mountain of awards, but it's probably easier to put it like this: Though it dipped in quality in its later seasons, ER in the early years was perhaps the defining TV drama of its era. —Matt Brennan
---
28. Peep Show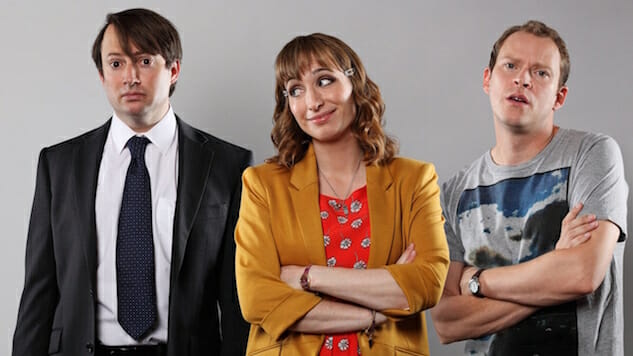 Created by: Andrew O'Connor, Jesse Armstrong, Sam Bain
Stars: David Mitchell, Robert Webb, Matt King, Paterson Joseph, Neil Fitzmaurice, Olivia Colman
Original Network: Channel 4 (U.K.)
Although Peep Show has a similar sense of humor to other British sitcoms that came in the wake of The Office, it uses that awkward comedy for a very different purpose. The show's title comes from the peek we're offered into its leads' brains, as throughout the show we're offered running monologues of their thoughts in a way that almost no other sitcom has tried. More important than this stylistic quirk, though, is Peep Show's preference for long arcs, continuity and running gags of the sort Arrested Development and It's Always Sunny in Philadelphia would envy. The show has a deep memory and an equally deep sense of morality, so its characters are never let off the hook, even if it takes a few seasons to see how their horrible actions karmically return for their undoing. Peep Show can be difficult to binge-watch, especially early on, but its short seasons make for filler-free writing, and Mitchell and Webb are so good that they lend their characters a strange likability that's closer to the U.S. Office than the original. —Sean Gandert
---
29. Lost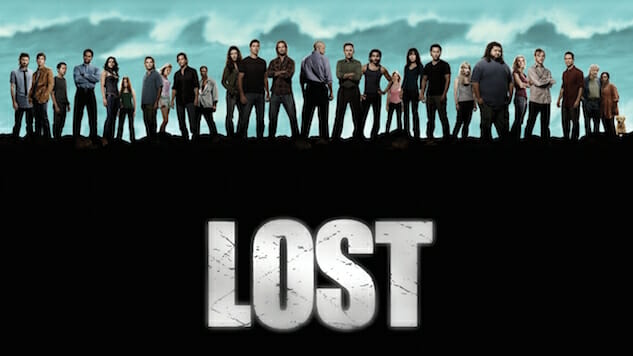 Created by: J.J. Abrams, Jeffrey Lieber, Damon Lindelof
Stars: Matthew Fox, Evangeline Lilly, Naveen Andrews, Michael Emerson, Terry O'Quinn, Josh Holloway, Jorge Garcia, Yunjin Kim, Daniel Dae Kim
Original Network: ABC
When J.J. Abrams first marooned his plane-crash survivors on a remote island, no one realized the show's name was a double entendre: It took crowd-sourced blogs to make sense of all the hidden clues, relevant connections, time shifts and intertwined storylines, and each season gave us far more questions than answers. But there's something refreshing about a network TV show that trusts the mental rigor of its audience instead of dumbing everything down to the lowest common denominator. Even given the highly divisive series finale that had to make sense of the series' lore in a way that connected to its exceptional character relationships, sometimes it's good to be a little lost. —Josh Jackson
---
30. My Mad Fat Diary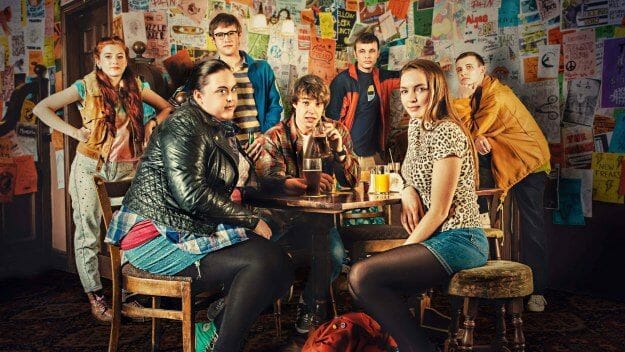 Created by: Tom Bidwell, George Kay
Stars: Sharon Rooney, Ian Hart, Jodie Comer, Nico Mirallegro, Dan Cohen
Original Network: E4
There are so many reasons why everyone needs to watch the U.K.'s excellent My Mad Fat Diary. Rae Earl (Sharon Rooney in her first role) is the fat teenage protagonist of our dreams. She weighs 16 stone (224 pounds) and has a dirty mouth, which she uses to describe all the things she would like to do to her crushes. It's hilarious and riveting, raw and honest. But the emotional tone of the show (set between 1996 and 1998) is defined by the knowledge that Rae's attempted suicide landed her in a mental hospital for four months. Much to her dismay (and luck), she is then reacquainted with her oldest friend, Chloe (Jodie Comer). In the first season, Rae has to straddle between her two worlds: the mental hospital and a new group of friends. The characters deal with abortions, parental abandonment, sex, body issues, and the difficulties of friendships and relationships with an imperfect protagonist who continuously hits rock bottom. But, somehow, hope is felt throughout. Teenagers and their mental health issues are rarely shown, especially with this much realness. But the dark comedy and our desire for Rae to win consistently provide relief. Oh, 90s Brit-pop, we love you so! —Iris Barreto
---
31. PEN15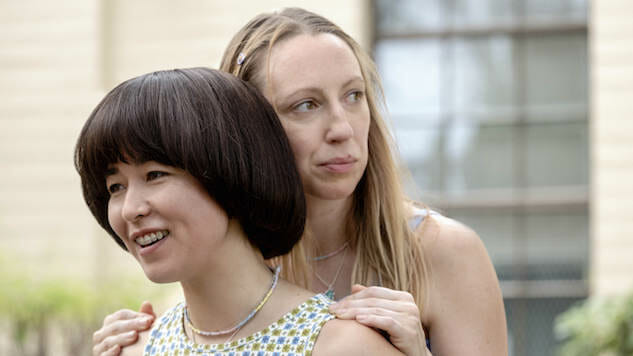 Created by: Maya Erskine, Anna Konkle, Sam Zvibleman
Stars: Maya Erskine, Anna Konkle
Original Network: Hulu
Two young women make a comedy about middle school. It's based on their own experiences, and they name the characters eponymously: Maya (Maya Erskine) and Anna (Anna Konkle). Then they make a really interesting choice, casting their 30-ish selves as the 13-year-old principal characters, and surround themselves with a supporting cast of actual middle schoolers. The result is so excruciatingly awkward it probably out-awkwards actual middle school, which is no small feat. Erskine and Konkle absolutely hurl themselves into the roles, sparing nothing in their quest to anatomize seventh grade in all its disgusting, giddy glory. They're hilarious, and there are moments when you entirely forget they're adults. And then there are moments when that fact sticks out like a sore thumb and those moments are possibly the best, because they evoke the competing impulses of the age—to race into adulthood and to go back to the safety of childhood—with a kind of zany, surreal brilliance. These are young people for whom every single minute seems momentous and defining, and who cannot realize that nothing momentous and defining has yet happened to them. —Amy Glynn
---
32. Nine Perfect Strangers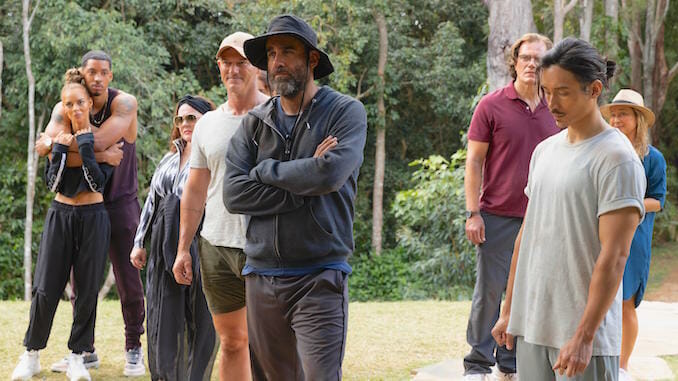 Created by: David E. Kelley
Stars: Nicole Kidman, Melissa McCarthy, Michael Shannon, Luke Evans, Asher Keddie, Samara Weaving, Melvin Gregg,Tiffany Boone, Manny Jacinto, Grace Van Patten, Zoe Terakes, Regina Hall, Bobby Cannavale
Original Network: Hulu
A lottery winner, a drug-addicted former footballer, and a grieving family walk into a bar. Well, more like a smoothie bar. Nine Perfect Strangers, the latest collaboration between author Liane Moriarty and Nicole Kidman, is a captivating limited series on Hulu that follows a group of individuals all brought to the gorgeous Tranquillum House for a wellness retreat. As they learn more about their cryptic host, Masha (Kidman), and what brought them there, it's clear nothing is as peaceful as it seems.
Each guest has come to Tranquillum in search of help, spiritual guidance, or just some good ole fashioned R&R. Francis (Melissa McCarthy) is a novelist looking for inspiration and relaxation after an online relationship turned out to be a scam; Tony (Bobby Cannavale) is struggling with opioid addiction following a sports injury; married couple Jessica (Samara Weaving) and Ben (Melvin Gregg) have lost their spark; Carmel (Regina Hall) is reeling from family drama and motherhood-induced insecurities; and the Marconi family (Asher Keddie, Michael Shannon, and Grace Van Patten) are looking to reconnect after a death nearly tore their family apart. The ninth and final guest, Lars (Luke Evans), is the most guarded and doesn't make it immediately clear why he has arrived.
Despite her seemingly bizarre ways of healing, Masha truly wants to help all of the Tranquillum House visitors, and believes that she is. Her ideas are weird and fascinating, and encourage the guests to look within to finally get over whatever is holding them back from the happiness she knows is possible in all of their lives. Once they give in completely to her, the results are empowering and at times, frightening. Nine Perfect Strangers takes us along for the ride—a trippy, intense, exhilarating ride—and like the guests of the Tranquillum House, it's best if we just buckle in and let it happen. —Kristen Reid
---
33. The Killing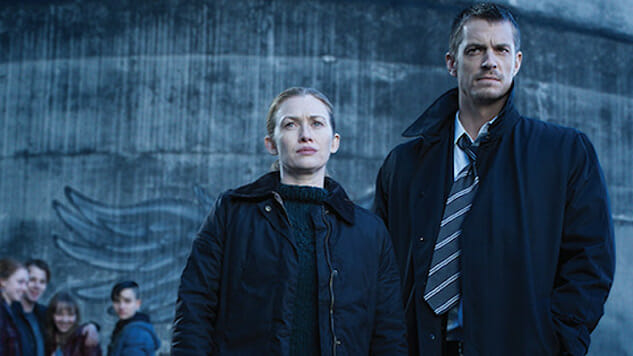 Developed by: Venna Sud
Stars: Mireille Enos, Joel Kinnaman
Original Network: AMC
Joel Kinnaman. That's the reason you need to watch The Killing. In world-weary, recovering addict Detective Stephen Holder, Kinnaman created one of television's most intriguing, heartbreaking, thought-provoking, and hilarious characters. It's worth it to binge the series for his nuanced performance alone. Seriously. The first two seasons focus on Holder and Detective Sarah Linden (Mireille Enos) as they investigate the murder of teenage Rosie Larsen (Katie Findlay) in rainy, murky Seattle. Michelle Forbes brings a palpable anguish to grieving mother Mitch Larsen. Billy Campbell is riveting as sketchy politician Darren Richmond. The series will keep you guessing, with red herring after red herring, and Holder and Linden are unlike any other cop pairing on TV.
The Killing is a show whose parts (fantastic performances) never added up to a perfect whole (at times confusing, circuitous story telling), but the parts are terrific. The third season, the last to air on AMC before the series aired its fourth and final season on Netflix, features a brilliant performance by Peter Sarsgaard as death row inmate Ray Seward; keep an eye out for Bex Taylor-Klaus as homeless teen Bullet. Her performance was so great that I'm still waiting for her to become the next big breakout star. By now you've probably heard how outraged fans were when the Season 1 finale failed to offer a satisfying conclusion. But behold the beauty of the binge: You can view the first two 13-episode seasons all at once. And viola! There's nothing to be upset about. —Amy Amatangelo
---
34. NYPD Blue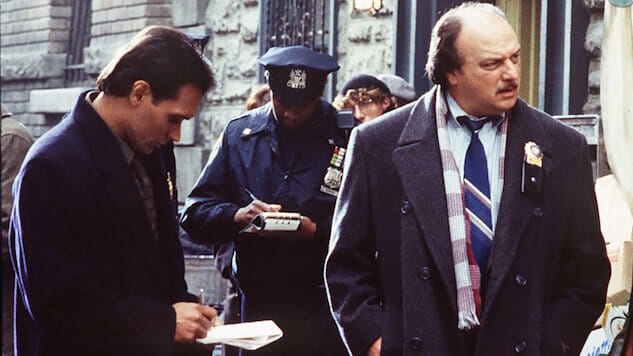 Created by: Steven Bochco, David Milch
Stars: Dennis Franz, David Caruso, James McDaniel, Nicholas Turturro, Sharon Lawrence, Gordon Clapp, Jimmy Smits, Kim Delaney
Original Network: ABC
Detective Andy Sipowicz. That's really all you need to know about NYPD Blue. In the recovering alcoholic who suffered more than Job, Dennis Franz created one of television's best and most iconic characters. By the end of the series' 12-season run, Sipowicz could have spent an entire episode saying nothing at all, and we still would have known exactly what he was thinking. The landmark show may be remembered for pushing the boundaries of network television (hello, naked behinds!) or for how David Caruso infamously departed the series after the first season, but its true genius was in the way that it seamlessly and authentically wove the characters' personal lives with the cases they were investigating. While watching, we felt immersed in the 15th Precinct. Gritty, heartbreaking, thought-provoking and, at times, hilarious, the series set the bar high for all cop dramas that would follow. If you can only watch one episode, I would direct you to "Heart and Souls," which aired November 24, 1998 and is one of the finest episodes ever about death. I still get chills thinking about it. —Amy Amatangelo
---
35. In the Flesh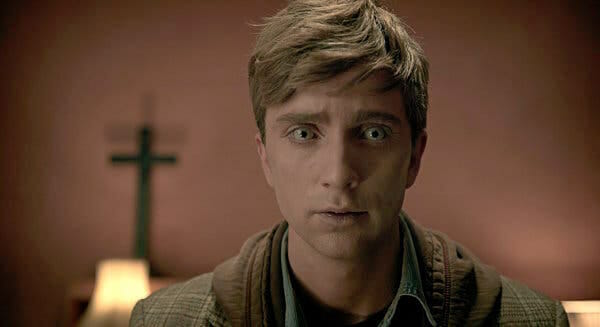 Created by: Dominic Mitchell
Stars: Luke Newberry, Harriet Cains, Emmett J Scanlan, Emily Bevan
Original Network: BBC America
If you have grown tired of the zombie takeover of TV, movies and videogames, revive yourself with In the Flesh. Dominic Mitchell's extraordinary series starts out as something of a satire, where the zombie apocalypse is over, but the undead remain. They've been medicated to restore their consciousness, and now suffer from PDS (Partially Deceased Syndrome). The specifics of how this would actually play out in a sleepy English village, though, is what gives the series its emotion and charm. Luke Newberry's Kieren is our window into this strange new world, as the show explores what it would really be like for your family to have moved on from your passing only to take you back in as a reanimated corpse. There are so many political aspects to the series as well—people who accept those with PDS versus people who rally against "rotters." At the same time, the PDS community is split into wanting to fit back in with society and those who want to return to a "rabid" state (and everything in between). It's strange and beautiful and complex, most especially in the relationships and friendships that form as well as the heartbreaking revelation of how Kieren first died. The series is a testament to the creativity that can still come out of what seems like an oversaturated genre, and the deep truths that manifest through a focus on what it means to be human. —Allison Keene
---
36. What We Do in the Shadows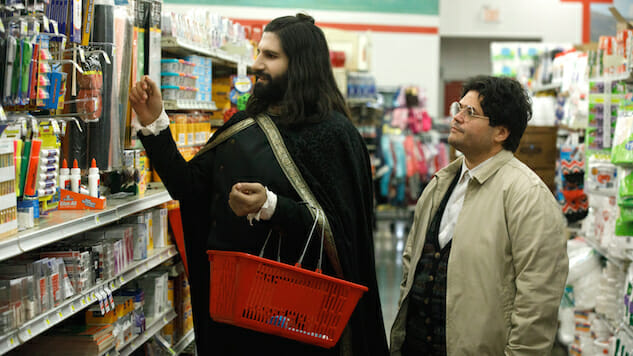 Created by: Jemaine Clement
Stars: Kayvan Novak, Matt Berry, Natasia Demetriou, Harvey Guillén, Mark Proksch
Original Network: FX
Based on the vampire mockumentary from Jemaine Clement and Taika Waititi, What We Do in the Shadows brings the sadsack bloodsuckers Stateside. The Staten Island roommates— vampires Nandor (Kayvan Novak), Laszlo (Matt Berry), and Nadja (Natasia Demetriou), as well as Nandor's servant, Guillermo (Harvey Guillen)—are all ridiculous and slightly pathetic. The handheld camerawork is the deadpan punchline, with every shaky zoom in on a character during a confessional implying, "Can you believe this weirdo?"
More of the humor comes from the macabre wordplay and deadpan goofiness—often thanks to Berry's stark, blustery delivery, straight from his BAFTA-winning Toast of London, and the exasperated looks it draws from Demetriou and Guillen—which are then punctuated by violent slapstick, featuring gallons of blood. In bringing the vampire-out-of-water conceit's mix of comic elements down to the granular level, What We Do in the Shadows harkens back to the strongest parts of the film, which thrived on its charming re-imagining of dopey mythical creatures failing through the world in a way very particular to Kiwi… or, now, Staten Island. And with its documentary style taken just as seriously as its campy effects and extravagant costumes, the cretinous cosplay is beautifully straight-faced and completely winning—especially when the show goes to oxymoronic extremes of mundanity, like a city council meeting about zoning ordinances. —Jacob Oller
---
37. It's Always Sunny in Philadelphia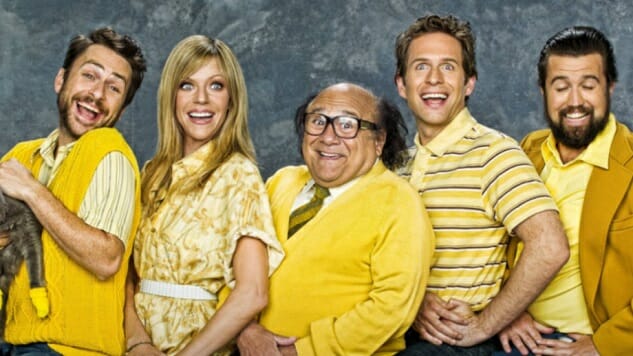 Created by: Rob McElhenney
Stars: Glenn Howerton, Charlie Day, Rob McElhenney, Kaitlin Olson, Danny DeVito
Original Network: FX
Made on a shoestring, with scripts that average about three insults a minute, the exceptionally long-running It's Always Sunny in Philadelphia follows The Gang, a group of egomaniacal degenerates who run an Irish pub in South Philly: Glenn Howerton and Kaitlin Olson's twins, Dennis and Dee; Danny DeVito as their dad Frank, and Charlie Day and Rob McElhenney as their friends Charlie and Mac. Storylines have included attempting to solve the gas crisis, attempting to get record-breaking drunk on a cross-country flight, and one heck of a coming-out episode in which Mac uses interpretive dance to tell his incarcerated dad that he's gay. The Gang never change and they never grow, but we love them for it. Few shows could get away with so cleverly lampooning major societal quandaries and issues as one in the same season they investigated "who pooped the bed?" And yet it's always pitch-perfect. —Whitney Friedlander and Allison Keene
---
38. Harlots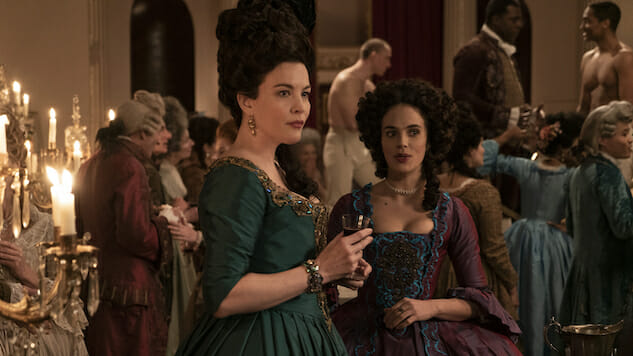 Created by: Alison Newman Moira Buffini
Stars: Samantha Morton, Lesley Manville, Jessica Brown Findlay, Dorothy Atkinson, Pippa Bennett-Warner
Original Network: ITV, Hulu
Class. Patriarchy. Mobility. Agency. Sex and sexuality. Repression and Puritanism. Madonna-whore complexes. Hypocrisy. Masks and veneers. Family. Ghosts from the past. The never-ending battle to stay solvent, stay relevant and stay independent in a ruthless, snakes-and-ladders universe. Harlots has it all. First aired in Britain on ITV Encore, Harlots focuses on a bitter rivalry between two brothel-keepers in Georgian-era London, where, according to the opening scene, one woman in five was a sex worker. Madam Margaret Wells (Samantha Morton) is scrappy and intensely focused on upward mobility, with an "it's complicated" family of her own as well as her covey of whores; Across town in Golden Square is Margaret's nemesis, Lydia Quigley (Lesley Manville), a human glacier whose establishment is less a bawdy-house than a very high-end flesh-boutique. Soap opera-worthy machination and intrigue are hardly the whole story here, though. Harlots is a fascinating contemplation of a woman's world in which there both is and isn't freedom from the constraints of a society rife with hypocrisy and utterly tyrannized by money. —Amy Glynn
---
39. Animaniacs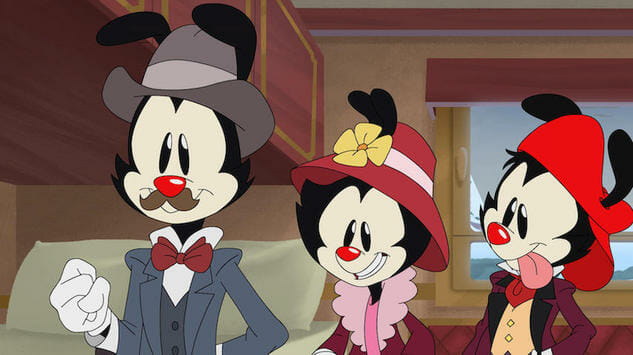 Developed by: Wellesley Wild, Steven Spielberg
Stars: Rob Paulsen, Jess Harnell, Tress MacNeille
Original Network: Hulu
Given how rough things have felt lately, Animaniacs—the zany, satirical slapstick show about three cartoon characters causing mayhem—returning after over two decades off the air, couldn't be more welcome. It's not an escape from reality, as the reboot leans into its political commentary, but it's a much more colorful, joyful version of it, where nearly any problem can be solved with a giant hammer pulled out of one's pocket. Animaniacs only wants one reaction from audiences of any age, and that's laughs. It succeeds tremendously.
Hulu's rebooted series maintains the same core of the original series, bringing back Steven Spielberg as a producer and many of the same voice actors, composers, and writers who created it. Each 24-minute episode block consists of three shorts of varying length, usually two starring the Warner brothers Yakko (Rob Paulsen) and Wakko (Jess Harnell), and the Warner sister, Dot (Tress MacNeille), with the middle segment going to Pinky (Paulsen) and the Brain (Laurice LaMarche). Without any narrative throughline, Animaniacs remains a show you can watch in any order and enjoy.
That's the word that keeps coming to mind when thinking about this show: joyful. Animaniacs may not match other animated shows' high-brow humor or enthralling stories, but it's able to contain so much unadulterated fun that the other things I may be looking for don't seem to matter. Hulu's new season isn't a reimagining of the original; it's a continuation. And though it's been many years since they left the airwaves, the Warner Siblings haven't missed a beat. —Joseph Stanichar
---
40. In My Skin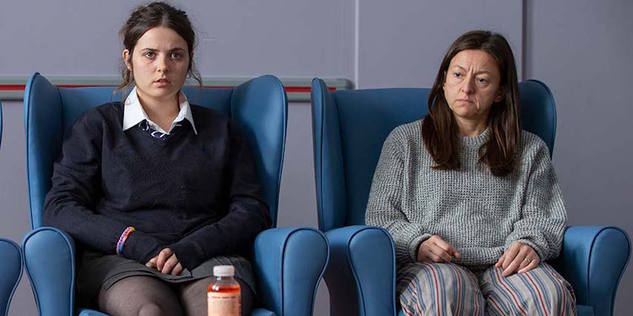 Created by: Kayleigh Llewellyn
Stars: Gabrielle Creevy, James Wilbraham, Poppy Lee Friar, Jo Hartley
Original Network: BBC
Those tuning into In My Skin expecting a poppy British teen comedy will need to look elsewhere—but not until you have first finished In My Skin. It's not a difficult proposition: The series run five half-hour episodes, though features Welsh accents so thick that subtitles will be a must. But this brief, deeply affecting story defies expectations at every turn.
Another BBC acquisition for Hulu, one that originally aired in 2018, In My Skin follows the story of Bethan (Gabrielle Creevy), a misfit teen who has the weight of the world upon her. She lives two, and eventually three, separate lives. In one, she is caretaker for her unmedicated, bipolar mother. In another she's a pathological liar trying to escape her real circumstances by pretending to be upper-middle class, and in a third she's incredibly charming yet vulnerable as a popular girl starts up a flirtatious friendship with her.
Created and written by Kayleigh Llewellyn, In My Skin approaches familiar teen TV beats in naturally awkward ways, with its young cast nailing the discomfort and constant strangeness of high school. The teachers are sardonic, the bullies are gross, and everyone is always fearful that they are ugly and hated. It feels like a real school, and moreover, these feel like real kids. The gloomy skies and cold, damp weather only augment a seasonal sense of unease and longing that permeates teenage life (heck, often adult life as well). And while there are constant small trainwrecks all around, In My Skin manages to find earnest moments of triumph that lift it out of hopelessness. —Allison Keene
---
41. Firefly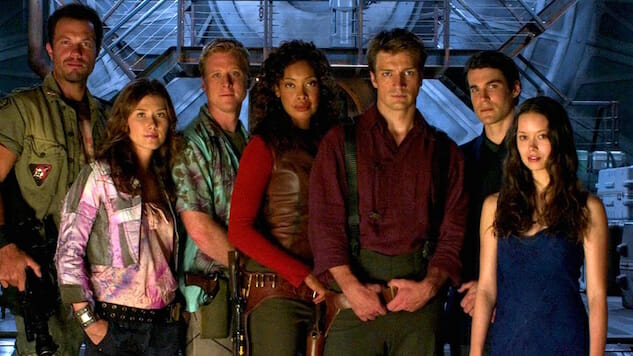 Created by: Joss Whedon
Stars: Nathan Fillion, Gina Torres, Alan Tudyk, Morena Baccarin, Adam Baldwin, Jewel Staite, Sean Maher, Summer Glau, Ron Glass
Original Network: Fox
Leave it to Joss Whedon to dream up a space show without aliens. The smart writing he brought to Buffy turned the universe into one big frontier, where those who didn't conform to authoritarian rule were forced to eke out their livings among outlying planets where the long arm of the law can't follow. Watch the way-too-short-lived series in full before finishing with its feature length film Serenity. —Josh Jackson
---
42. Don't Trust the B— in Apt 23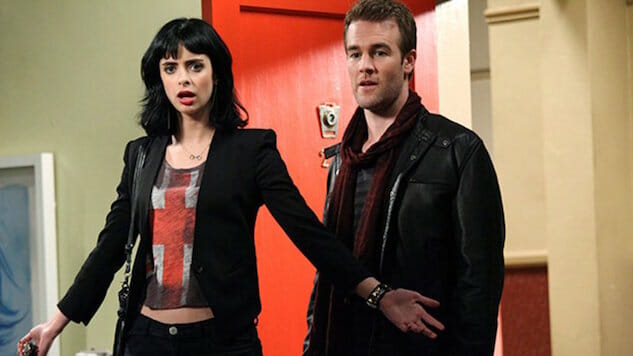 Created by: Nahnatchka Khan
Stars: Krysten Ritter, Dreama Walker, James Van Der Beek, Liza Lapira, Michael Blaiklock, Eric Andre, Ray Ford
Original Network: ABC
"I'm not perfect / I'm no snitch / But I can tell you / She's a b— (buzzer sound)"
Created by Nahnatchka Khan (Fresh Off the Boat, Always Be My Maybe), Don't Trust the B— in Apartment 23 starred Krysten Ritter as Chloe, a chaotic grifter (among other things) and the titular "B—", and Dreama Walker as June, her new roommate, fresh off the bus from Indiana. But the entire point of Don't Trust the B— was to warp and subvert standard "fish out of water" and hangout sitcom tropes.
While June tried to teach Chloe—whose youthful past involved "psychopath camp" and resenting her extremely kind mother for being in a wheelchair—how to be a decent person or at least less of a "B—," as the series was smart to explain very early on, Chloe (though certainly not a good person) was the type of fiercely loyal person you'd want in your corner, which allowed for her to work as a character who never truly learned the right "lesson" on an episode-to-episode basis. The general principle would be that June was making Chloe better, though it was more that Chloe was making June worse … which may have, in turn, actually made her better. Sometimes that required Chloe to tranq June or dose her or trick her into signing adoption papers or (the original tactic) having sex with her boyfriend on her birthday cake.
It goes without saying that Ritter was the MVP as the titular "B—", but Walker was also able to play June in a way that wasn't just a buzzkill for Chloe's insanity, instead leaning into the exaggerated nature of all of it, with every reaction (June's shock and horror at Chloe's actions are all-time great reaction shots) more impressively exaggerated as time went on. Don't Trust the B— in Apartment 23 was a live-action cartoon in a lot of ways, and ultimately the series died as it lived: Absurd, surreal, and clearly too weird for the network it was on in the first place. —LaToya Ferguson
---
43. Killing Eve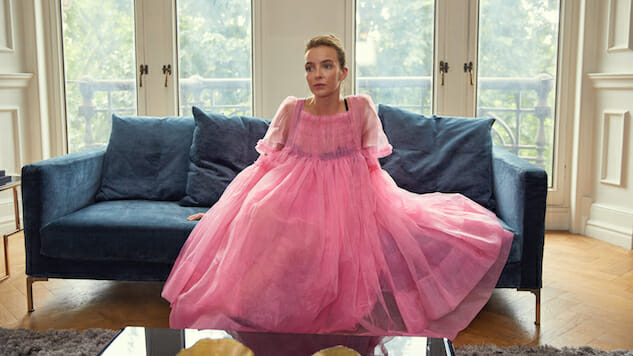 Created by: Phoebe Waller-Bridge
Stars: Sandra Oh, Jodie Comer and Fiona Shaw
Original Network: BBC America
BBC America's thrilling international cat-and-mouse game is one of the freshest and most enthralling TV shows to come around in a long time. Created by Fleabag's Phoebe Waller-Bridge, Killing Eve puts the spotlight on two dynamic women in roles typically reserved for men: A stoic MI-5 agent (Eve played by Sandra Oh) and a vivacious international assassin (Jodie Comer's Villanelle). The two pursue each other from Bedminster to Bruges (more or less), in funny, flirty, fascinating fashion.
When the breakout hit returned, it did so with a second season that acted as an almost perfect inverse of its first. Villanelle is knocked off-kilter (at least at first), and Eve ready and willing to commit violence— the dynamic fundamentally changed. A few things remained the same, though, like Villanelle's outrageously excellent sartorial choices, as well as some particularly creative, grisly deaths. The show also remained incredibly interesting and stylish, and introduced us to a host of interesting new characters and dilemmas for our core duo to face. It's main problem, though, is that it's just too short.—Allison Keene
---
44. Damages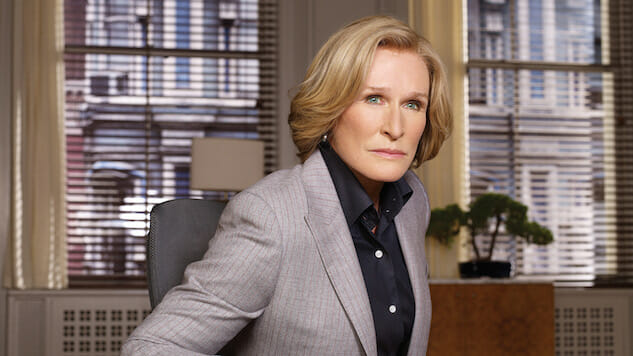 Created by: Glenn Kessler, Todd A. Kessler, and Daniel Zelman
Stars: Glenn Close, Rose Byrne, Tate Donovan, Ted Danson, Noah Bean, Zeljko Ivanek, Marcia Gay Harden
Original Networks: FX, DirecTV
Glenn Close created one of TV's greatest characters in Patty Hewes, a lawyer who will do anything (legal, illegal, somewhere in between) for her clients. The series is worth watching just for Close's nuanced, duplicitous, Emmy-winning performance. Just when you thought Patty was pure evil, she would reveal her more vulnerable side. Recent law-school graduate Ellen Parsons (Rose Byrne) is unwittingly manipulated as part of Patty's grand scheme. The first season follows the class action case against Arthur Frobisher (Ted Danson), who has bilked his employees out of their life savings. It's become commonplace now for TV shows to play with time and the sequence of events—to start at the end and work their way backwards. But Damages pioneered this narrative device, simultaneously confusing viewers and allowing them to put together the puzzle. As the series progressed, Patty's relationship with Ellen only grew more complex and dysfunctional. (For its final two seasons, the series moved to DirecTV.) Just stay away from Statue of Liberty bookends. —Amy Amatangelo
---
45. Fargo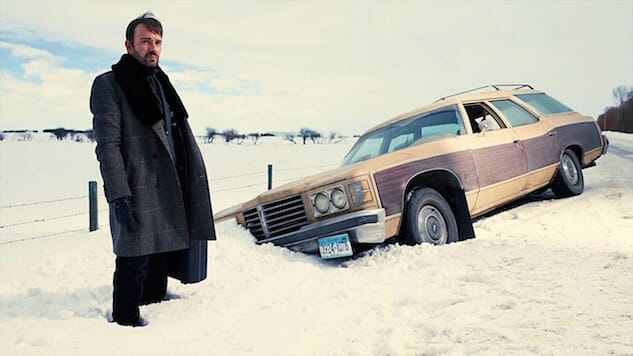 Created by: Noah Hawley
Stars: Billy Bob Thornton, Martin Freeman, Allison Tolman, Colin Hanks
Original Network: FX
The trick of creator Noah Hawley's anthology series isn't just that he finds a way to take his source material—Joel and Ethan Coen's extremely smart movie about stupid criminals—and turn the dial to 11. It's that he's done it for three stellar seasons. Each 10-episode installment has created indelible characters that stay with you long after the last tragic turn of events has unfolded. Whether it's Martin Freeman's hapless Lester Nygaard in Season 1, Jean Smart's cold and calculating Floyd Gerhardt in Season 2, or Ewan McGregor's bumbling Stussy twins in Season 3, each season has brought us its own cadre of terrific actors. Hawley also has a knack for discovering talent, including Allison Tolman as the first season's quietly determined detective Molly Solverson and Bokeem Woodbine as the second's unforgettable, calmly terrifying Mike Mulligan in Season 2. Hawley deftly explores universal themes like the death of the American dream, the struggle to feel self-worth, and the potential evil that lurks inside many of us. He does this with dark humor, eloquent violence, and thought-provoking plot twists. Hawley upends our expectations. Things never unfold the way we expect. And we cannot wait for more. —Amy Amatangelo and Whitney Friedlander
---
46. Happy Endings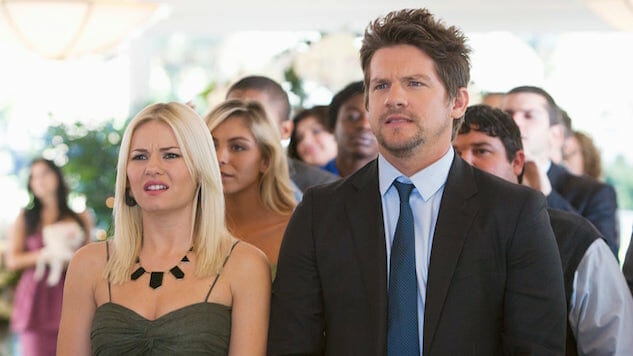 Created by: David Caspe
Stars: Eliza Coupe, Elisha Cuthbert, Zachary Knighton, Adam Pally, Damon Wayans, Jr., Casey Wilson
Original Network: ABC
File Happy Endings under the dreaded "canceled too soon" category. Happy Endings could have and should have lasted far longer than three seasons, but sometimes the TV gods are cruel. Based in Chicago, the ensemble comedy had a pretty simple premise ("a group of friends in their early 30s hang out in the city"), with the clever twist that one of them (Elisha Cuthbert's Alex) leaves another at the altar (Zachary Knighton's Dave) in the pilot. They try to remain friends, hence the titular happy ending, and it adds a pretty strong "will they or won't they" element to the show, but ultimately what made Happy Endings so great was the chemistry between its six leads. Sometimes "friends hanging out" is the only situation you need for a comedy to work. Also worth noting: this show doesn't get nearly enough props for one of the least stereotypical portrayals of a gay character on a sitcom; Adam Pally's Max is basically no different from Peter, the character he'd go on to play on The Mindy Project. He's a goofy frat bro who just happens to be attracted to men, and that's just one of the ways Happy Endings managed to subvert the standard sitcom formula, while still adhering to it. —Bonnie Stiernberg
---
47. Everyone Is Doing Great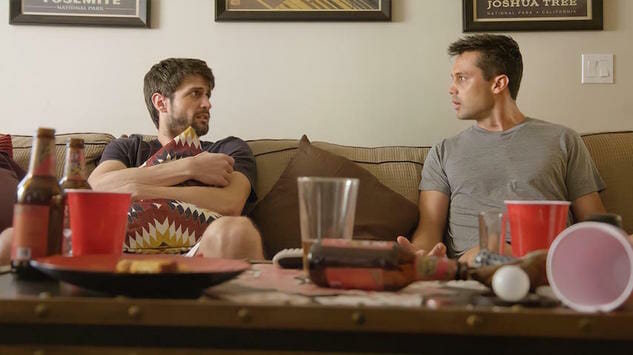 Created by / Stars: James Lafferty and Stephen Colletti
Original Network: Hulu
Funded by an Indiegogo campaign, the humble, self-aware, and charming Everyone Is Doing Great was created, written, and directed by former One Tree Hill stars James Lafferty and Stephen Colletti. The two play actors coasting on the success of their teen drama (in this case, a vampire series called "Eternal") which ended five years earlier. Colletti's Seth Stewart is a motivated go-getter who can't get casting directors to consider him for better, more serious roles, while Lafferty's Jeremy Davis is a sweet idiot who is completely adrift. Simple vignettes explore how the two men are dealing—or rather, not dealing—with the reality of their lives now. Seth is doing all he can and Jeremy is doing next to nothing, but both are floundering in the abyss of a scathingly portrayed L.A. scene.
The subgenre of series that focus on minor celebrities playing fictionalized versions of themselves in ways that expose the truths of the Hollywood machine is a rich one indeed, and it's clear that a lot of Everyone Is Doing Great is inspired by real experiences. A cinéma vérité style with improv elements augments this, clearly taking some cues (including musical ones) from series like Curb Your Enthusiasm and even It's Always Sunny in Philadelphia. But whereas those shows are often caustic in their humor, Everyone Is Doing Great is much milder, with an earnest energy. It's a refreshing change.
That warmth and quiet affability permeates the eight half-hour episodes, which focus on friendship, romance, and figuring yourself out. Jeremy and Seth are doofuses, but they realize that. They grow, or try to. They're lost boys, but not quite forgotten by the industry they grew up in and are holding on to. Not yet, anyway. —Allison Keene
---
48. Bob's Burgers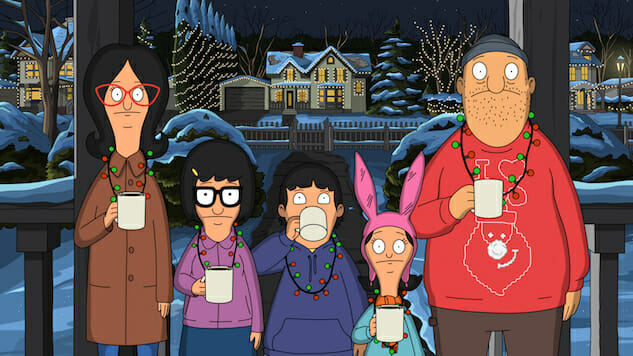 Created by: Loren Bouchard
Stars: H. Jon Benjamin, Dan Mintz, Eugene Mirman, Larry Murphy, John Roberts, Kristen Schaal
Original Network: Fox
Bob's Burgers, from creator Loren Bouchard, runs the risk of being shoehorned into the middle ground between its brethren: The Simpsons (now more American institution than mere TV program), and Family Guy (the rat-a-tat gag factory devised by Seth MacFarlane). That it nonetheless manages to carve out a distinctive identity—with the Belchers goofily surviving crisis after crisis at the titular diner through a heady brew of whip-smart puns, witty musical numbers, gross-out humor, and real, true kinship—is only surprising if you've never seen it. Once you have, its warm, sentimental streak, so deftly balanced with its zanier elements, is impossible to miss: As Bob (H. Jon Benjamin) says in the Season Two finale, reading a review of the titular diner, "We did did have a rather unique and strangely inspiring experience while we were there. This shabby little dive seems to hold a special spot in the dingy town's heart. "Matt Brennan
49. Single Drunk Female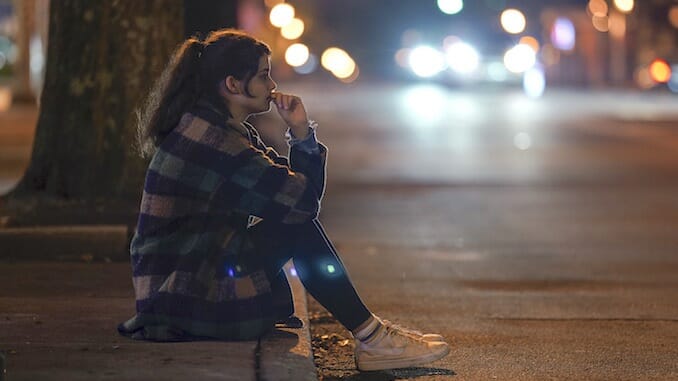 Created by: Simone Finch
Stars: Sofia Black-D'Elia, Rebecca Henderson, Sasha Compère, Lily Mae Harrington, Garrick Bernard, Ally Sheedy
Original Network: Freeform
In Simone Finch's comedy series Single Drunk Female, Samantha (Sofia Black-D'Elia) is forced to move back to Boston and live with her mom Carol (Ally Sheedy) after her public intoxication at work leads to a criminal conviction. Once home, she must confront the fact she is an alcoholic, albeit one who has functioned for years. She needs a job and a sponsor. And, she needs to own up to the mistakes she's made. The result is a series that blends humor with a raw and honest look at addiction. Sheedy is fantastic as a mom who loves her daughter but makes a lot of mistakes in her efforts to support her, while Black-D'Elia shines as a woman who continues to make frustrating choices even though she wants to do better. —Amy Amatangelo
---
50. The Handmaid's Tale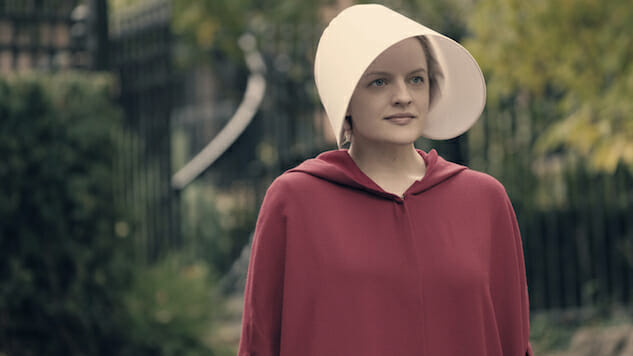 Created by: Bruce Miller
Stars: Elisabeth Moss, Alexis Bledel, Joseph Fiennes, Max Minghella, Yvonne Strahovski, Ann Dowd, Samira Wiley
Original Network: Hulu
With precise compositions and a rich sense of color, The Handmaid's Tale envisions the intersectional, drawing the interlocking influences of gender, sexuality and status into its portrait of a puritanical dystopia not far from our own: "Blessed are the meek," Offred (Elisabeth Moss) says in scornful voiceover, referring to the extremists' empty dictum. "They always left out the part about inheriting the Earth." Indeed, as she navigates Gilead's stony euphemisms and loud silences, whether playing Scrabble with the powerful Commander Waterford (Jospeh Fiennes), flirting with his driver (Max Minghella), or (unsuccessfully) avoiding the ire of Waterford's wife (Yvonne Strahovski), patriarchal dominion becomes the series' unifying principle, the poison that soaks through the body politic "under His eye." In this sense, the first great political drama of our authoritarian age is also, as with Atwood's now three-decade-old novel, a kind of instant classic: Forever of our time. —Matt Brennan
---
For all the latest TV news, reviews, lists and features, follow @Paste_TV.