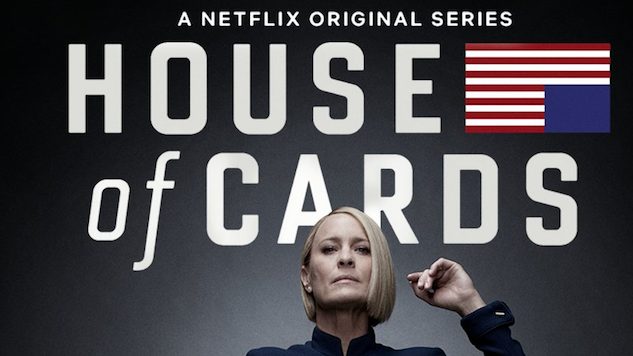 After Kevin Spacey was dismissed from his House of Cards duties following sexual misconduct allegations last fall, his anti-heroic character Frank Underwood got the boot, too. The sixth and final season of the Netflix series is on its way with Robin Wright's Claire Underwood at the helm, and she has just one thought to share with viewers: "Happy Independence Day. To me."
Netflix tweeted a new teaser trailer in honor of Independence Day on Wednesday, and a stately Claire Underwood appears unfazed and in control as she commemorates her own independence from husband Frank in the short, but biting, clip. It's a clear acknowledgement of Spacey's disgraceful departure. Watch the clip below.
A message from the President of the United States. pic.twitter.com/yx0P3qyHfW

— House of Cards (@HouseofCards) July 4, 2018
The first teaser trailer for the new season dropped during March's Academy Awards. Netflix halted production on the show in the aftermath of the allegations against Spacey, but thankfully the House of Card writers had enough time to craft the season five finale to include Frank Underwood's expulsion from the narrative. There's no official release date yet for season six, but it's expected to drop later in the year. The season, which picked up production earlier this year, will be eight episodes long.
Netflix also announced in January that Greg Kinnear and Diana Lane will appear in season six as guest stars. Things still aren't looking so great for Spacey: He's now facing three new sexual assault charges in London, Variety reports.
Get ready for House of Cards season six with our gallery of the show's most meme-worthy moments.