Multiple House of Cards Spinoffs Are in Early Development at Netflix
Photos by David Giesbrecht/Netflix
TV
News
House of Cards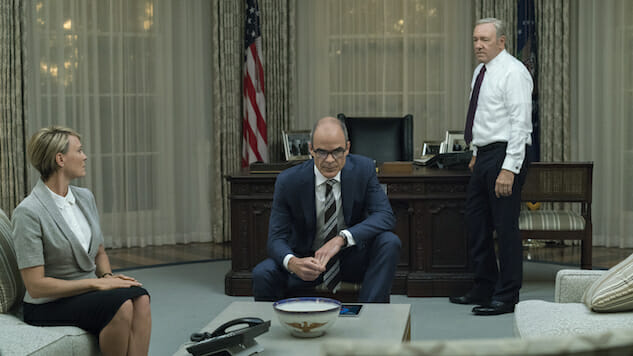 Netflix is looking to salvage their first big television program, House of Cards, as the streamer is reportedly in the early stages of developing ideas for spinoffs. Per Variety, one such project focuses on the character of Doug Stamper, Frank Underwood's chief of staff, portrayed by Michael Kelly. Writer Eric Roth, an executive producer for the first four seasons of Cards, is attached to helm this project.
The news comes after the wake of sexual misconduct allegations against star and executive producer Kevin Spacey, by Rent and Star Trek: Discovery actor Anthony Rapp. Rapp alleges that Spacey made a sexual advance on the then-14-year old actor (Spacey was 26 at the time). Spacey's apology on Twitter stated that he had no recollection of the event, ending his message by coming out as a gay man—the response has drawn ire and criticism, especially from the LGBTQ+ community.
Yesterday, Netflix confirmed that the forthcoming sixth season of House of Cards will be its last. The season has begun production, but Spacey is not on set at the present time. This move is reminiscent of networks such as AMC spinning off their most popular shows, something that HBO is moving towards as Game of Thrones comes to a close.
Be sure to look out for "Better Call Stamper" or "Fear the House of Cards" sometime soon.