Surprising No One, the Robin Wright-Led Sixth Season of House of Cards Attracted More Female Than Male Viewers
Meanwhile, the audience of the last season that starred Kevin Spacey was predominantly male
Images via Netflix
TV
News
House of Cards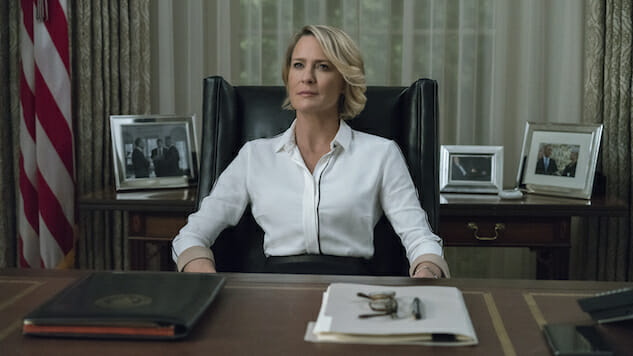 The audience of House of Cards's Robin Wright-led sixth and final season notably, if unsurprisingly, skewed female, per THR.
According to Nielsen's Subscription Video On Demand (SVOD) Content Ratings, which measure streaming viewership, the audience for the final season of House of Cards was 54 percent female in the first seven days after its release. For comparison, the audience for the last season that starred Kevin Spacey as lead Frank Underwood was made up of 56 percent men (in the same one-week time frame).
The final season was already in production when BuzzFeed published an interview with Anthony Rapp on Oct. 29, 2017, which accused Spacey of sexual abuse when Rapp was just 14 years old. Inspired by Rapp's courage and the #MeToo movement, several other victims began coming forward with allegations of similar misconduct.
Netflix and MRC, the studio that produces House of Cards, quickly shut down production, and on Nov. 3, 2017, Spacey was fired from the show. But Netflix ultimately decided to give the series one more go with a shortened season, consisting of eight episodes instead of 13, and led by Wright.
The streamer released all eight episodes on Nov. 2. The season stars Wright as the newly inducted President Claire Underwood as she navigates the personal and the political in Washington, D.C.
"The reign of the middle-aged white man is over," Claire declared in a teaser for the season.
Antihero Claire is hardly a feminist icon, repeatedly tearing down those around her—including other female politicians—to get ahead, but it would be fallacious to understate the series' depiction of women in power. And that's "women," not "woman"—President Claire Underwood manages to secure an all-female cabinet, as well.
"There's the matter of the F-word," Variety writes. "Not [Kevin Spacey's character] Frank, but feminism."
The combination of the Nielsen Ratings and season six's feminist-tinged content beg the question: Can a historically male audience skewing female be attributed to the final installment's focus on women and their stories? Did women turn on the series more often than they had in past seasons? Or did men lose interest when the male lead was replaced by a woman?
More generally, the Nielsen Ratings reveal that House of Cards's final season drew smaller audiences. On an episode-by-episode basis, the premiere of season six drew an average audience of 2.88 million, compared to 4.4 million for the first episode of season five.