Homeland Turns in Its Best Episode in Ages with "Species Jump"
(Episode 7.06)
Photo: Antony Platt/SHOWTIME
TV
Reviews
Homeland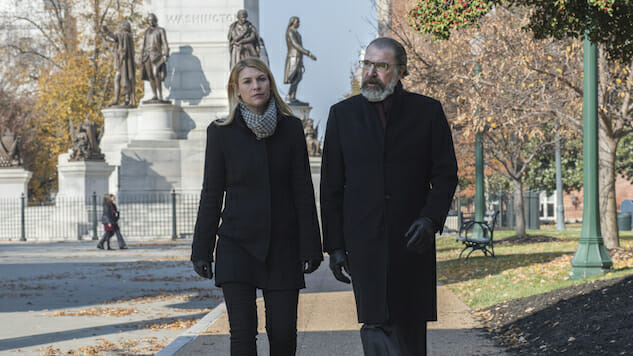 While it's patently absurd to suggest that the United States' national security advisor might spend his days bringing Chinese food to off-book operatives in a run-down office, or skulking around alone at night in search of Russian spies, Saul's (Mandy Patinkin) coffee with Sandy (Catherine Curtin), his former colleague at the CIA, brings Homeland within reach of a real idea for the first time this season. With reference to Sputnik, ICBMs, and nuclear annihilation, not to mention poor intelligence, paranoia, Francis Gary Powers, and presidential lies, Sandy—a passionately exasperated college instructor since being booted from the agency by none other than Russian mole Alison Carr—is the first character to connect the series' past and present, and thereby our own. "No one's going to understand how we fucked up terrorism," she explains, "if they don't understand how we fucked up the Cold War."
It was only last month, on the subject of McMafia and Counterpart, that I examined TV's treatment of the "new Cold War," and along with the imminent return of The Americans, "Species Jump"—Homeland's finest episode since the middle of Season Six—has me mulling a longer, deeper dive. For all its foibles—and if you've been reading my episodic reviews this season, you'll know that it has many foibles—Homeland has often resembled a CT scan of the geopolitical mood, tracking the course of actual events so closely that it sometimes trips over its own two feet. In this vein, I'm starting to see the Keane/O'Keefe debacle as something of an aberration: Having been caught completely off guard by Trump's victory, Homeland threw the kitchen sink at its fictional president, to the point that I recently started to wonder if she was a Russian plant. Now, I'm not so sure: "Species Jump" walks back the conspiracy theories that Carrie's (Claire Danes) concocted about Wellington (Linus Roache) and Simone Martin (Sandrine Holt) faster than Sarah Huckabee Sanders trying to save face after one of Trump's tweets.
This would be frustrating were it not so damned compelling—and not, or not only, in the inadvertently funny way of Carrie's brief dalliance with that anonymous hacker or her subsequent trip to Crazytown. (I say "not only" because there are still a handful of lines in tonight's episode that made me laugh, first and foremost Saul's response to Carrie's claim that the president is at risk — "and possibly the republic": The way Patinkin delivers, 'Oh, for fuck's sake," you can almost hear his eyes roll.) "Species Jump" is, in essence, Homeland doing what Homeland does best, which is to destabilize our understanding of the facts on the ground. Wellington and Martin are in bed together, not in league together: Any remaining doubts are quelled by her all too obvious performance in the restaurant, after she's conned Sen. Paley (Dylan Baker) into granting her immunity. Carrie isn't responsible for uncovering Russian active measures, she's been an instrument thereof. (Hold please while I order T-shirts printed with the lines, "Fuck me, fuck me… The truth is ringing in my fucking ears.") Dante (Morgan Spector) may not be Carrie's ally, but rather her manipulator. Costa Ronin's character isn't one of O'Keefe's minions, but Yevgeny Gromov himself, the orchestrator of disinformation campaigns in Ukraine and Syria. Saul's Russian contact, Ivan Krupin (Mark Ivanir), isn't retired, he's just waiting to be reactivated—at least until his meeting with Gromov send him back to Saul with a warning, and soon thereafter to the bottom of the bay.
"Species Jump" wrings an entertaining operation from this series of events, in which Carrie brings the boys together for a night of tequila shots and Shirley Temples, flirts with Dante, spikes his drink, goes home with him, and lets the team into his apartment while he's unconscious on the couch. (From my notes: "OMG. OMG. THIS EPISODE FUCKS.") But in an important departure from the season's foregoing episodes, this entertainment doesn't seem incidental, or weightless—Homeland finally indicates that it might, on the subject of Cold Wars new and old, have something interesting to say. On the drier end of the spectrum is the discussion of replication rates and species jumps and automated accounts by which Clint (Peter Vack), the information scientist Saul pairs with Sandy, connects the FBI raid on the O'Keefe compound to the cell phone video of Wellington's "altercation" with Martin. On the more dramatic end—where Homeland signals that it is indeed "back in business"—is the disagreement between Krupin and Gromov, with its echoes of Sandy's initial conversation with Saul.
"You're stuck in a time capsule," Gromov says. "The old rules don't apply anymore."
"The old rules," Ivan counters, "kept the world from destroying itself."
"All I saw destroyed was us," Gromov replies, echoing one of the central tenets of Putinism. In the acknowledgement that Sandy's claim—that we fucked up the Cold War, despite appearing to win it—and Gromov's—that what we fucked up, precisely, was not the war but the peace—Homeland rediscovers the sort of thorny, bleak skepticism it once applied to the "War on Terror" and applies it to our Russia policies, then and now.
The truth is ringing in my fucking ears: Homeland is getting good again.
---
Matt Brennan is the TV editor of
Paste Magazine
. He tweets about what he's watching @thefilmgoer.