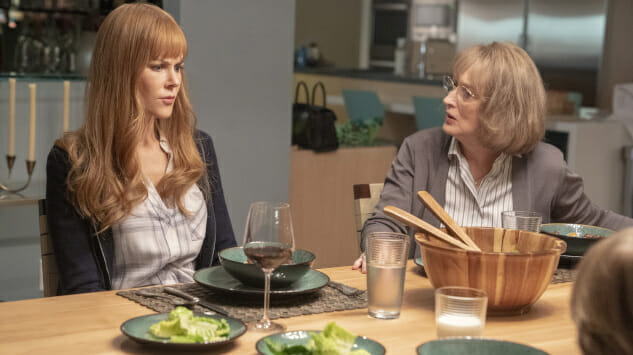 Where May's HBO offerings were a bit more consequential, this month's additions suggest a reshuffling, a reorganization of the battlefield post-Game of Thrones. There's the return of some familiar faces, prominent premieres of new ones and at least one very high-profile film that you might want to get another look at.
You know what? Let's just cut to the chase here: Meryl Streep is coming to HBO this month in the form of Big Little Lies' new antagonist. She's bringing the legal battle to the Monterey Five, joining the show's already-stacked cast for what is sure to be a wine-guzzling, shit-talking second season (June 9). Another notable TV premiere comes in the form of a new drama series executive produced by … Drake? Euphoria follows a teenager returning to high school after a stint in rehab, and while we don't know too much about the show as it stands, it looks like it's going to be a showcase for star Zendaya's dramatic chops come June 16. We're also getting our first shot at Fred Armisen's surreal, bilingual new comedy Los Espookys, premiering June 14. The comedy got a head trip of a new trailer recently, showcasing the horror-comedy's Dali-esque visual palette that's got us intrigued. Amid all these premieres, HBO has still found time for some endings, with Chernobyl wrapping things up on June 3, while the short-lived, yet impressive Gentleman Jack goes to pasture on June 10.
As soon as you finally got it out of your head, HBO is here to worm "Shallow" back into your ear, as A Star Is Born comes to the service on June 8. The Bradley Cooper/Lady Gaga musical drama was undeniably one of last year's biggest pop-culture moments, and now that the dust has settled on its "embarrassing" Best Director Oscar snub, it's as good a time as ever to revisit it. Elsewhere, get ready to get weird with Bad Times at the El Royale, the action flick from the mind behind The Cabin in the Woods (June 1). You'll also be able to catch what may well be Robert Redford's final film by way of the understated, underrated The Old Man and the Gun, which we hailed as "both lively and laconic" in our review (June 22). As far as older flicks go, this month's offerings are neither shabby, nor superb. Sam Raimi's first venture into superhero filmmaking is coming by way of the Darkman trilogy, the franchise that kicked off Liam Neeson's journey into action filmmaking (June 1). There's also the supremely silly MacGruber coming to the network, a pitch-perfect parody of Richard Dean Anderson's DIY action series MacGyver from the minds behind The Lonely Island, coming in hot on June 1. For the horror crowd, two early Halloween sequels are coming to the service that day, too, rounding out your options.
But as the old saying goes, what HBO giveth, HBO taketh away. Notable goners after June include Big Fish, the extended version of Fifty Shades Freed and the delightfully low-key Pirate Radio, among others, so catch those while you can.
See HBO's full slate of arrivals and departures for next month below.
Original Programming:
The Cold Blue (6/6)
Ice on Fire (6/11)
Jerry Garcia: It's Not My Weekend (6/14)
Wig (6/18)
True Justice: Bryan Stevenson's Fight for Equality (6/26)
Ramy Youssef: Feelings (6/29)
Series Premieres:
Axios, Season 2 Premiere (6/2)
Success, HBO Europe Premiere (6/5)
Big Little Lies, Season 2 (6/9)
El Jardin Bronce, Season 2 Premiere (6/9)
Los Espookys, Series Premiere (6/14)
Euphoria, Series Premiere (6/16)
Years and Years, Series Premiere (6/24)
Series Finales:
Wyatt Cenac's Problem Areas, Season 2 Finale (6/7)
Chernobyl, Miniseries Finale (6/3)
Gentleman Jack, Series Finale (6/10)
Theatrical Premieres:
Bad Times at the El Royale, 2018 (6/1)
The 15:17 to Paris, 2018 (6/4)
A Star is Born, 2018 (6/8)
The Hate U Give, 2018 (6/15)
The Old Man & The Gun, 2018 (6/22)
Robin Hood, 2018 (6/29)
Estrenos:
Carro, 2018 (6/1)
Petra, 2018 (6/7)
Los Silencios (AKA The Silences), 2018 (6/14)
Somos calentura (AKA We Are The Heat), 2019 (6/21)
Starting June 1:
Beerfest, 2006
Breakin' All The Rules, 2004
Conspiracy Theory, 1997
Darkman, 1990
Darkman II: The Return of Durant, 1996
Darkman III: Die Darkman Die, 1996
Diary of a Wimpy Kid: Rodrick Rules, 2011
Down to You, 2000
Funny Games, 2008
Halloween II, 1981
Halloween III: Season of the Witch, 1982
High Crimes, 2002
The Invasion, 2007
Joe Somebody, 2001
Legend, 2010
MacGruber (Extended Version), 2010
Only the Lonely, 1991
Rescue Dawn, 2007
Robin Hood, 2010
Snow Angels, 2008
Sprung, 1997
Steve Jobs, 2015
The Siege
The Station Agent, 2003
We Are Your Friends, 2015
Young Adam, 2004
Ending June 13:
The Layover, 2016
Ending June 16:
Altitude, 2017
First Kill, 2017
Ending June 19:
Annabelle: Creation, 2017
Ending June 30:
Against the Ropes, 2004
Big Fish, 2003
Bootmen, 2000
Clash of the Titans, 2010
The Cooler, 2003
Cop Out, 2010
Dave, 1993
Fifty Shades Freed (Extended Version), 2018
Honey, I Shrunk the Kids, 1989
The Human Stain, 2003
Jupiter Ascending, 2015
Light It Up, 1999
The Losers, 2010
Love, Simon, 2018
Mystery, Alaska, 1999
Pacific Rim: Uprising, 2018
Percy Jackson & The Olympians: The Lightning Thief, 2010
The Perfect Score, 2004
Pirate Radio, 2009
Self/Less, 2015
The Statement, 2003
There's Something About Mary, 1998
Tomb Raider, 2018