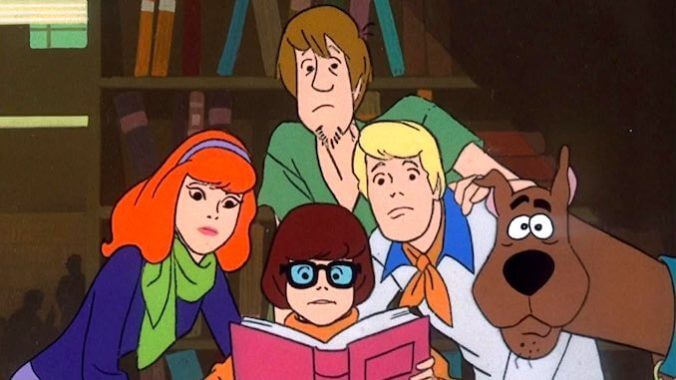 Editor's Note: Welcome to our TV Rewind column! The Paste writers are diving into the streaming catalogue to discuss some of our favorite classic series as well as great shows we're watching for the first time. Come relive your TV past with us, or discover what should be your next binge watch below:

In the over 50 years since Scooby Doo and the Mystery Gang made their TV debut in 1969's Scooby Doo, Where Are You!, it feels like there hasn't been a single year without at least one piece of Scooby Doo content on the airwaves—whether that's its various TV series, numerous live action iterations, or the countless straight to DVD or TV movies. The gang is an undeniable cultural mainstay, but what was it about the original series that launched a household name? Was it the distinct archetypes, instantly recognizable character designs, and unforgettable catchphrases? Maybe the accessibility of its episodic mysteries? Or, in the immortal words of former-Fred Freddie Prinze Jr., was it just that "it was a talking dog, you know?" In the wake of HBO Max's much-loathed Velma series, Scooby Doo, Where Are You! illuminates the legacy of the Mystery Gang, especially as a series and group of characters that remain undeniably timeless and infinitely malleable.
Unless you have truly been living under a rock since the early '70s, then the players and plot of Scooby Doo, Where Are You! are familiar, but just in case: the series follows a group of "meddling kids:" jock Fred (Frank Welker), original "it girl" Daphne (Stefanianna Christopherson), brainiac Velma (Nicole Jaffe), hippie Shaggy (Casey Casum), and their dog Scooby Doo (Don Messick) as they travel around in their blue and green Mystery Machine van, solving seemingly supernatural mysteries. Scooby Doo, Where Are You!'s formulaic episodic structure and archetypal characters may have made the series memorable, but it is also had a pattern that simply could not be replicated—though not for a lack of trying from Scooby Doo-studio Hanna-Barbera. Jabberjaw, Clue Club, Goober and the Ghost Chasers, Speed Buggy, and many more "4 kids and a pet—or sentient car—solving mysteries" cartoons were made by the studio in an attempt to replicate the runaway success of Scooby Doo, but lighting only struck once.
After all those copycat one-season-wonders, what was it about Scooby Doo that was so special? For starters, in spite of the clear archetypes present within their characters, Scooby Doo never leaves its characters in boxes, stereotypes be damned. While it would have been easy to let a character like Daphne coast through the series as a pretty airhead meant for nothing more than luring the various ghosts and ghouls into traps, she is so much more than that. Almost always allowed to be just as smart as her peers, Daphne is as instrumental as Fred and Velma when it comes to putting the pieces together of their endless mysteries. Fred, while clearly the group's de facto leader, never acts as though he's above his friends, always letting Velma take lead on the unmasking, while counting on Scooby and Shaggy to help in creating the perfect trap. And in spite of Shaggy and Scooby's cowardice, they always manage to aid in some way, intentionally or unintentionally. Most importantly, though, is the group's dynamic. Each character fills in the blanks of the others—Fred's confidence makes up for Shaggy's cowardice, Daphne's social skills elevate Velma's smarts—while genuinely caring for each other. There's no true in-fighting, but they still bicker and joke like real friends do; the group feels grounded and whole, talking dog and all.
By continually subverting its established stereotypes, Scooby Doo, Where Are You! never truly feels like just a kids cartoon. It's silly at times, of course (there is a laugh track over its animated jokes, after all), but it understands the inherent campy nature of its eclectic group, as Fred's traps become increasingly ridiculous or the series' spooky villains haunt the gang in silly costumes. In conjunction with its silliness, though, it respects its young audience by including more mature themes. The villains in Scooby Doo are always selfish or greedy or just plain not nice, similar to a majority of the family-friendly media at the time. But the ways in which those negative characteristics are presented ring more true to reality (both in the '70s, after the political turmoil of the previous decade, and now) in ways that still feel poignant.
Like in Episode 15 of Season 1, titled "Spooky Space Kook," the villain is unmasked to be a man trying to run down the value of an abandoned airfield to buy the land up cheap, having created the Space Kook to scare everyone, including the army and a local farmer, away from the property and its surrounding fields. If nothing else, Scooby Doo is staunchly anti-gentrification and real estate scams, as a majority of its villains (there are 126 "real estate scammers" listed on Scoobypedia) seek to push people out of their homes and buy the land at a bargain price as a get-rich-quick ploy. Similarly, Episode 16 of Season 1, titled "A Night of Fright Is No Delight," takes a hit at shady lawyers through the Phantom Shadow villains, a pair of lawyers named Creeps and Crawls who sought the estate of their deceased client and assumed the Phantom Shadow personas to attempt to scare his inheritors into giving up the fortune. Scooby Doo, Where Are You! takes on corrupt people in power in nearly every single episode, infusing those mature themes into the constant hamming done by Scooby, Shaggy, and the rest of the gang.
And even though I have spent a vast majority of this essay laying out how Scooby Doo, Where Are You! defies its formulaic episodes and stereotypes, there is something so comfortingly familiar about the series at its most predictable. It's refreshing to watch as this group of regular teens solves mystery after mystery, beating the police to it in every instance, without a single superpower or otherworldly assist needed. Maybe that is the sole reason for its everlasting charm; it's a relatable group, filled with teens that truly get along and care for each other, whose strengths fill in the others' weaknesses in almost every way, solving crimes that boil down to the heart of American issues like unstable housing, corruption, and greed. In each episode, there's something for everyone of all ages.
These elements are what have made the Mystery Gang so omnipresent in pop culture, along with the ways in which they have been changed and adapted to fit the times. More recent Scooby Doo straight-to-DVD movies have included Daphne solving the case with makeup hacks or Velma finally being confirmed as a lesbian, Freddie having trap-related anxiety or Shaggy attempting to confront his cowardice, which simply build on elements that were already present within the original series. A successful Scooby Doo continuation will keep the heart and essence of the characters intact while building on those elements, as has been done in the more than 50 years since Scooby Doo, Where Are You! first premiered. Which, ultimately, is why Velma's attempts at Mystery Inc. are leaving a bad taste in audiences' mouths.
Change is necessary for a franchise to thrive, but Scooby Doo's ability to adapt to the times has been unmatched thus far (in everything from the live-action films to its first serialized story in Mystery Incorporated), without needing to make the characters nearly unrecognizable or inserting an ungodly amount of adult jokes and shocking gore to make these characters fit our current day. Scooby and his Mystery Gang are the perfect example of "if it ain't broke, don't fix it," but not in the traditional sense; Scooby Doo is nothing without change and adaptation, but the hallmarks of caper-busting friendship and supernatural shenanigans can be molded to fit any space and time, with the classic characters we know and love elevating them. Scooby Doo is always familiar, but never stagnant.
In looking back at the marvel that is Scooby Doo, Where Are You!, it's hard to imagine that its two original seasons of 25 total episodes spawned the equivalent of a pop culture empire, but the everlasting charm of Scooby Doo and his mystery-solving friends in their first outing ensured that there would be plenty more for generation after generation to enjoy. By crafting a solid foundation of relatable characters, hard-hitting mysteries, and heartfelt humor, Scooby Doo exploded into a cross-generational, decade-spanning hit, and the series' runaway success would not have been possible if it weren't for those meddling kids.
---
Anna Govert is an entertainment writer based in middle-of-nowhere Indiana. For any and all thoughts about TV, film, and the wonderful insanity of Riverdale, you can follow her @annagovert.
For all the latest TV news, reviews, lists and features, follow @Paste_TV.