Hooray for More Recycled IP: HBO Max Is Rebooting Gossip Girl
Photo by Kevin Winter/Getty
TV
News
HBO Max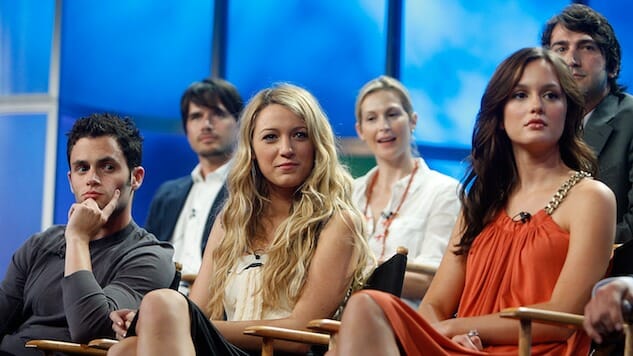 Looks like HBO Max is still banking on recycled IP.
Fresh off locking down exclusive streaming rights to the entire Friends catalog for a reported $425 million, WarnerMedia's forthcoming streaming service has ordered a 10-episode Gossip Girl spinoff to series, according to multiple outlets.
That's right—HBO Max is reviving the era-defining teen soap for the social media age with the original series' creative team at its forefront: Josh Schwartz, Stephanie Savage and Joshua Safran.
Looks like the series is a completely new iteration and will not feature any of its famed veterans, however—Blake Lively and Leighton Meester, notably, and definitely not Penn Badgley, whose loyalties currently lie with WarnerMedia's streaming rival. The most pressing question of all, however, is if Kristen Bell will return to voice the series' ominous titular narrator.
The show's official logline reads: "Eight years after the original website went dark, a new generation of New York private school teens are introduced to the social surveillance of Gossip Girl. The prestige series will address just how much social media—and the landscape of New York itself—has changed in the intervening years."
Gossip Girl originally ran on The CW from 2007-2012, and, for the most part, predated the massive rise of social media and device dependency. Though the network put a cap on the original series less than 10 years ago, WarnerMedia's reboot seems to be a well-timed update to a series once entirely reliant on social networking and online anonymity.
Well—what's left for the reboot to take on that the original didn't tackle? College admissions scams and student-teacher affairs are out, but Facebook stalking and Instagram DM he-said-she-saids are both fair game. And videogame live-streaming. Oh God—are we going to have to sit through a B-plot about a wealthy 15-year-old brat's massive Twitch empire crumbling after a couple of his old racist tweets resurface? Probably, right?