Michael Sheen, David Tennant to Star in Amazon's Good Omens Adaptation
Photos by Chris Jackson/Getty, Robin Marchant/Getty
TV
News
Good Omens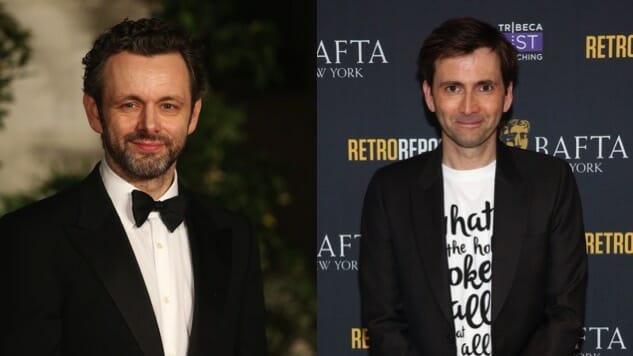 Talk about a good omen: Michael Sheen (Masters of Sex) and David Tennant (Broadchurch) are set to star in Amazon's limited series adaptation of Neil Gaiman and Terry Pratchett's 1990 novel Good Omens, Variety reports. The adaptation is expected to launch in 2019.
Sheen will play Aziraphale, a fastidious angel, while Tennant will portray a fast-living demon named Crowley—both beings have lived among mortals since the beginning of time, and have grown fond of their lifestyles and each other. So though they are total opposites, angel and demon alike are distressed to learn that the apocalypse is fast approaching—and on top of that, no one knows where the Antichrist has run off to.
Gaiman adapted all six episodes of the funny fantasy-drama, and will serve as showrunner, with direction from Douglas Mackinnon (Dr. Who). Good Omens was Gaiman's first novel—he wrote it alongside Pratchett, who died in 2015 at the age of 66. Gaiman describes the book as "one of the funniest novels ever written about the end of the world and how we are all going to die."
"I first read Good Omens as a teenager and it's been one of my favourite stories ever since," said Sheen in a statement. "To be part of the team entrusted with bringing it alive on screen is a bit of a dream come true to be honest. To work alongside Neil, who I think is one of the greatest storytellers of all time, is incredibly exciting. And, just like the rest of the world, I'm a huge fan of David's so I relish trying to save it with him."
"Michael Sheen, Neil Gaiman, Terry Pratchett and directed by Douglas Mackinnon, it's a dream team and a dream gig," said Tennant. "I am very excited that I've been asked to be part of this amazing project. Bring on the Apocalypse!"
Gaiman added:
If you are looking for actors to play two of the best-loved characters you and Terry Pratchett ever created, then, if you are very lucky and have been very good, you will get Michael Sheen and David Tennant to bring them to life. The best Welsh actor of his generation gets to be an angel, the best Scottish actor of his, a demon. Terry and I wrote Good Omens […] almost 30 years ago. It's strange that it feels more relevant now than it ever did before. I only wish that Terry could be here to see it come to life with such a fantastic team.
Following an exclusive launch on Amazon Prime Video in 2019, Good Omens will also be broadcast via BBC in the U.K. Find out more about the limited series here.