LGBTQ Characters on Television Reach Record-High Percentage in 2018, Study Finds
Images via FX
TV
News
GLAAD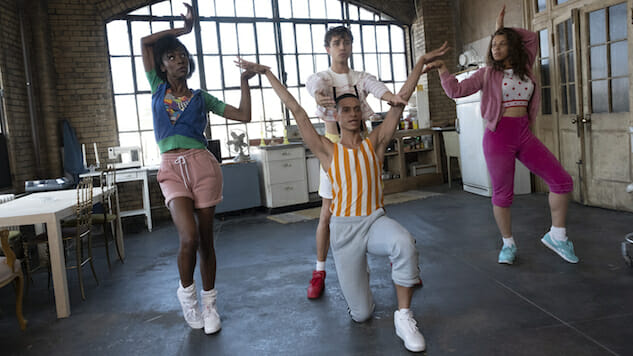 The new TV season's prime-time network series feature a record-high percentage of LGBTQ characters, according to a new study from media advocacy group GLAAD, per the AP.
GLAAD has tracked lesbian, gay, bisexual, transgender and queer characters on TV for 23 years, and began publishing its comprehensive survey, titled "Where We Are on TV," in 2005. This year's study analyzed the programming for the 2018-19 season on broadcast, cable and the Amazon, Hulu and Netflix streaming platforms.
The survey found that the percentage of LGBTQ regular characters on scripted broadcast series rose from last year's 6.4 percent to hit a record high of 8.8 percent, or 75 characters out of a total 857.
The number of regular LGBTQ characters counted on scripted primetime cable increased to 120, while recurring characters increased to 88, for a total of 208 characters. GLAAD counted 75 LGBTQ regular characters in original scripted series on the aforementioend three streaming services, as well as 37 recurring characters, for a total of 112 LGBTQ characters.
But GLAAD noted that the TV industry still has room to improve. The organization challenges networks to reach 10 percent inclusion for LGBTQ characters in prime-time TV in the next two years to ensure that "entertainment reflects the world in which it is created," GLAAD President and CEO Sarah Kate Ellis said in a statement. "What happens on our television screens is now more important than ever before."
Researchers also found an increase in the characters' ethnic diversity across all platforms, with slightly more LGBTQ people of color than white for the first time. The number of bisexual people is also up from 93 last season to 117 this year. The number of transgender characters rose from 17 to 26, and HIV-positive characters went from two to seven.
GLAAD lauded two series in particular as especially forward-thinking: the FX drama Pose, which featured the largest number of transgender series regulars ever on a U.S. series, and The CW's Supergirl, with TV's first transgender superhero, Nia Nal (Nicole Maines).
The annual study also looked at overall ethnic and gender inclusiveness. The media advocacy group found a record percentage of black characters on network series at 22 percent compared to 18 percent last year. Latinos remained at last year's eight percent, while Asian-American and Pacific Islanders rose a point to eight percent. Women made up 43 percent of network characters.
Lastly, the new season has a record number of regularly seen characters who have disabilities, rising to 2.1 percent from 1.8 percent last season.