George R.R. Martin to Produce New HBO Series Based on Nnedi Okorafor's Novel Who Fears Death
Photo by Frederick M. Brown/Getty
TV
News
George R.R. Martin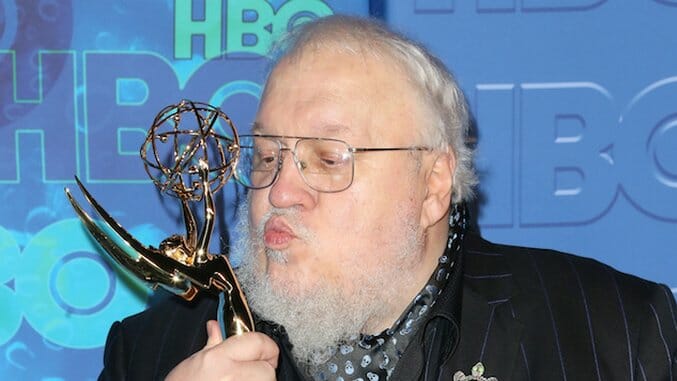 Sci-fi author Nnedi Okorafor took to Twitter yesterday to announce that her novel Who Fears Death will be adapted into a series by HBO. Only adding to her joy was the news that Song of Fire and Ice scribe and Game of Thrones producer George R.R. Martin will be producing the forthcoming show. Per Variety, the deal is not yet officially closed, but judging by Okorafor's tweet, the project is moving forward.
My novel WHO FEARS DEATH has been optioned by @HBO & is now in early development as a TV series with George RR Martin as executive producer. pic.twitter.com/POF7Dj2hWP

— Nnedi Okorafor, PhD (@Nnedi) July 10, 2017
The book is set in a post-apocalyptic Africa, where the Okeke tribe has been enslaved by the Nuru warriors. Ultimately, the Nuru intend to kill all of the Okeke people, but one Okeke woman—who was raped by a Nuru man—gives birth to a daughter she names Onyesonwu. Naturally, the name means, "Who fears death?" Over time, the child starts to develop magical powers and realizes she's being targeted for death by some powerful, unknown force.
If Martin's work on Game of Thrones is any indication, it's possible this series could enter the zeitgeist with its crazy setting and powerful themes. Also, it could involve a hefty amount of nudity and bowel-clenching gore. Only time will tell.