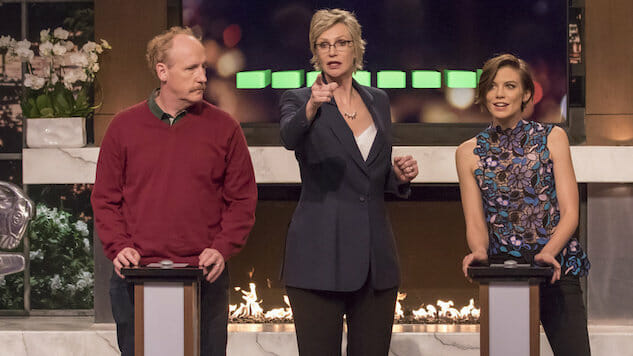 There was a time when celebrity game shows had an air of high class. Families would gather around the TV set to see the likes of legendarily ruthless gossip columnist Dorothy Kilgallen and eagle-eyed book publisher Bennett Cerf sit with others, equally resplendent in evening wear and eye masks, as they all attempted to discover which charismatic celebrity had joined them for that week's installment of What's My Line?.
This eventually led to star-powered shows that one might have thought frivolous—if you didn't acknowledge the undercurrent of social change they were pushing into middle-class America's living rooms. Paul Lynde's ability to give lispy, catty double entendre answers on the long-running Hollywood Squares ("Who's generally better looking, a fairy or a pixie?" "Looks aren't everything.") was code speak to so many LGBT people, famous or otherwise, who didn't feel safe enough to come out of the closet. Sanford and Son's Demond WIlson had a similar tactic, responding in annoyance to any question that played upon African American stereotypes. And Nipsey Russell broke color barriers in 1964 when he joined Missing Links as a regular panelist, becoming the first black performer to do so on a daily game show. He also appeared on programs including Match Game and Password, usually while reciting one of his poems and infusing racial diversity into programming way before it became a talking point for network and studio chiefs.
This mix of the cerebral and the ridiculous, high- and lowbrow, brings us to the present, which—thanks to the scheduling gods overseeing Peak TV—has been a boon to the TV game show. NBC's Hollywood Game Night, a voyeuristic feast of Celebrities Do the Strangest Things When Supplied with Alcohol, returns this summer, as do ABC's revivals of classics like Match Game (now with Alec Baldwin holding the skinny microphone) and To Tell the Truth (Anthony Anderson is the official host, but he is frequently upstaged by his mom). CBS and Fox are both trying to make a game show based on mobile phone addictions—Candy Crush premieres July 9 on CBS and Beat Shazam airs Thursdays on Fox. And because the dream of the '90s is still very much alive, Mike Myers has developed a whole other British persona to embody as host of ABC's new version of The Gong Show.
On cable, there are shows like Spike's viral sensation, Lip Sync Battle and Guy Branum's TruTV series, Talk Show the Game Show. The latter, which premiered this spring, is a recreation of the former Chelsea Lately panelist's live show, and celebrates the best of both of both mediums as celebrities (or "celebrities") battle to see who can be the best talk show guest, winning points for name dropping, drinking and storytelling.
The why to this story is two-fold: Game shows are, relatively cheap to make and, when done right, they offer more insight into your favorite star than most late-night talk shows.
"I think we're the only show of its kind. We're actually playing games and the celebrities who do show up know that they may have to act like a fool," Hollywood Game Night host Jane Lynch told Paste and other reporters last fall, after letting us test-run challenges with names like the Pictionary-style "Chest of Drawers" and the sure-to-please-the-censors "Hold My Balls." "It's like being in a party atmosphere, and that's fun for people to watch, because you're involved in it as well. It's very interactive, very alive and it's a lot of fun."
Branum was more blunt earlier this year, when he spoke to journalists at the Television Critics Association Press Tour, saying "publicists have ruined talk shows. They are boring. They are lifeless. Like, you know what's going to happen." He wants these shows to capture both the mystique and humor of yesteryear, he says, "like, in 1992 Bette Midler went on [The Tonight Show Starring Johnny Carson] and won an Emmy just for being that fabulous. I want those moments back now… I want to see a little magic. I want to see a little sparkle. I want to see you flirt with the host, especially it the host is a creepily gigantic gay man." (In this case, Branum is referring to himself, doing his part to keep the aforementioned LGBT connection going.)
"I feel like there were those moments in classic old school talk shows where you really felt like you were at a cocktail party with really, really cool people," Branum told journalists. "And I want that back again. And I feel like the existing talk shows have attempted to grasp at that with bells and whistles, and we're trying to do it with even more bells and whistles."
Of course, it takes a lot of work to make this much fun look easy. Hollywood Game Night executive producer Michael Binkow says he and his team start off the season with road trips to toy stores and amusement centers like Dave & Busters to scour ideas, running them through tests and production meetings before deciding on what will make for the best competition for the season. (Lynch says she vetoed an idea to have celebrities run around in fat suits because, c'mon.) And a set visit to Branum's series earlier this year saw contestants improvising on the spot when the realized exactly how hard it is to be a charming talk show guest (Wanda Sykes came to play, showing up with her tiny dog and giant bottle of bubbly).
"You have to think about things that people don't realize," Hollywood Game Night executive producer Michael Agbabian says. "For instance: the safety of our celebrities. There's no surprise or secret that we give our celebrities a lot of alcohol. They have a lot of fun. They get wrapped up into it. And the thing about musical chairs is what about women in high heels? What happens if they're drunk? What happens if they get caught on this edge?
The workaround? Agbabian says the set has lots of pillows that can double as crash pads.
When done with the right spark of Hollywood magic, though, these shows still have the power to break down cultural fourth-walls and remind that stars really can be just like us.
"We had Michael Bolton on and he was so mad at himself for not getting a clue about The Godfather that he was obsessing about it for hours," Game Night's Binkow says. "We had to go, 'Michael, it's OK. Let it go.'"
Hollywood Game Night premieres tonight at at 8 p.m. on NBC with a showdown between Veep cast members Tony Hale, Matt Walsh and Anna Chlumsky and The Walking Dead stars Christian Serratos, Lauren Cohan and Josh McDermitt. Talk Show the Game Show airs Wednesdays at 11 p.m. on TruTV.