Ryan Murphy's Feud: Bette and Joan Stars Power Duo Jessica Lange and Susan Sarandon
Photo by Frederick M. Brown/Getty
TV
News
FX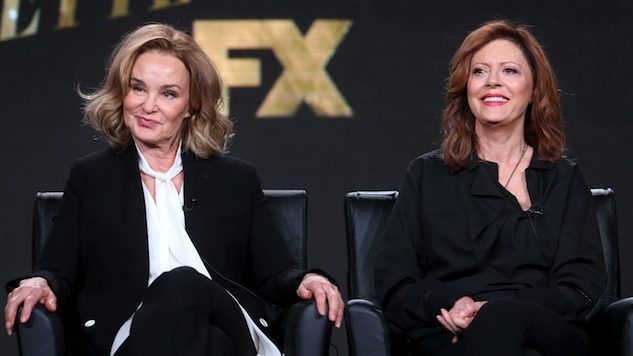 Ryan Murphy's newest creation Feud: Bette and Joan stars power-duo Jessica Lange as Bette Davis and Susan Sarandon as Joan Crawford. The infamous rivalry between Davis and Crawford was exhibited most notably in their critically acclaimed 1962 psychological-thriller What Ever Happened to Baby Jane? Murphy's eight-part series will explore the tension between the two actresses during the filming of the cult classic, though the major focus of Feud is the intersection between sexism and ageism in Hollywood. Sarandon and Lange discussed the series' themes at the Film Critics Association winter press tour in Pasadena, with Lange stating:
Joan was 10 years younger when she did this film than I am now, but her career was finished when she did this film. Part of what this film does is investigate what that does to a woman … Particularly Joan, who was known for her tremendous beauty. What happens when that beauty is no longer viable, because it's connected to youth?
Murphy said the inspiration for Feud came in part due to his commitment toward creating more stories for women, about women and by women—including women behind the camera. In Murphy's production company, at least half of his staff are women and minorities, with Feud alone having 15 roles for women over 40.
The cast of the show includes other well-known actors such as Sarah Paulson, Catherine Zeta-Jones and Kathy Bates. Feud will premier on FX on Sunday, Mar. 5. Click here to read what else FX and Ryan Murphy are up to this year, and watch a trailer for What Ever Happened to Baby Jane? below.