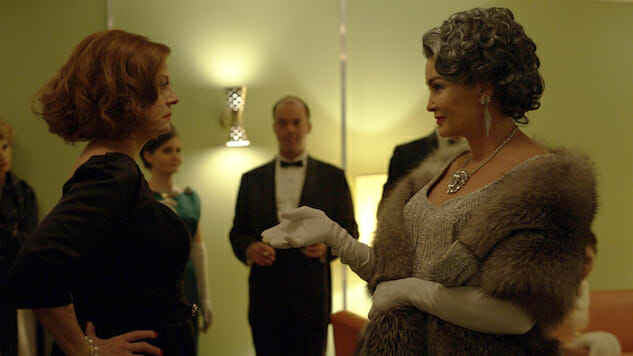 FX's Feud might be described as the culmination of co-creator and television auteur Ryan Murphy's life's work: an anthology series from the guy known for Glee, Nip/Tuck and American Horror Story that's a campy romp through the behind-the-scenes squabbles of the Hollywood Babylon era. This is especially true of the first installment, which focuses on oft-parodied stars Joan Crawford (Jessica Lange) and Bette Davis' (Susan Sarandon) constant one-upping and double-crossing while filming the 1962 cult classic Whatever Happened to Baby Jane?
An intricate dance of the meta, the story stars modern icons Lange and Sarandon as the bickering leads of a movie about washed-up screen siren sisters who spend their waning years tormenting each other to death (a famous scene in the film involves one serving the other's beloved pet bird on a salad plate). Pursuant to Murphy's custom of stunt casting, other stars include Stanley Tucci, as Hollywood studio tycoon Jack Warner; Catherine Zeta-Jones, as film legend Olivia de Havilland; Kiernan Shipka, as Davis' daughter, B. D. Hyman; and Alfred Molina, as Baby Jane's director, Robert Aldrich. Character actresses like The Americans defector Alison Wright and Broadway star Jackie Hoffman also get some scene-chewing moments.
But Murphy argues that this project is much bigger than simply "a campfest," telling journalists at the network's Television Critics Association press day in January that he "was interested in something a little deeper and a little bit more emotional and painful": "I do think [Bette and Joan] are hilarious, and their interactions are hilarious. So we didn't want to avoid that, but we just wanted to, sort of, take it away from what people would expect and make it a little bit more emotional."
"I think, ultimately, what happed to both women is very painful… I think it's something much more delicate and moving," Murphy says of the desperation both Davis and Crawford felt as they struggled to stay relevant in an industry that didn't really want them anymore. "And for me, what I love about the show is, even though it's set in 1962, the themes and issues in the show are so modern, and women are still going through this sort of stuff today that they went through 50 years ago… [N]othing has really changed, and we really wanted to lean into that aspect of the show."
By that, Murphy means the ongoing one-two punch of ageism and sexism in the workforce.
"A big part of this show is what Hollywood does to women as they age, which is just a microcosm of what happens to women generally as they age," Lange told the TCA audience. "Whether you want to say they become invisible, or they become unattractive, or they become undesirable—or whatever it is. And I think with this [series], we've touched on that in a very profound way. And, I mean, Joan was ten years younger when this takes place than I am now, and yet her career was finished because of her age."
Lange went on to refer to the famous Inside Amy Schumer sketch, "Last Fuckable Day; to reiterate that in an industry obsessed with looks, there's an expiration date on most female stars.
"What we're talking about is—especially with Joan, who was known for her tremendous beauty—what happens when that beauty is no longer considered viable, because it's equated with youth, because a woman at a certain age can no longer be considered beautiful," Lange says. "And I think what we tried to do is [to] see not just the overall view of Hollywood, but what happens to women as they age and become considered less than important."
The meticulously researched series includes little things, like the lengths to which Crawford would go to promote Pepsi-Cola Company—an obligation that lingered from her marriage to the company's late chairman, Alfred Steele—and the equal extremes to which Davis went when she made the decision to apply ghastly white clown makeup for her role. ("Apparently, some people thought I had just gone goth when some of the pictures leaked," Sarandon deadpanned at TCA.) And, of course, there's the dramatization of more important skirmishes, like Crawford and Davis tattling to Aldrich about each other's potential acting failures or daring each other to blink first in front of gossip columnist Hedda Hopper (Judy Davis).
The same dedication to detail was also shared by Feud's production staff, which was charged with re-creating 1960s Los Angeles on sound stages.
"We definitely took creative liberties, because you always do," production designer Judy Becker told journalists on a January set tour, while standing in a reproduction of the once-famed hotspot, Perino's. "I mean, you almost never reproduce reality the way it is in reality, whether it's period or not. We did not try to modernize it, so the liberties we took would be more for space or to make a statement about the characters or to make a statement about the color palette of the show."
Becker and her team's research also included deep dives into the two lead characters' home decorating sensibilities. Crawford, for instance, kept her upholstery covered in plastic at almost all times, and had a strong penchant for redecorating.
"She kept redesigning and renovating and changing this one house so that it started out as a very traditional Spanish-style mansion, and it turned into this kind of federalist Hollywood regency style thing by the end—completely unrecognizable," Becker says. "I think in some ways she was thrifty and she was like, 'If I can change it, as opposed to moving…' and she probably liked the location." (Becker adds that the poor house still exists, albeit with new tenants and another new design: "Now, [it] looks like a 1980s McMansion… You won't recognize it because it just kept changing. I guess no one really liked it.")
While there was lots of talk about the importance of actors doing their homework—especially since they were representing real people—some members of the cast had an easier time than others. Lange told the TCA audience that she never got to meet Crawford, but she'd read the biographies and watched the interviews. She also met Davis at a gala when she was in her mid-twenties. The grand dame gave her some solid advice: "You better court the press, honey."
Zeta-Jones, however, kept it in the family. To better understand Hollywood during this period, she relied on her father-in-law, Kirk Douglas, whom she says is "six months [de Havilland's] junior."
"Knowing my father-in-law, there were a lot of really true friendships then," Zeta-Jones told a select few reporters after the conclusion of Feud's TCA panel. "My father-in-law had good relationships with a lot of actors; Tony Quinn, Tony Curtis, Sinatra—really good friendships. Women of that time were always, in the press, made to look like they were Feuding, bitchy. I found that a lot of strong friendships were made in those studio system years. It was like all the women were vying for the better roles, vying for the popularity contest, but they knew that they had to have each others' backs."
Zeta-Jones says Davis and de Havilland got along because they had a commonality.
"Bette saw that she was more than a pretty face very early on and Olivia never forgot that and they became friends," Zeta-Jones says. "I think Bette wasn't threatened by Olivia and Olivia wasn't threatened by Bette. It was a great dynamic they had, and they respected each other for that. That was great that they had that friendship."
There are no doubt going to be many stories about the series' relevance, including its parallels to the resurgence of mantras like "Equal Pay for Equal Work," the biggest irony of all might be that Murphy and fellow executive producers Dede Gardner, Tim Minear and Alexis Martin Woodall had to make a series about two women who hate each other just to find a property that has a lot of female leads—which, as Feud points out, was the same problem that plagued Aldrich when he was trying to find a studio for What Ever Happened to Baby Jane? Last year, Murphy created the Half Foundation, an initiative to get better representation for women and minorities in all aspects of the business.
"It's very important to me that half of the directors on Feud are women, and half of them on all of my shows are women," Murphy says. "It really just sort of it came from a moment of me realizing I really screwed this up. Like, I have not done enough. I need to do more. I need to work harder, and make it a big part of every day. That's a part of my life, making sure that other voices are represented behind the scenes and in my in everything. And one of the things I'm really proud about with Feud is that there are, I believe, 15 roles for women over 40. That was also very important to me. So, I just try to do better every day with that, and I think the shows are better. The community on the set is much better, and it's been one of the great joys that I've been able to do [that]."
Feud premieres Sunday, March 5 at 10 p.m. on FX.