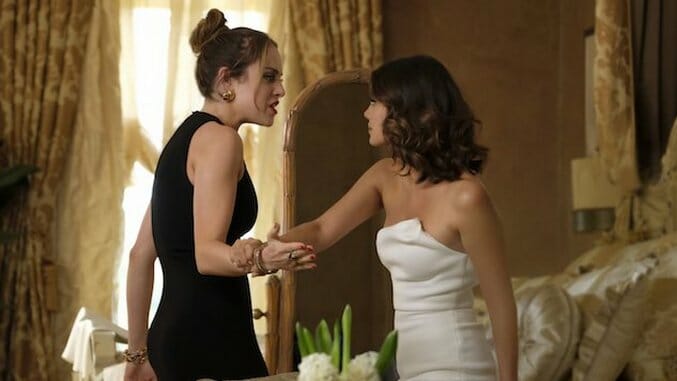 I wasn't old enough/allowed to watch the original Dynasty. All I know of the show are the iconic images that are now television legend. The hair pulling. The cat fights. Krystle (Linda Evans) and Alexis (Joan Collins) were the table-overturning, dragging-into-the-pool fake housewives well before we ever got to the real(ish) ones.
The original drama, which spanned most of the 1980s, has been given an updated, millennial twist. It now centers on Fallon Carrington (Elizabeth Gillies), the daughter of billionaire Blake Carrington (Grant Show). (Let's pause now to recognize how similar Gillies looks to Pamela Sue Martin, the original Fallon). Fallon uses the fact that men underestimate her because she's a woman to her advantage. She is ready to become COO of her father's company until her dad's fiancé, Cristal (Nathalie Kelley), enters the mix.
If there was ever a time we needed a ridiculous, over-the-top soap opera that didn't make you think too much, it's now. The casting of the show is beyond perfection. It's a genius move to cast Grant Show, Jake on Melrose Place (which I was allowed to watch), as the family patriarch. With his dashing good looks and twinkle-in-his-eye performance, Show is made for the primetime soap. It just seems right having him in this role. (Also, if you haven't checked out The CW promo starring Show and Riverdale's Luke Perry, you must. My teenage self is super excited about it.)
The premiere also stars Alan Dale (The O.C.) as uppity Carrington butler Joseph Anders and Nick Wechsler (Revenge, Roswell) as Cristal's ex-boyfriend, Matthew. So somebody in the casting department is definitely preaching to the converted. Actually, it's Josh Schwartz and Stephanie Savage, who together have produced The O.C., Gossip Girl and the upcoming Marvel's Runaways, who know exactly what they are doing. They have a knack for permeating the pop-culture with catchy dialogue ("Welcome to the O.C., bitch.") and plot twists we won't soon forget no matter how ridiculous (remember who turned out to be gossip girl, xoxo?
) Add in executive producer Sallie Patrick, who counts Revenge and Dirty Sexy Money on her resume, and Dynasty has all it needs behind the scenes.
The premiere is chock full of the campy dialogue of our TV dreams. "When the revolution happens, it will be your head they come for," Steven (James Mackay) tells his sister Fallon. "Oooh, I better get my hair done," she replies. I want to hug that kind of dialogue. It's just so fun. And boy do we need fun.
Savage and Schwartz also know they have someone fabulous in Gillies, who was previously best known for playing Denis Leary's daughter on Sex&Drugs&Rock&Roll. Gillies approaches the role with a delicious and unabashed relish. At one point, Fallon bites off the head of the candied bride and groom atop her father's wedding cake. It's such a simultaneously hilarious and outrageous moment. I actually paused my screener to applaud. Gillies is all in on the role and I love it. This is what people mean when they talk about a no-holds-barred performance. Whatever happens with this series, this is Gillies' breakout moment.
The show does a lot to let us know that it's of the times. There's talk of fracking. There's a disdain that Blake made his money from "old white guys" and a not complimentary reference to our current president. Steven is openly gay. (Steven Carrington was one of TV's first gay characters. Although he still married Heather Locklear—being gay on TV was different back then.) Sammy Jo (Rafael de la Fuente), the role that launched Locklear's career, is now Cristal's nephew and a romantic interest for Steven. The rival family the Colbys, led by Jeff Colby (Sam Adegoke), is black. This shouldn't be a big deal in 2017 but, unfortunately, it still kind of is. Hey, even the spelling of Cristal's name got an update.
My biggest gripe is that The CW only made one episode available for review. In the age of peak TV, that's really not enough. Will the show continue on its deliciously trashy trajectory? When will Alexis, the first Mrs. Carrington, arrive—and who should play her? The role is begging for stunt casting. In light of the recent news, maybe Ivana Trump? Or what I wouldn't give to see Shannen Doherty or Marcia Cross or Pamela Sue Martin herself in that role.
Here's hoping this television dynasty's reign continues.
Dynasty premieres Wednesday, Oct. 11 at 9 p.m. on The CW.
---
Amy Amatangelo, the TV Gal®, is a Boston-based freelance writer, a member of the Television Critics Association and the Assistant TV Editor for
Paste
. She wasn't allowed to watch much TV as a child and now her parents have to live with this as her career. You can follow her on Twitter (@AmyTVGal) or her blog .