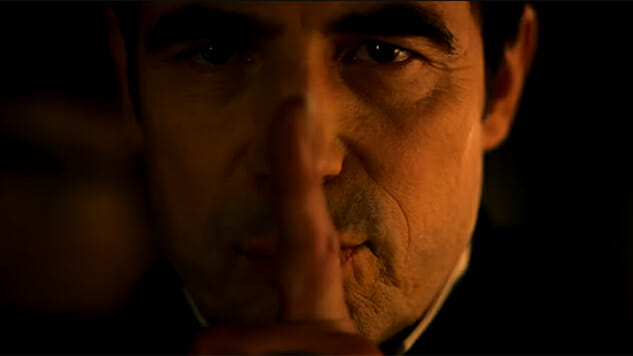 BBC released a new trailer today in anticipation for the new Dracula series created by Sherlock team Steven Moffat and Mark Gatiss. Dracula, the undead vamp from Bram Stoker's original 1897 novel is brought back to life yet again in this adaptation, which is a Gothic reimagining of the Transylvanian vampire who moves to England in search of blood. The show will launch on BBC One on Jan. 1, 2020, before crossing over to Netflix streaming globally, Deadline reports.
The trailer makes it quickly clear that Dracula won't be a tame Twilight version of the fanged creatures. There's grisly shots full of all the blood and guts one would expect from a serious vampire show, along with some good old-fashioned foes set on taking the winged nightmare out. This version of the Count, by the way, is played by suave Danish actor Claes Bang.
Moffat and Gatiss apparently first broached the idea of a Dracula TV series as a joke, but grew more attached to the idea over time, despite the fact that an NBC Dracula series failed as recently as 2013. As they put it: "We'd done Sherlock Holmes, and the second most filmed character as we make our way down the list of plagiarism was Dracula."
Jonny Campbell (Westworld), Damon Thomas (Killing Eve) and Paul McGuigan (Sherlock) direct the series.
If you're out for vampire movies the way these creatures are out for blood, check out Paste's list of the 100 Best Vampire Movies of All Time, and check out the new Dracula trailer below.