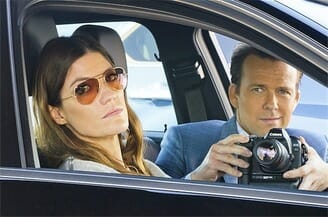 As much as Dexter wants to help Debra, he is confusing the problem (Dexter) with the solution (not Dexter). Innocently enough, he thinks that showing a clip of Debra saving a man's life would shake her into believing she is a better person. Unfortunately, it leads to an attempted drunken confession back at Miami Metro. Before we jump into how the episode ended, let's take a look at another aspect of it.
This week's episode of Dexter, "What's Eating Dexter Morgan," had an interesting story about a new client of Elway Investigations—a 40-something woman who believes her husband is cheating on her. Deb, fresh from her almost-DUI, and Jacob Elway (Sean Patrick Flanery—yes, the guy from The Boondock Saints) immediately open the case and follow the man. Inside the very same day, the husband is spotted in a van, and he's barreling into the chest of a shirtless younger woman who is definitely not his wife, and I don't think he's bobbing for apples. What makes this short story so interesting is how the wife reacts when the truth is placed directly in front of her. She refuses to believe that the man in the photographs is her husband. The photos "are not clear and the lighting is terrible," and she apologizes for wasting everyone's time. She just didn't want to see it—it's just easier that way.
If you think about it, that very notion parallels the main theme of the past few seasons of Dexter. It seems like Dex is always on the cutting board and just minutes away from being found, yet he somehow strolls away unscathed each and every time. Even when the evidence is stacked against him, nobody wants to believe that Dexter is a killer, because they do not want to see it.
This season is pushing a very similar agenda, as Deb is this constant threat to turn Dex in. She cannot live with what she has done, so she left Miami Metro at the end of last season and more or less fell out of Dexter's life. So, three episodes in, we have reached a point where Debra wants to rid herself of the guilt and attempts to turn herself in, a sort of cleansing of the soul.
Deb stumbles into Miami Metro to tell Quinn the real story regarding LaGuerta. I'm not sure how many times they can take advantage of Quinn in these almost-revealing situations, but I have a feeling he will be back in this position in a few episodes. Quinn has always been that character who is on the brink of being disposed of, yet the writers have kept him around as a support system for Deb. The short relationship between Quinn and Deb still resonates with him, as he's at her beck and call for any want or need. It has even put his relationship with Jamie (who is all of a sudden almost-naked in every episode this season?) on thin ice.
Sure, this week continues the story of the brain surgery case and the cannibal Ron Galuzzo, but vetting and killing remains a minor detail in Season 8. As long as Deb is out of control, Dex is a mere shell of his old existence.