Netflix's Dead to Me Renewed for Second Season
Image via Netflix
TV
News
Dead to Me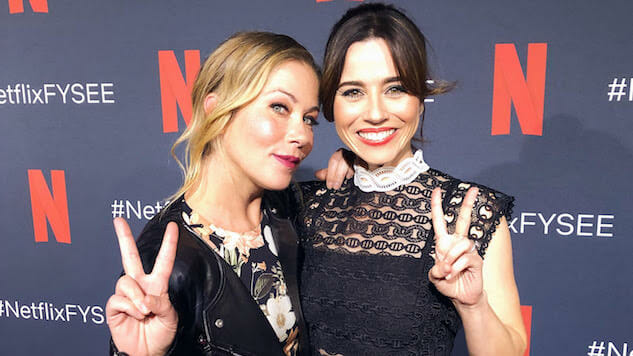 Netflix's Dead to Me isn't dead yet. The dark comedy, starring Christina Applegate and Linda Cardellini, will live on for a second season, the streamer announced Tuesday.
The show follows the witty widow Jen (Applegate) as she tries to solve her husband's hit-and-run murder alongside the optimistic Judy (Cardellini), who's facing a tragic loss of her own. The two meet at a support group, launching into an unlikely friendship of shared bottles of wine and Entenmann's cookies.
"Liz Feldman's dark comedy about a dynamic female friendship that dives into the painfully unfiltered, weirdly funny waters of grief, loss and forgiveness has been picked up for a second season," a Netflix press release explains. Series creator Feldman, formerly a writer for 2 Broke Girls, will stay on as showrunner and executive producer for season two.
After its May 3 debut, Dead to Me catapulted to the #1 Netflix show in the U.K. Now, its return to Netflix means fans will get some relief after the first season's cliffhanger ending.
Applegate kicked off her career as Kelly Bundy on the Fox sitcom Married…with Children and has moved on to film roles in Bad Moms, Jesse and the Anchorman movies, among many others. More recently, she starred in the box office and critical flop, Vacation.
Cardellini is best-known for her leading roles in Freaks and Geeks and the Netflix drama Bloodline, and received an Emmy Award nomination for her guest starring role in Mad Men. You can also catch her as a plucky case worker turned paranormal investigator in horror flick The Curse of La Llorona, and as Clint "Hawkeye" Barton's (Jeremy Renner) wife Laura in Marvel mega-hit Avengers: Endgame, both in theaters now.
The series also stars James Marsden, Ed Asner and Brandon Scott, and is produced by CBS Television Studios. Season one is now streaming on Netflix.