Watch Rachel Griffiths Track Her Partner's Killer in This Exclusive Trailer for Dead Lucky
Photo: Sundance Now
TV
News
Dead Lucky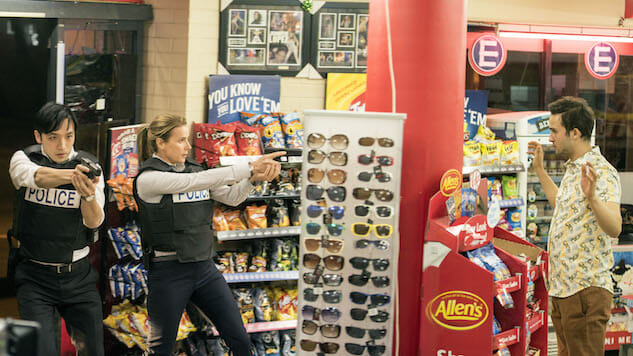 In the official trailer for Sundance Now's upcoming Aussie thriller Dead Lucky, exclusive to Paste and embedded below, Detective Grace Gibbs (Six Feet Under's Rachel Griffiths) tracks the killer of her former partner on the force and trains greenhorn officer Charlie Fung (Yoson An)—only to find herself on a collision course with a host of characters from across multicultural Sydney.
The trailer for the four-episode miniseries, which was created and written by Ellie Beaumont and Drew Proffitt (Sundance TV's Cleverman), features international students cavorting at the beach, a convenience-store killing, illicit drugs, and, most memorably/unnervingly, a white woman complaining to her husband, "They're lucky to be in the country in the first place. Tomorrow morning, I got a Zumba class, and you're going to buy a gun."
With an intricate central mystery, an apparent attempt to grapple with xenophobia, Rachel Griffiths, and a sprinkling of dark humor (Zumba is never not funny), Dead Lucky sounds like a miniseries we'll be checking out. Watch the trailer here:
Dead Lucky premieres Thursday, Sept. 20 on Sundance Now.