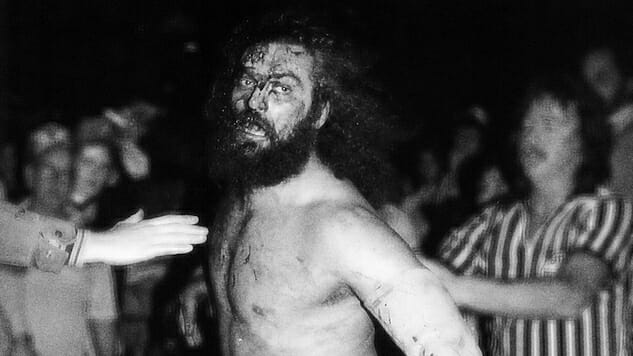 We're in the middle of the latest professional wrestling boom, but it's not taking place in the ring. Between last month's Kenny Omega documentary in Canada, last year's Andre the Giant documentary on HBO, and 2017's 30 for 30 on Ric Flair, the real lives of wrestling greats have become a focus of mainstream fascination. That trend continues with Viceland's Dark Side of the Ring, a series of one-hour documentaries that premieres this week.
Wrestling is a perfect topic for documentaries because of the very nature of the business. It's a weird, violent mix of show business and sports that for most of its history was run as a big con on the public. Its annals are full of liars, carnies and criminals, and to succeed generally requires an extreme personality and an ample amount of arrogance. The wrestling scene of the 1980s and 1990s is especially well-suited for this kind of attention: Not only does it fit snugly into the constantly whirring nostalgia industry, soothing today's middle-aged adults who are always yearning for their youth, but that era of wrestling was also a free-for-all of drugs and partying that ended in tragedy for far too many wrestlers. It the last time when kayfabe, the code of secrecy that protected the real nature of pro wrestling since its earliest days, still made it rare to see through the line between show and reality. Wrestling is an absurd business built on lies and full of larger-than-life characters, and that's why we've seen so many backstage exposés lately.
Dark Side of the Ring isn't as tasteful as those Andre or Flair movies. It feels more like an offshoot of a show like Unsolved Mysteries, with shadowy re-creations of scenes that may or may not have happened in real life. It's a more salacious and stylized take on the subject matter, and although that might frustrate serious wrestling fans who've been spoiled by 30 for 30 and HBO, that lurid appeal is an appropriate fit for both the subjects and time periods being discussed.
Thankfully, Viceland avoids a persistent problem with mainstream coverage of wrestling. It doesn't act like Vince McMahon's WWF (which is now known as WWE) is the only game in town. Only two of the six episodes are primarily about WWF wrestlers or events, with a third (about the Fabulous Moolah's controversial control of the women's wrestling scene) covering a decades-long story that involves McMahon's territory both before and during his ownership. Documentaries about Bruiser Brody, Gino Hernandez and the Von Erich brothers (whose untimely deaths were also featured in a 30 for 30 short) might not have the marquee value of the episodes about Randy Savage or WWF's Montreal Screwjob, but the fact that those stories are slightly more obscure to most wrestling fans makes them more interesting today.
The Savage episode is the first one in the series. It makes sense to start with the most famous wrestler the show looks at, and the tragic deaths of "Macho Man" Randy Savage and his former wife and valet, Miss Elizabeth, remain two of the most depressing of the seemingly endless series of wrestler deaths over the last 25 years. Both died too young, although almost a decade apart and while both were no longer active in wrestling. There's no mystery to what happened to either of them, though, and no tragedy beyond the far too familiar everyday disasters of a heart attack and an early death at the hands of pills and alcohol. As depressing as the death of Miss Elizabeth remains today, more than 17 years later, it's not the kind of unusual story that deserves its own documentary. The episode only exists for the utterly lapsed fan who remembers Savage and Elizabeth from the 1980s but has no idea how they died.
Hopefully viewers who tune in for the name value of the Macho Man stick around for the other episodes. The best installments are those that might be less interesting to a casual viewer. Bruiser Brody is a legend in wrestling, but he never worked for the WWF or Ted Turner's WCW during their cable heyday, so he doesn't quite carry the kind of wide nostalgic appeal of far less talented and significant wrestlers who did. His murder by another wrestler before a show in Puerto Rico in 1988 remains one of the most shocking and unthinkable stories in wrestling; to its credit, Dark Side of the Ring never disrespects Brody or loses sight of his humanity even while taking a slightly sensationalistic true crime approach to the story. Its interviews with Atlas and Dutch Mantell, two of the other American workers who were there when it happened, reveal the emotional depth of the brotherhood between wrestlers. If you know nothing about Brody or his murder, this is the episode to start with, and the best of the six.
Similarly, Gino Hernandez was a huge star in Texas at the peak of that territory in the 1980s, but he died so young that he never had an opportunity to establish himself nationally. If he had lived into the 1990s, it's easy to think he would've become a major star in either WWF or WCW. The episode about his mysterious death doesn't answer any questions, but it does raise the possibility that what was reported as an overdose might've been a murder, and includes interviews with two people involved in the Houston drug trade at the time who knew Hernandez. It doesn't fully support the murder conspiracy that Hernandez's family believes in, but it doesn't go out of its way to disavow it, either. Despite Hernandez's relative obscurity today, this episode captures the true nature of wrestling in the 1980s better than any of the others. It wasn't the child-friendly cartoon you might remember from Hulk Hogan's WWF, but a sordid business of hard-traveling, hard-partying jocks who lived in constant pain but believed nothing would ever kill them.
Taken as a whole, the overarching message of Dark Side of the Ring is that wrestling is every bit as sordid and messed up as you ever thought it was. You might stop wondering why so many wrestlers have died young and start wondering why more haven't. Hopefully the copious interviews with wrestlers, backstage employees and family members will hammer home to the viewer that all these over-the-top wrestlers, from Brody to Hernandez to the Von Erichs to all the women Moolah may or may not have exploited, were still real people, with real lives and emotions and families. Hopefully it'll quiet the still popular refrain of "Don't you know it's fake?" from those who criticize or dismiss wrestling as a pastime for dullards and the easily duped. Wrestling might be fixed, but it's as real as life gets, as Dark Side of the Ring proves.
Dark Side of the Ring premieres tonight at 9 p.m. on Viceland.
---
Garrett Martin edits Paste's comedy and games sections. He's on Twitter @grmartin.