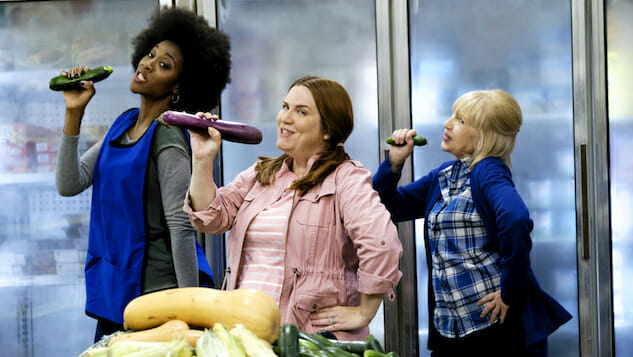 Crazy Ex-Girlfriend's crazy brilliant third season begins its next act in the aisles of a grocery store. After a mental health emergency that culminates in an attempt on her own life, and her subsequent diagnosis with borderline personality disorder, our heroine, Rebecca Bunch (series co-creator Rachel Bloom), enters treatment—and the focus shifts to her frequently meddlesome friend and caretaker, Paula (the exceptionally talented Donna Lynne Champlin). In "Getting Over Jeff," Paula returns to her hometown and spies her high-school sweetheart standing by the frozen foods, launching into the bawdy, deliriously entertaining, ABBA-inspired anthem "First Penis I Saw."
"Honey, they are not going to let us do this," Champlin remembers saying to choreographer Kathryn Burns during the first rehearsal, with water bottles standing in for the phallic vegetables of the final product. But they did, and despite Champlin's concern that her strict, Irish Catholic mother might object, the song became a viral sensation. "First Penis I Saw" also signaled a change of key, as it were: Having pulled off the most ambitious arc in the series' run, and one of the most insightful treatments of mental illness ever to appear on American television, Bloom and co-creator/showrunner Aline Brosh McKenna's twisted musical comedy is poised to continue its evolution—this time, as a group portrait of what comes after the crisis, with the entire ensemble in a star turn.
"It's funny, because when they told me about it, I said, 'Isn't that more of a Rebecca song? Paula doesn't really do the stuff about penises and vaginas,'" Champlin says of "First Penis I Saw," alluding to the series' venture into, uh, virgin territory. "So, it was really fun to do, because it was not only something that I, personally had never had the opportunity to do, ever—I kind of feel like for Paula, it was a departure as well, musically. Her songs are usually more classical musical themes, like Disney, jazz, Broadway, traditional gospel. She never really gets to do the fun, pop-y stuff."
Such changes of pace define Crazy Ex-Girlfriend as Rebecca resumes her life after leaving the hospital. Now that she's is no longer in immediate danger, her friends are left to focus once more on their own foibles, and the results aren't always pretty. As Josh (Vincent Rodriguez III) moans in the midseason premiere, in which his mother (Amy Hill) sings, "Get Your Ass Out of My House," everyone is in "fluuuuuuxxxxxx." Paula interferes in Darryl's (Pete Gardner) search for a surrogate, becoming embroiled in a blackmail scheme in the process. White Josh (David Hull) is back on the market. Valencia (Gabrielle Ruiz) is trying to get her party planning business off the ground. And Heather (Vella Lovell), after marking her completion of college with the deliciously deadpan "The Moment Is Me" earlier this season, is facing a familiar struggle: her failure to launch.
"I remember graduating college and not knowing what to do on that Monday," Lovell says, laughing. "'Where do I go? Is anyone going to tell me what to do?' I think they've actually captured that in the timeline of the show… [Heather's] having those same questions that she was asking earlier in the season, but I think it's really realistic, timing-wise, that she has this chunk of limbo after those big steps."
Teasing "a big growth spurt" for Heather before season's end, Lovell points out that the ensemble is "mirroring" Rebecca's trajectory, with each character now forced to surmount hurdles they'd set on the back burner during her downward spiral. (Lovell also points out that the detached Heather tends to "go under" hurdles rather than leap over them.)
"We're all finding ourselves," she says, quoting the Season One number "California Christmastime," which she calls "the secret motto of the show." "Everyone is on this journey of their own search for happiness that exists outside of love… With every character, you see them wrestling their own reluctance to participate in their lives, in certain ways. What happens if you don't fill that space with a relationship or a crush? What happens if you really face those questions yourself?"
Rebecca's new love interest, Nathaniel, faces a particularly thorny version of this question: In the midseason premiere, what actor Scott Michael Foster describes as their "undeniable, inexplicable attraction" is just beginning to deepen into something more serious when Rebecca catches herself falling into old, obsessive habits again.
"In the second half of the season, [Rebecca's] going through treatment. She's got a few episodes where she's trying to figure out what she can and cannot do," Foster says, referring specifically to questions of sex and romance. "She doesn't want to do the wrong thing. And in Nathaniel's case, it pushes him away a bit. A lot of the people in her life want to be with her and want to help her and want their friend back, but everyone, in the second half of the season, finds themselves a bit absent the Rebecca they usually have."
In this week's episode, "Nathaniel Gets the Message!" the result is a striptease that fans of the series' beefcake factor will surely appreciate—and that required more than 8 weeks of prep, including an intense diet and workout regimen for Foster, Rodriguez, and Hull.
"We're really doing some Magic Mike type stuff," Foster says. "It was kind of scary and exciting, too. Vinny stuck with it. He's in the best shape of his life. I, the minute we were done shooting that, went right back to drinking beer and eating pizza."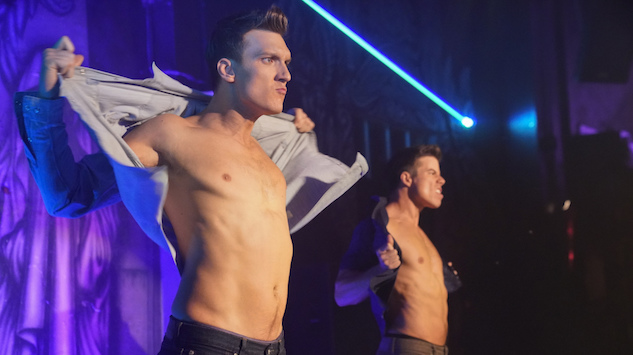 In this, Crazy Ex-Girlfriend, with its usual ribald humor, isn't simply a depiction of mental illness for the person diagnosed—it's a sparkling, endlessly inventive portrait of what Champlin calls "the ripple effect," exploring what a suicide attempt might mean for all the members of Rebecca's makeshift family.
"Paula's had this ongoing addiction to fixing things," she explains. "And I think it's because she feels so powerless and out of control that when she can exert power and control over other people, it quiets her down. But ultimately, it's just a distraction. The more she tries to fix and help other people, the less time and energy she has to look in the mirror and say, 'Oh, you're the one that I should be fixing.'"
We're all finding ourselves, and fixing ourselves—or trying to, at least. This is the genius of Crazy Ex-Girlfriend, which considers Rebecca's borderline personality disorder within the context of the entire ensemble's very human flaws, and thereby de-stigmatizes it. Within what Lovell labels its "condensed musical fun factory," the series is "always changing and moving, too," she says: As Heather is forced to answer the question of what she plans to do with her life, as Nathaniel weighs love against societal expectations, as Paula tries to set boundaries and then talks herself into traversing them.
"Every time you think the show is going to take a left, [the writers] go, 'Well, what happens when we go right?'" Foster says.
Perhaps Crazy Ex-Girlfriend's next act won't be so different from its last one, then: After all, the series became TV's most truly, madly, deeply inspired musical comedy by defying convention and bucking expectation, and doing so at a level of difficulty, week in and week out, that surpasses many more "serious" dramas. Still, as Season Three heads into the home stretch, Champlin refers to a finale in which she "open[s] the floodgates."
"It's a heightened version of what we've seen so far," she says, nailing the reason why the next stage in the series' development is as promising as the prior one. "People should strap themselves in, because it reaches a pinnacle—I'm trying to figure out the right way to say it without blowing it. There is an event that happens that no one foresees and everyone is sort of forced to really look at who they are and who Rebecca is in their lives. It makes everyone sort of body check themselves and go, 'Where do I stand on this?'"
In fact, Champlin's reaction upon finding out about said event — "When we got that script, I was like, Whhhhhaaaatttttt?!'" — sounds to me like a heightened version of "Honey, they are not going to let us do this": If there's one thing that Crazy Ex-Girlfriend has held onto in its most remarkable season to date, it's the capacity to grow, evolve, surprise. Just like all of us.
Crazy Ex-Girlfriend airs Fridays at 9 p.m. on The CW.
---
Matt Brennan is the TV editor of
Paste Magazine
. He tweets about what he's watching @thefilmgoer.