After Once Upon a Time and Downton Abbey, Ginnifer Goodwin and Allen Leech Star on Stage
Photo credit: Luke Fontana
TV
Features
Constellations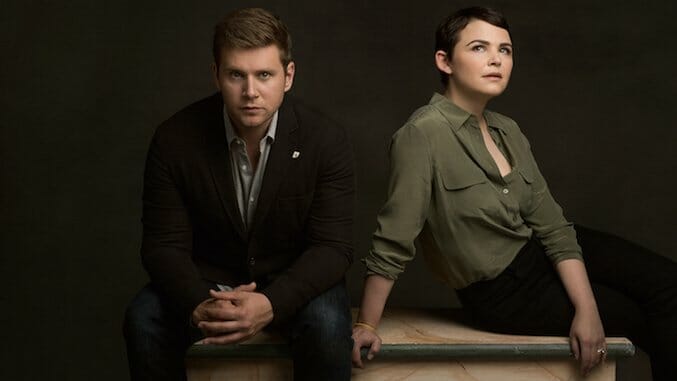 Besides the fact that they're thisclose to opening in a play together, Ginnifer Goodwin and Allen Leech both recently starred in highly rated, long-running TV shows.
Leech played proud and principled chauffeur Tom Branson on the uber-popular British drama, Downton Abbey, while Goodwin played a very different Snow White from the famed animated one when she took on the role in ABC's Once Upon A Time. After six seasons and just days before our interview, it was announced that Goodwin, along with cast members Jennifer Morrison, Emilie de Ravin and Goodwin's husband, actor Josh Dallas, would not be returning.
Goodwin and Leech are now set to star in in the Geffen Playhouse's production of celebrated British playwright Nick Payne's play, Constellations, about what happens in a romance and marriage between beekeeper Roland (Leech) and quantum physicist Marianne (Goodwin).
With the news of Once Upon A TIme's reported reboot, Goodwin's timing couldn't be better. Paste talked to her about the decisions behind leaving the series, and with Leech about his career after the award-winning Downton.
Paste: Ok, Ginnifer, got to get this out of the way: Why leave Once Upon A Time?
Ginnifer Goodwin: All of the stories are changing and we knew that was going to be the case, so we had a group-think about how we were going to end the 'Charming' story, and frankly that conversation happened a long, long time ago. And it just seemed like the most natural time… I mean, you have to have a happy ending! And I have two small children and one of them starts school in Los Angeles this [coming] January, and preschool becomes an all-encompassing obsession, so when the kid got into the dream pre-school, that sort of sealed the deal.
Ultimately, the most important part of the decision came from conversations with the creators about, "When is the best time for us to give these characters a happy ending?" This was the natural timing for that.
Paste: Well, a lot of fans are sad.
Goodwin: Hopefully they'll watch me in something else, because I'd love to continue working.
Allen Leech: Hopefully, they'll come to The Geffen.
Paste: And Allen, you played a wonderful, sensible character on Downton Abbey. Why theater and why The Geffen?
Leech: Theater is where I started. I was a 15-year-old in my first professional show. So it's always something I go back to as soon as I can and whenever I can, and The Geffen has such an incredible reputation and this play is one that I saw on the West End and it stuck with me for many reasons. So there were so many things things and it just felt right. Already it feels like a really special experience.
Paste: Did you both get this through agents, or did you have to audition?
Leech: It was more of a meeting of the minds than an audition.
Paste: Did you guys know each other before this?
Goodwin: No, but we discovered that we had an uncanny level overlapping of social circles. So it made sense.
Paste: Are you finding that you both have this chemistry that you weren't sure you were going to have, or were you just relaxed about that from the beginning?
Goodwin: We can't stand each other! They split us up for rehearsals!
Leech: I felt it was not going to be a problem in any shape or form and, I don't think she hates me yet.
Goodwin: Actually, Allen's name came up. He is friends with my friend Jennifer Morrison from Once Upon A TIme, and I had been discussing with Jen the really incredible actors that they had been talking about for this role. Knowing the play and knowing me, she mentioned Allen for the play, and I kind of freaked out because it was a better idea than the others.
Paste: You both are in rehearsals. Allen, do you find theater in the U.S. different from theater in the U.K.?
Leech: I don't really know. I don't think so in relation to style or how people approach the work in America, certainly in New York. I think I am always amazed by the theater in the States.
Paste: Now, unlike Downton Abbey, Bellevue [Leech's forthcoming crime drama, starring Anna Paquin as a police officer working a transgender murder case] is a younger series. You were splitting your time between L.A. and Canada?
Leech: I was when we were filming, and it was always nice to get away from the Montreal winter, I'll be honest. It's not something I am a huge fan of. I'm not sure we are going to go again. I think [the show] was a one-off. It was always billed as an eight-part drama.
Paste: Had you worked with Anna Paquin prior to this?
Leech: No, but we go back to the days of The Piano [for which Paquin won an Oscar]. I'm that old. It was an incredible experience to be part of. It was certainly a breaking out for a major network like CBC [Canadian Broadcasting Corporation] to do something that involves the murder of transgender teens. It was gritty, gritty stuff.
Paste: For both of you, what do you like about your characters?
Goodwin: I was drawn to Marianne because I don't understand so much about her and I find that challenge very appealing. What I do understand about her is our language for love, or lack thereof. On a really shallow level, quantum mechanics is a passion of mine, something I study on an amateur level. Then I would say I was keen to play a character that values herself. That's not usually where I fall.
Leech: What I love about Roland is that he's a harsh character. He's someone I love because of his compassion and it's hard to pick out one characteristic of our characters because we play them within a multitude of different universes. So you try find the core values in all of them and in rehearsals you find sometimes they don't exist at all within certain scenes and it's a real challenge, therefore, to find the true line of who he is in all of these different worlds. Ultimately, it's the process of trying to find this character that exists in a multitude of universes.
Paste: What's a typical day of rehearsal like?
Goodwin: Scary. Exhausting.
Leech: Yes, it is exhausting. It is pretty intense because there's only the two of us in the show.
Goodwin: There's no down time.
Leech: There's no time to sit in the corner and think, "Aren't we wonderful?" So it's pretty exhausting certainly on an emotional level. It's incredibly draining. In the rehearsal process you have to go back over those scenes so many times. It is pretty intense but Gio [director Giovanna Sardelli] is fantastic and [has] a great sense of play that we realized it's lovely to be in that comfort zone where you fail and then go back and fail better.
Goodwin: She makes us laugh a lot and not take ourselves too seriously.
Paste: Ginnifer, Allen already answered this, but had you seen the play anywhere before?
Goodwin: No, I don't think that I could have done it if I had seen it, because the actresses who I know played this role, I admire them so much I think would have been intimidated.
Paste: When the audience leaves at the end of this play, what do each of you hope they take with them?
Goodwin: I feel the magical part about this play is that it's really open to interpretation, and I think that each audience member is going to have a very personal experience—which I feel is unusual, in any kind of storytelling via entertainment. So I hoping that they keep asking themselves lots of questions. I hope they understand quantum physics [what happens with matter and energy at the subatomic level]. I hope everyone leaves with a very basic understanding of string theory. I'll be happy if they do.
Leech: I hope they are inspired and incredulous in relation to the idea of being open to making decisions that sometimes maybe scare them. And I also hope that Ginny does such a good job that they have a good understanding of string theory (theory that the universe is made up of particles of energy that from certain angles, look like string).
Ginnifer Goodwin and Allen Leech open in Constellations at the Geffen Playhouse in Los Angeles, Calif. on Wednesday, June 14. The show closes Sunday, July 16. Purchase tickets here.
---
Diedre Johnson is a writer covering all aspects of entertainment and fashion when she's not editing tech pitches for a PR company. It's true.