The 10 Best TV Comedies You're (Probably) Not Watching
Header image: ABC/Brian Douglas
TV
Lists
Comedies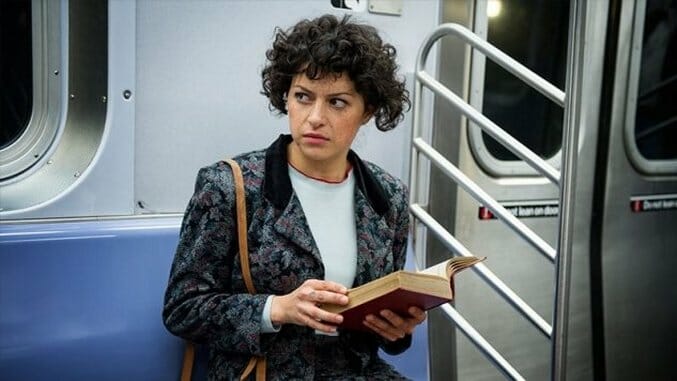 It's already well established that we're in the midst of the "peak TV" era: In 2016, there were 455 scripted shows that aired on American television, according to research conducted by FX. In 2017, that number could easily hit 500. That means there are dozens (even hundreds) of shows that even the most diehard TV watcher is missing. Since summer is the perfect time to catch up on what you've missed, let Paste's list of the 10 best comedies you're (probably) not watching be your guide:
Animals, HBO

Definitely one of the weirder entries on this list, Animals has aired two seasons on HBO. This animated comedy, from executive producers Mark and Jay Duplass (Togetherness), is an offbeat (and sometimes off-putting), biting commentary on the inevitability of death. Sounds hilarious, right? Well, it's definitely not for everyone. But it can be laugh-out-loud hilarious at the same time it's being heartfelt and sincere. Plus, it boasts a guest cast of voices that reads like a who's-who of Hollywood's hottest comedians.
Baskets, FX

Liking this dark comedy hinges a lot on how you feel about Zach Galifianakis' peculiar brand of comedy. He plays twin brothers Chip and Dale Baskets, one of whom (Chip) dreams of becoming a professional clown. Louie Anderson plays Chip and Dale's mother, Christine, and he's giving one of the best performances on TV in the role—he won an Emmy for it in 2016. But it's not called a "dark comedy" for nothing. Baskets is not going for outright laughs—it's the series' humorous-yet-sad situations that viewers may connect with.
Catastrophe, Amazon

There are a lot of romantic relationships on TV, but the tale of Sharon and Rob (played by Sharon Horgan and Rob Delaney) meeting each other, falling in love and starting a family is one of the most delightful. But Catastrophe is not a "rom-com": It depicts dating, marriage and sex as it really is—hard, messy and complicated, which is where the gut-busting laughs come from.
Difficult People, Hulu

Billy Eichner is an acquired taste, so if his in-your-face comedy puts you off, Difficult People is not for you. But this sharp, sarcastic comedy is funny for the way the two leads (Eichner and series creator Julie Klausner) are terrible people, and for the way they skewer the other terrible people they come across. With a solid supporting cast that includes James Urbaniak, Andrea Martin and Gabourey Sidibe, Difficult People isn't at all difficult to enjoy, especially if sarcasm is your superpower.
Downward Dog, ABC

You don't have to be a dog lover to fall in love with advertising designer Nan (Allison Tolman) and her on-screen BFF, a pooch named Martin (voiced by series co-creator Samm Hodges). The soulful dog waxes philosophic about their relationship, as well as Nan's involvement with Jason (Lucas Neff), her on-again, off-again boyfriend, and life in general. It's a comedy with a lot more heart than one might think at first glance, and it's kind of a shame ABC buried it in the May-July TV period instead of launching it alongside one of its proven comedy hits. Though ABC's canceled the series, producers hope to revive it elsewhere—so start watching.
Playing House, USA

Playing House is one of the best comedies on TV right now. It stars Lennon Parham and Jessica St. Clair as childhood best friends Maggie and Emma, respectively, who are brought back together to co-raise Maggie's daughter after Maggie's husband is caught with his pants down (literally), sending money to a Russian online sex worker. If two female leads "playing house" doesn't sound like your cup of tea, we urge you to give this one a chance. It's a smart comedy about all kinds of relationships that veers into some very funny, absurd situations, like a fierce paddleboat race rivalry or an alter ego named Bosephus. Trust us, it's terrific.
Search Party, TBS

Another entry that's not strictly a "comedy," Search Party nonetheless completely captivated us last fall when TBS aired the entire first season in five days. It's the story of a New Yorker named Dory (Alia Shawkat) who becomes obsessed with a missing college classmate because she herself is feeling so lost and floundering in her own life. Her support system—a kind of a wet rag boyfriend and two very self-centered friends—isn't terribly interested in indulging Dory's quest to find the missing Chantal, but they get unwittingly sucked in (along with the audience). It's a weird combination of comedy, drama and mystery, but it is definitely worth a watch.
Survivor's Remorse, Starz

Starz is producing some really great TV right now, and one of its best offerings is this comedy, about a pro basketball phenom going from the projects to fame and fortune and all the problems that arise from the trappings of wealth, plus the "survivor's remorse" that stems from "getting out" and all the people you left behind in your old life. Young lead Jessie T. Usher is going to be a star for years to come, and Survivor's Remorse also features strong performances from Tichina Arnold and Mike Epps.
Trial and Error, NBC

This was a blink-and-you'll-miss-it offering from NBC in spring 2017, starring John Lithgow as Larry Henderson, a hapless poetry professor on trial for murdering his wife. Big city lawyer Josh Segal (Nicholas D'Agosto) comes to East Peck, South Carolina to defend Larry and shenanigans ensue. It may not sound like much, but this show was surprisingly funny—like, bust-a-gut, choke-on-your-drink funny. Not every joke lands, but its ratio of great jokes to duds is high. Fingers crossed NBC brings this one back.
You're the Worst, FXX

Another show about self-centered a-holes in Los Angeles? Where do we sign up, right? In fact, You're the Worst is both bitingly funny and also takes some brutally honest looks at serious issues like depression, strained familial relationships, dysfunctional marriages and PTSD. It walks a tightrope of comedy and drama, pushing its characters to the point where you kind of hate them sometimes, but never going so far that you can't come back from it and want to root for them. One of the strongest entries on the list, You're the Worst is definitely worth your time.
---
TV critic by way of law school, Andrea Reiher enjoys everything from highbrow drama to clever comedy to the best reality TV has to offer. Her TV heroes include CJ Cregg, Spencer Hastings, Diane Lockhart, Juliet O'Hara and Buffy Summers, and her writing can be seen at
The A.V. Club
,
Mashable
,
Refinery29
,
Rotten Tomatoes
and
Variety
. TV words to live by: "I'm a slayer, ask me how." Follow her on Twitter at @andrea_reiher
.