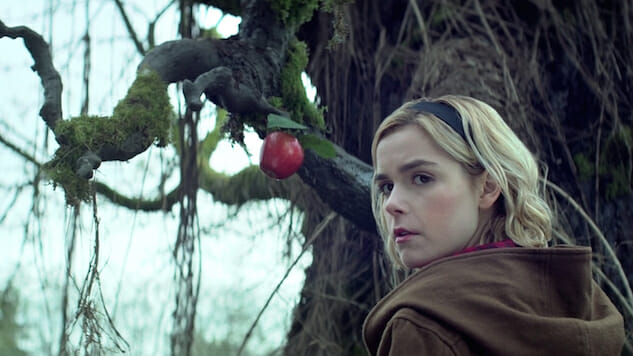 When Kiernan Shipka was announced as the title character in the Chilling Adventures of Sabrina, the casting could not have been more perfect.
In a sea of child actors who are, shall we say, less than talented (no, I'm not going to name names—that's not nice), Shipka stood out as Don Draper's wise-beyond-her-years daughter, Sally, on AMC's Mad Men. She quickly became a fan favorite for her droll delivery and fashion choices.
Unfortunately, there's nothing magical about her role here. Like the comic books and even Melissa Joan Hart's long-running comedy, Shipka's Sabrina is half witch, half mortal, and raised by her aunts—the sweet Hilda (Lucy Davis) and the more conniving Zelda (Miranda Otto). But that, as you have most likely heard, is where the similarities end.
This Sabrina is dark and foreboding. The town of Greendale is a creepy place, filled with murky woods that the characters always seem to be walking through, gloomy hallways and melancholy rooms. The series looks great and is aesthetically pleasing, particularly in scenes involving the Weird Sisters (Tati Gabrielle, Adeline Rudolph and Abigail Cowen). At first, I was excited because it seemed that perhaps the show could pick up the baton that Buffy the Vampire Slayer put down so long ago. We need a teen heroine poised to fight the Big Bad, save the world, kick ass, and deliver some well-placed quips while doing it.
But Sabrina is so earnest. And her relationship with her boyfriend, Harvey (Ross Lynch), is so sweet—and, yes, boring—it doesn't seem genuine. "There's nothing we can't handle as long as we're being honest with each other," Harvey tells her. These two teenagers seem to have no sexual relationship at all. Harvey hasn't even seen Sabrina's bare shoulders. In the five episodes I watched, none of Sabrina's friends know her true identity. I'm hoping that changes soon, because a girl needs her Scooby Gang.
The early episodes drag and have a circular repetitiveness. Showrunner Roberto Aguirre-Sacasa seems to be under the mistaken impression that because the 10 episodes drop all at once, there's no need for urgency. The first three are devoted to Sabrina's dark baptism and whether she will commit her devotion to the Dark Lord. "Free choice child, that's the bedrock on which our church is built," the Dark Lord's emissary, Father Blackwood (Richard Coyle), tells her. And so we have three episodes going round and round and round about the struggle for Sabrina's soul.
We don't even see Sabrina attend the Academy of Unseen Arts, where the action starts to heat up, until the fourth episode. That means we don't meet Harvey's potential bad boy competition, Nicholas Scratch (Gavin Leatherwood), until near the halfway point of the inaugural season.
What Sabrina is really missing is a sense of humor. The series takes itself incredibly seriously, which gives the whole endeavor a dour feel. It also does what so many supernatural shows do, giving everyone in Greendale some supernatural twist. So Harvey has seen something in the mines that terrorizes him and Sabrina's friend Susie (Lachlan Watson) has a deranged uncle locked in an upstairs bedroom. Sometimes this tactic works, but here it just seems like the show is struggling to come up with things for the characters to do and to make Sabrina's human life as interesting as her witch one. But her human life remains tedious.
Otto and Davis are having a wonderful time and bring the right amount of camp to the role. Otto is particularly delightful: "She annoyed me, so I killed her and buried her in the yard," she says of her sister. The true breakout is Chance Perdomo as Sabrina's cousin, Ambrose, who is housebound but still able to help out when needed. Also fun is Bronson Pinchot (yes, that Bronson Pinchot) as Baxter High's unhinged principal George Hawthorne, and Mary Wardwell (Michelle Gomez), Sabrina's favorite teacher, who also happens to be possessed by a demon. (Don't you hate it when that happens?)
When the series is set is also confusing, as one storyline has Sabrina's friend, Rosalind (Jaz Sinclair) going through the school library card catalog (do those still exist?) to discover which books have been banned from Baxter High. And though Sabrina bears an inclusive stamp, with a plot thread in which Susie, played by non-binary actor Lachlan Watson, is harassed by the football team and clearly struggling with their identity, it doesn't explore this in much depth in the season's first half.
I remember that the first season of Buffy wasn't its best, so perhaps things will improve. But for now, Sabrina's adventures are kind of lukewarm.
Chilling Adventures of Sabrina premieres Friday, Oct. 26 on Netflix.
---
Amy Amatangelo, the TV Gal®, is a Boston-based freelance writer, a member of the Television Critics Association and the Assistant TV Editor for
Paste
. She wasn't allowed to watch much TV as a child and now her parents have to live with this as her career. You can follow her on Twitter (@AmyTVGal) or her blog .