7 Things You Need to Know About Lena Dunham and Jenni Konner's New HBO Comedy, Camping
Photo: Anne Marie Fox/HBO
TV
Features
Camping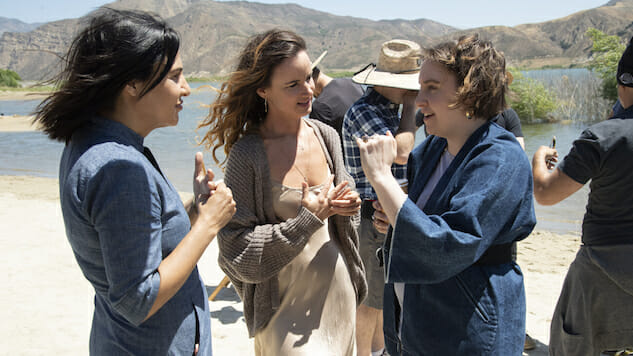 Let the record show that Jenni Konner and David Tennant are not camping enthusiasts.
"I like indoor plumbing and showers and clean undercrackers, so I didn't think I'd like camping, but then I just surrendered," Tennant told journalists of one disastrous (and wet) expedition.
This is a particularly odd thing for both of them to claim, Konner she co-created and Tennant co-stars in an HBO series that is titled, and is very much about, Camping—the new series they were promoting on Wednesday at the Television Critics Association's biannual press tour in Beverly Hills, Calif.
"When we made show—I don't know what I was thinking—we were in the woods every week," Konner exclaims.
Despite these aversions, an HBO comedy was born. Konner created the show with her former Girls partner Lena Dunham and John Riggi. It follows a group of friends who gather for a birthday party for Tennant's character, Walt—an event that has been planned with precision by his wife, Kathryn (Jennifer Garner). Naturally, antics ensue.
Garner stars as Kathryn Siddell-Bauers, a wound-tight Type-A mom. How close is this to Garner's real persona?
"I love that that's people's idea of me, that I know what I'm doing ever," Garner says, laughing off the assumption, though she doesn't necessarily disagree with it, either. She adds that she joined the show because "I was drawn to the writing. The writing is so much fun to say."
Garner says that she likes that "the stakes are so high for her," which means that "there was kind of a dangerous quality to her as well."
Walt is a huge shift from Tennant's more devious character in Netflix's Jessica Jones.
"It was nice to play someone sweet and warm-hearted and long-suffering," he says, stressing that the "physical manifestation" of Walt is "much more of how I feel inside" than his nefarious Marvel villain, Kilgrave.
Actually married couple Janicza Bravo and Brett Gelman also play characters in the show.
"We're just fans of them and they were, in real life, together, and it seemed like a really friendly energy," Konner says of how that worked out.
Garner hasn't been a series regular on television since Alias ended in 2006. What took so long?
Well, for one, there's the time commitment.
"Being the lead in a 22-episode [network series]? I don't think I could do it; I don't know how moms do it," the mom of three says. "I'll tell you [what else] was a huge draw… that it shot in LA."
Also unique about this production: The writers were making changes on set when normally scripts are locked ahead of time.
"There was such a collaborative spirit," Garner says. "It was like this scrum of funny people coming up and saying 'I have a pitch!'"
Konner says that she and the other writers are "not super precious" about their words and encourage trying these ideas.
The series is based on a British series by Julia Davis. What made Konner think that story would work for American TV?
"I saw Julia Davis' show and I was obsessed with it and thought it was the most hilarious thing," Konner says. "It's really British and really amazing… but there's just changes you have to make so it feels like people you know."
Tennant echoes this by saying "there's something very domestic" about this version, and praised Konner and Dunham for making HBO's Camping "very much their own."
Will there be a second season?
"I don't know, you'll have to ask HBO that question, because we really sold it as this limited series," Konner says. She'd like to come back to these characters, though—especially if they're now in a hotel.
Camping premieres October 14 on HBO.