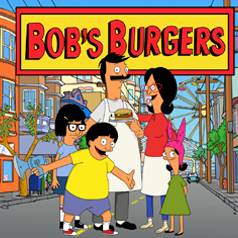 In 1999, Loren Bouchard and Brendon Small teamed to create Home Movies, a charming cartoon about an eight-year-old would-be auteur. It was canceled after a season on UPN before being rescued by Cartoon Network's Adult Swim. Bouchard's next show, Lucy: The Daughter of the Devil was canceled by Adult Swim after a single season, but he's back with Bob's Burger's as part of Fox's Animation Domination.
The premiere showed promise, with some of the same awkward humor that made Home Movies great. With Bouchard's long-time collaborator H. Jon Benjamin (Archer) as Bob Belcher and comics Kristen Schaal, Eugene Mirman and Dan Mintz as Bob's children, Bouchard is out to make the audience squirm as much as they chuckle. Schaal is particularly great as the youngest trouble-making daughter Louise who tells her class that the burgers are made from human flesh procured from the crematorium next door and renames the daily special the Child Molester.
There's a dysfunctional meanness that Bob has inherited from the great animated patriarchs that have come before—Fred, Homer, Peter—that seems a little tired as Bob informs his children how terrible they are at their respective jobs. But it's more of a resigned pessimism than a temper—he reserves his harshest criticism for himself. And his wife Linda (relative newcomer John Roberts) plays a dimmer version of Marge bucking up her hubby and holding the family together.
But the originality comes from Bouchard's neuroses and Benjamin's deadpan delivery. Where its Fox neighbors The Simpsons and Family Guy are packed with jokes, Bob's Burgers pushes those same boundaries of tastelessness through hesitant dialogue full of pregnant pauses. It's more Woody Allen and less Farrelly Brothers, and thus more reliant on the timing of its talented cast.
In case there was any question, this is not one for the kids—even if the subject matter didn't include genital rashes, cannibalism and molestation, they just probably wouldn't find the humor outside of Mirman's silly Gene. But there's a solid chance enough adults will find the minimal patience required of the most off-beat half-hour comedy to make it onto Fox's line-up that Bouchard may make it through the first season without talk of cancellations this time. The Adult Swim aesthetic has gone prime time.