Why the Season Finale of Better Things Is One of the Year's Best TV Episodes
Jessica Brooks/FX
TV
Features
Better Things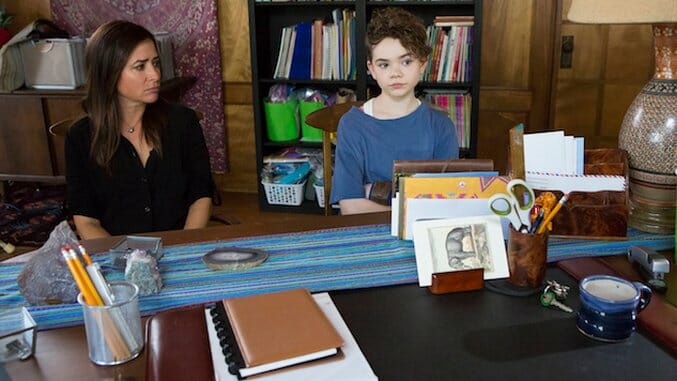 In the season finale of Better Things, Laurie Anderson's "O Superman" signals the change of key. With her youngest daughter, Duke (Olivia Edward), feigning a sore throat, and her mother, Phyllis (Celia Imrie), still smarting from the cancellation of their planned jaunt to Santa Barbara, Sam Fox (Pamela Adlon) swings into action with the song's first fretful chords, as if swept up in the morning's current.
For nearly six minutes, so is the camera, twirling and spinning with her routine's rush: To face Frankie (Hannah Alligood), Sam's middle child, from across the upstairs landing, exasperatedly demanding a vintage dress to wear to school; to broker a peace with Sam's eldest, Max (Mikey Madison), so quick with her lacerating criticism; to greet the housekeeper, Esperanza (Lidia Porto), suffering through the after-effects of food poisoning, and the accountant, Rey (Cuete Yeska), bearing checks for Sam to sign. It's not for the feat itself that we follow her—the sequence contains a handful of cuts, as Sam tries, for instance, to sext a suitor—but to suggest her day's heedless rhythms, a pileup of minor crises that seems never to subside. With homemade lunches and cereal cups, lost jeans and "mishegoss," "Only Women Bleed" rides the momentum of domestic details until Sam closes the door after her children's departure, exhausted before she's begun. "'Cause when love is gone, there's always justice," "O Superman" promises. "And when justice is gone, there's always force. And when force is gone, there's always Mom. Hi Mom!"
It's rare, even in an era of serious comedies, for the erstwhile "sitcom" to narrate its stories in the language of film form: There's Atlanta's undercurrent of surrealism and You're the Worst's understanding of psychic distress; Richard Shepard's dreamlike episodes of Girls and Andrew Haigh's careful, affectionate naturalism on Looking. Rarer still is the series that condenses its foremost merits into a gorgeous half hour, or for that matter a single, breathless sequence: Frank, artful, and effortlessly funny, "Only Women Bleed" is Better Things in microcosm, a moving tribute to the essential, everyday work of women that counts among the finest TV episodes of the year.
Co-created by Adlon and Louis C.K., Better Things hasn't generated the excitement of its FX counterpart, Atlanta, but it's no less novel for elaborating a multigenerational portrait of women in which sex and romance are not the determining factor in life's equation. When Sam glances at her phone again after the clamor quiets, it's as another distraction to be dealt with, no longer run through with erotic charm, and she sets the man's request aside unanswered; later, in the car, she half-heartedly participates in phone sex, coaxing him to finish so she can get on with her errands. The series' debut season, in which men largely remain on the margins, is far more interested in the testy, soused relationship she maintains with her mother, with the wan roles she's offered as a moderately successful middle-aged actress, with the ceaseless chaos of single motherhood.
"Frankie, what do you think I do all day?" Sam snipes in "Only Women Bleed," after Frankie's sent home from school for using the boys' restroom, though Better Things, as thick with experience as Adlon's voice, preempts the need for an answer. Going out for auditions and comforting tearful kids, speaking at assemblies and drinking with friends, cleaning, cooking, cajoling, and crawling into bed, we already know what Sam does. She does everything.
By the time "Only Women Bleed" reaches its climax, in which Max reveals to a surprised Sam that "Frankie's a boy," the episode has begun to suggest one path for its forthcoming second season, but as to the first it's a smaller moment, an almost imperceptible echo, that indicates Adlon's aesthetic assurance. The long, handheld shots of the earlier sequence return when Sam's friend, Macy (Lucy Davis), drops by after dinner: Another routine, another set of distractions, more plates to clear and people to wrangle. "I don't know how you do it," Macy remarks, and Sam deflects the small kindness, not falsely modest but honest, and spent; for all the help she has from employees and neighbors, she knows that the clamor never really stops. "I don't, actually," Sam replies, with a sigh, as she leans her cheek on her right knuckle. "Everybody always gets a little bit screwed. Even when I do my best, it ain't never enough."
It is, of course, the perfect complement to the season's most exquisite image, the composition strung with the last chords of Anderson's tune. Sitting on the stairs, her cheek against her knuckle, Sam is framed by a wall of women, colorful portraits of every size, every style—including, in the largest, one striking much the same pose. The point here is clear, and it requires no dialogue at all: That the "Superman" of the song is the mother, the woman, wrung out and wrecked by the constant effort to "do it," and by the recognition that no one ever quite figures out how.
It's the unspoken message, half mournful and half expectant, of both "Only Women Bleed" and Better Things as a whole; it's the stirring, feminist statement of purpose for a series clear-eyed about the fact the struggle continues, framed in the forthright terms of televisual art. It's meant, perhaps, for those mentioned in the season's timely final line, splayed across the screen in handwritten scrawl, a form of much-needed reassurance:
"Dedicated to my daughters."
---
Matt Brennan is the TV editor of
Paste Magazine
. He tweets about what he's watching @thefilmgoer.