Better Call Saul Will End with Season 6, "Baby Mike" Spinoff Teased
Photo Courtesy of AMC
TV
News
better call saul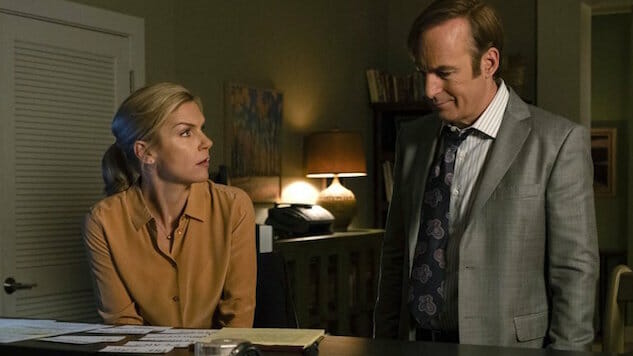 Today AMC announced that Better Call Saul—which will start its fifth season February 23rd—has been renewed for a sixth and final season. It will run for 13 episodes and go into production later this year, with a premiere set for 2021. Showrunner and EP Peter Gould told us during the show's TCA panel today in Pasadena that:
"We are going to end this with 63 episodes, and that's exactly what we wanted and hoped for in our wildest dreams. How it ends? I would say the truth is we didn't have much of an idea of it; for the first four seasons it was very foggy. and then during the breaking of Season 5, which you guys are seeing now, I think the fog started to lift a little bit […] we started to see where we think it is, and I have to say none of it is what we expected when we started. I'll leave it at that!"
Gould's fellow co-creator Vince Gilligan said, "the end of it I think … when this season is over, you'll have a better understanding of where this is all going." He also confirmed that though Walt and Jesse will not make an appearance in the upcoming fifth season, we will see more members of the Breaking Bad family starting in Episode 3. (They also noted that this season is more violent, with Gilligan saying "there's a hell of a lot action this season.")
After that, the panel devolved into a hilarious tangent about this being a Star Wars-like universe that would have individual movies for every character. Bob Odenkirk riffed that there would be a "Baby Mike" spinoff airing on Quibi and "you already have the screeners for 7 episodes!" (The Quibi joke almost ended me). Jonathan Banks said that Baby Mike is 73 years old, and we'll all be lucky if he doesn't get killed in a van in Albuquerque. Odenkirk then added that though Baby Mike is a baby, he still has a granddaughter. (And yes, I would absolutely watch that spinoff. Baby Gus and Baby Kim as well. Baby everyone!)
---
Allison Keene is the TV Editor of
 Paste Magazine.
For more television talk, pop culture chat and general japery, you can follow her @keeneTV
For all the latest TV news, reviews, lists and features, follow @Paste_TV.