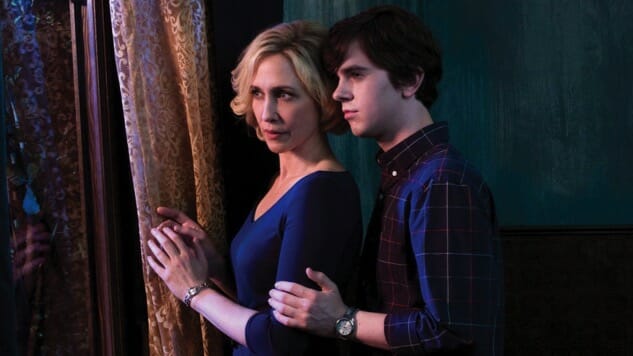 This week, Bates Motel wrapped up its fantastic fourth season, by far the show's best. This season has given us complex relationships, deaths and huge moments that have been hinted at since the beginning of the series. Despite how much we know about the story of Norman Bates and his mother Norma, Bates Motel continues to surprise and shock every year and give us a completely underrated cast that is one of TV's best.
With the penultimate season of Bates Motel now complete, lets look back at some of the craziest things about this past season.
1. Norman Kills Emma's Mother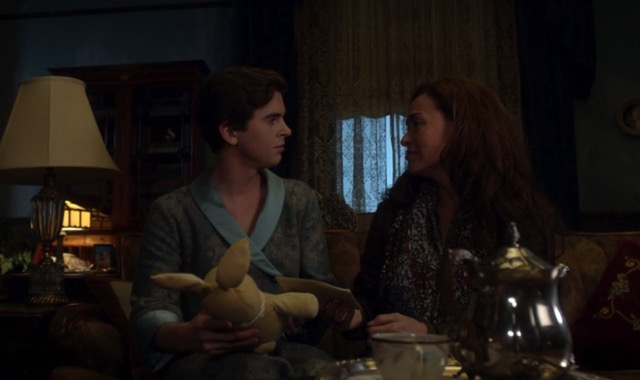 Bates Motel's fourth season had to begin by showing us just how far gone Norman is, as he now blacks out, dresses up like his mother and kills women. His first victim this season was Ms. Decody, Emma's mother, whom Norman kills for abandoning her own daughter. Despite the fact that we've seen Norman slowly transforming into this alter-ego over the previous three seasons, it still comes as a shock, seeing him commit murder under this persona that he can't quite seem to control. Even more surprising, though, might be the fact that Emma never finds out about her mother's fate this season, and her only scene with Norman suggests that they'll always be friends. With Dylan suspicious that something happened, while Emma is still curious what happened to her mother, this will surely blow up in all three of their faces some time next season.
2. Norman Tries to Convince the World His Mother Is Actually the Crazy One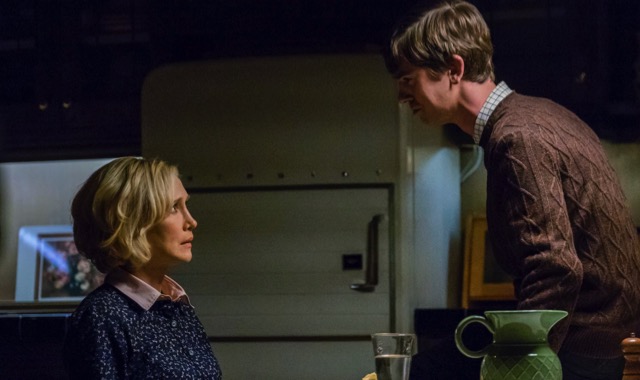 Throughout this series, we've also seen the duality in the relationship between Norma and Norman. In this season's second episode "Goodnight, Mother," Norma says to her son, "I'm afraid of you and I love you, and that's a bad combination." This idea pops up constantly throughout this season, that this combination of fear and love keeps these two in a stalemate that they can't seem to break from. While Norma has always done her best to protect her son, when Norman discovers that his mother plans to have him committed, he takes the opposite approach. He uses the information he has about the murders he himself has committed to try to gain leverage on his mother by claiming that she has actually been murdering people. No one falls for it of course, but it's a sad, final attempt on Norman's end to try to prove his sanity when everyone else already seems to know the truth.
3. Norma and Romero's Marriage for Insurance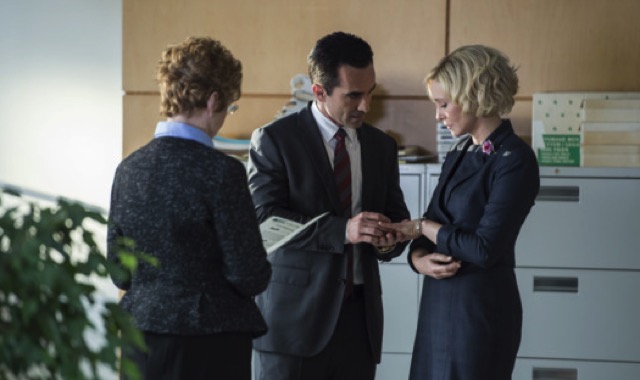 The romance between Norma Bates and Sheriff Romero has loomed for quite some time on Bates Motel, but when it finally happened, it was for the least romantic of reasons. With Norman in a mental institution, Norma is desperate to get the insurance to help her son, so as a quick fix, she marries Romero. It doesn't seem like the ideal way to bring these two together, but soon their romance blossomed into something more than just a marriage of convenience. Norma saw in Romero a person who legitimately cared for her, and fell for the sheriff quickly. The beginnings of the Bates-Romero romance might have been strange, but what came out of that was a legitimately sweet romance.
4. Norman's First Strip Club Experience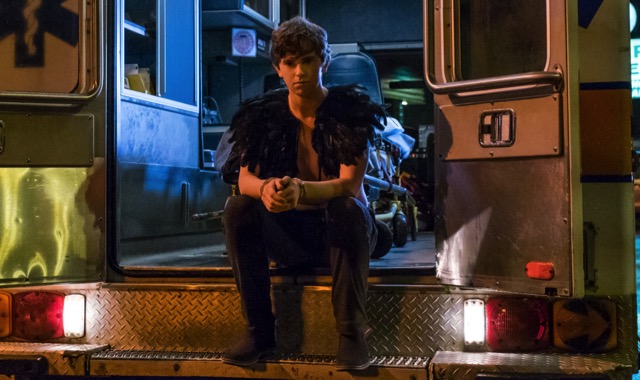 Alright, what's the last thing you want to think about at a strip club? Probably your mom. But imagine how terrible being at a strip club would be if you imagined you were your mom? Pure hell, right? When Norman and his institute-friend Julian break out for the night, they go to almost certainly the classiest strip club ever, placed in a strip mall. While getting a lap dance, he blacks out and starts to… enjoy the experience as his mother. Awkward.
5. Norman Finally Realizes He's Becoming His Mother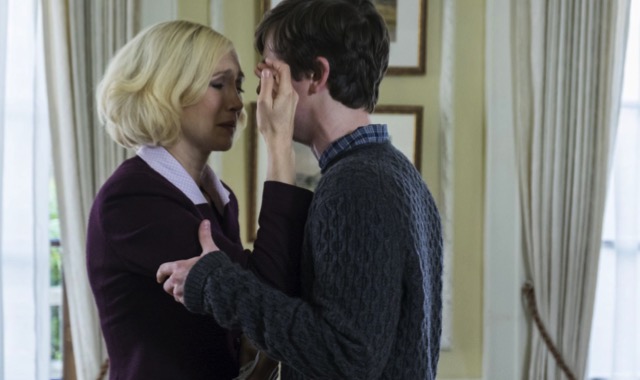 One of the more tragic aspects of Bates Motel was Norman finally accepting what is happening to him, realizing that when he blacks out, he becomes a version of his mother his mind creates. Credit to Freddie Highmore, his performance as Norma/Norman is chillingly realistic, nailing Vera Farmiga's take on Norma. After Norman becomes aware of what is happening to him, he's determined to get the help he needs, including accepting therapy and taking medication to help fix his problem. Of course as we all know, this isn't going to save him or his mother, and as soon as he discovers that his mother has gotten married behind his back, he throws all this care for his well-being out the window in order to get back at her.
6. Dylan Is Finally Interesting!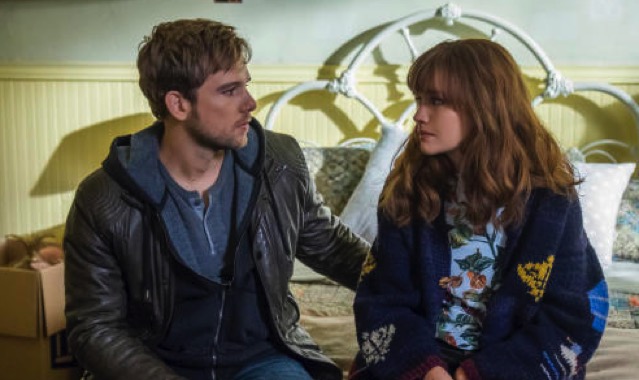 Perhaps the most problematic character throughout the run of Bates Motel has been Dylan, the son of Norma and brother of Norman. Because he's an outsider in this core family, he basically had to fend for himself, in terms of interesting plots. Unfortunately in past seasons, that has led Dylan to often be part of the show's most boring stories. This season however, Bates Motel had him focus on his budding relationship with Emma. By the end of the season, Dylan and Emma moved to Seattle, giving both of them a season of almost complete normalcy. Instead of throwing Dylan into whatever darker plots the show could come up with, the character excelled and finally became intriguing when he was simply one of the more normal characters in the series.
7. Romero and Norman's Insane Rivalry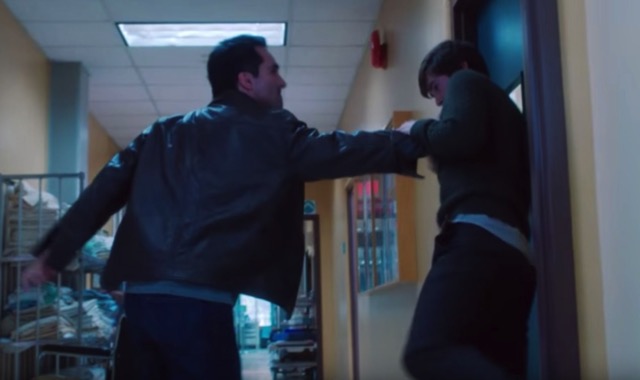 Norman hates Romero simply because someone from outside of his family has found their way in, but more importantly, someone is taking his mother's love away from him. Norma and Romero try to find peace with Norman, but he's not having any of it, becoming even more enraged by the happy new couple. Season Four ends with their anger towards each other at an all-time high, as Norman kills his mother and the woman Romero loves. Romero attempts to prove that Norman killed Norma, and ends up punching Norman at Norma's funeral. Romero eventually gets arrested for his involvement in Bob Paris' disappearance, but we're surely just seeing the beginning of the anger between them.
8. Norman Finally Kills Norma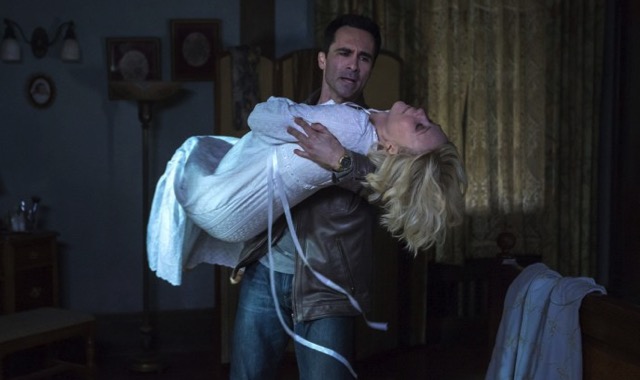 Alright, this wasn't a surprise to anyone, except maybe people who have somehow escaped one of cinema's biggest reveals. But yes, Season Four ended with Norman finally killing his mother, a moment that has been expected since the very beginning. Still, it was shocking to see how early Bates Motel decided to kill off one of its leads. And the moment when Norman kills Norma is also far sweeter than expected. It doesn't come from a disagreement or a momentary lapse in judgment, but after Norma and Norman spend a nice night together, laughing and singing. Norman kills his mother (and almost himself) through carbon monoxide poisoning. We all knew it was coming, but the peaceful nature of it all, makes the blow more intense.
9. Bring Out Your Dead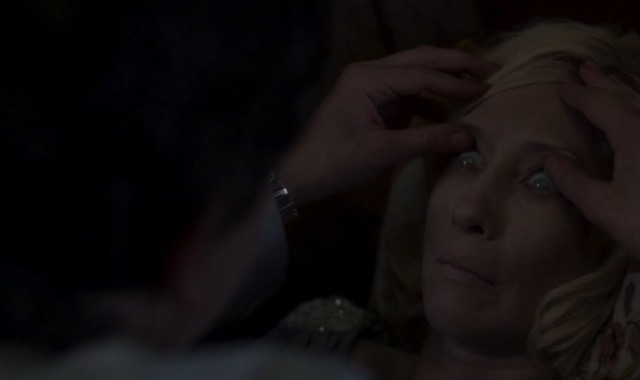 Even more disturbing than Norman killing his mother is that we're going to have an entire season of a decaying Vera Farmiga hanging out in the Bates abode. After Norma's funeral and his wandering around the house wondering where his mother is, Norman digs his mother up, glues her eyelids open and welcomes her back, in the show's eeriest moment ever. Bates Motel couldn't go an entire season without Farmiga, but it's super creepy to think that every time we see her now, it's going to be through Norman's consciousness.
10. How it All Sets Up The Surely Insane Final Season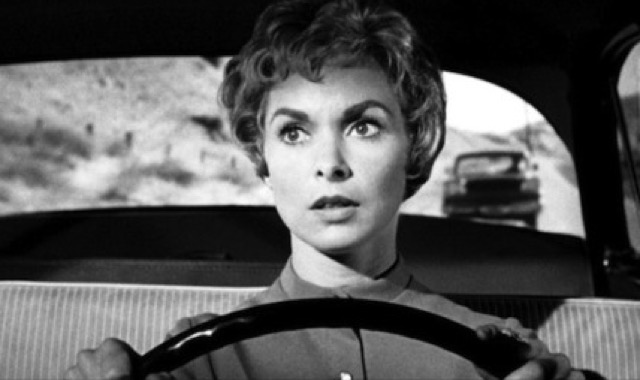 With Norma dead, Bates Motel now just has to get to the events of Psycho. If Bates Motel keeps to the story of the film, it will be an entire decade before we see Marion Crane—which I imagine the show will cut down on. Carlton Cuse has already said that Crane will be making a multi-episode appearance in the final season, but we really don't need all that much of a backstory to the character, since she's essentially a red herring. Besides, many of Crane's characteristics seem to have gone into Rebecca this season, a bank employee who tries to escape town right when some money goes missing.
But Bates Motel's fourth season ends with all of its characters in exciting places. Dylan and Emma have started a new life together, Romero is in prison and pissed, and Norman now has a dead body lounging around his house. Hell, even Chick has an interesting plot, since he wants to check up on Norman now and again, making his death all the more inevitable.
Bates Motel's penultimate season concludes with this show at the top of its game—it remains shocking even when we know where the show is heading. It's going to be beyond exciting to see how it arrives at these inevitable checkpoints along the way.
Ross Bonaime is a D.C.-based freelance writer and regular contributor to Paste. You can check out his website at RossBonaime.com for more of his writing and follow him on Twitter.