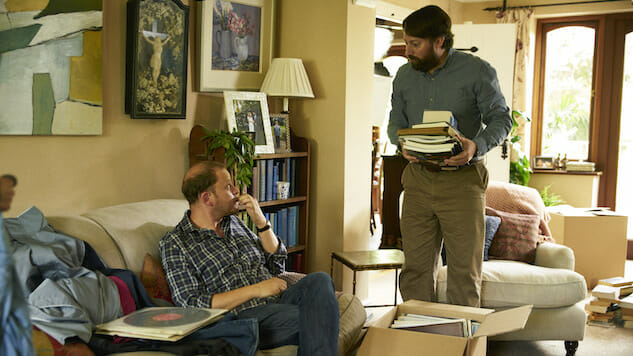 Fans of black comedy rejoice: David Mitchell and Robert Webb have teamed up once again after the end of their quintessentially British sitcom Peep Show in 2015. The comedy duo had begun branching into solo projects, but reuniting with writer Simon Blackwell, they're allowed to bask in the off-putting comedy they somehow make addictive.
Peep Show 2.0 is here, and apart from ditching its predecessor's first-person gimmick for a different-yet-still-unnerving stylistic flourish, the distinctions between the series take longer to suss out. Mitchell and Webb star as brothers (Stephen and Andrew, respectively) brought together after their father dies. The only problem is, Andrew was one of their family's foster children. For a few months. Now he's just another member of the family, shoving the submissive Stephen aside.
To briefly return to the aforementioned flourish, Back features jarring mid-scene flashbacks that replace Mitchell or Webb with their childhood selves. Someone will do something reminding Stephen of his father and, wham, he's a child once again, personifying the petty or powerless smallness we can all feel as we waddle around this world, just children operating these grown-people suits. These flashbacks become the unreliable memories of an unreliable show always in search of an imposter, or at least an imposter syndrome.
As with its Channel 4 counterpart, the spectacular Catastrophe, there's a similar blend of domestic bleakness and our absurd response to it. Back, rather than embracing life's constant barrage of disasters, breaks out an oversized, Holmesian magnifying glass so these grievances can be analyzed and mulled over with all the perverse pleasure of picking pimples in the mirror. Its judgment falls upon social niceties as tired as "thoughts and prayers" and "people not understanding 'the cloud'" gags and as specifically absurd as taking credit for discovering a dead body, because the small pub community around which the show is formed is populated by a group of monsters only the worst cynic could dream up.
They are introduced over the course of the season, each worse than the last, and each seemingly born to this Earth with the sole goal of making Stephen's life miserable. If that sounds familiar, it's because Mitchell and Webb reprise their frequently-played personality types as a morbid ball of anxiety and over-confident buffoon. The twist here is that we don't know if we should trust either of them. Stephen's rapidly deteriorating frame of mind is no help while we attempt to decipher if Andrew is really who he says he is, and if that fact even matters.
Aside from the darkness, much of the show can feel like the conversational sitcoms/films of Steve Coogan and Rob Brydon, where the antagonism breeds familiarity. There's comfort in the characters' stagnation because they're just so good at pushing each others' buttons. However, with this routine, the more plotted elements can feel secondary—which is a death knell to the attention span when the jokes start cold and dull.
The show seems content to introduce a series of characters who all share the same selfishness, which prevents them from looking at anyone without a sociopathic myopia. The squinted incredulity Blackwell has so sharply honed on Veep, In the Loop, and yes, Peep Show returns, making Back a squirm-worthy British counterpart to Curb Your Enthusiasm, but the side characters' roles as joke machines limit the proceedings to a simple tug-of-war between two classical comedy personalities.
The short season (six half-hour episodes) ends on a high note, finding the weird, paranoid, aggressive center that it needed to embrace all along. The most effective parts of the series, aside from a few sure-to-be-classic lines, are those dismantling Stephen's life. It's intricate, brutal, and altogether too sad to be handled as anything other than the meat of the show—and though the Sundance Now series may not warrant running out for a subscription, if the service is already on your streaming roster, Back will supply grim chuckles and a surprising taste of mystery. Especially if you have a taste for hard-to-watch cringe comedy.
Back premieres Thursday, Nov. 16 on Sundance Now.
---
Jacob Oller is a writer and film critic whose writing has appeared in
The Guardian, Playboy, Roger Ebert, Film School Rejects, Chicagoist, Vague Visages,
and other publications. He lives in Chicago, plays Dungeons and Dragons, and struggles not to kill his two cats daily. You can follow him on Twitter here: @jacoboller.