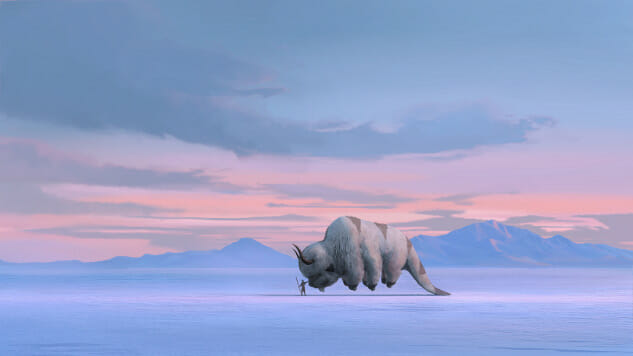 After a disastrous film adaptation by M. Night Shyamalan, Avatar: The Last Airbender is getting a second shot at live-action glory. Netflix will be releasing a new live-action series based on the beloved Nickelodeon animated series, with original creators Michael DiMartino and Bryan Konietzko on board as showrunners and executive producers, the streamer announced Tuesday.
"We're thrilled for the opportunity to helm this live-action adaptation of Avatar: The Last Airbender. We can't wait to realize Aang's world as cinematically as we always imagined it to be, and with a culturally appropriate, non-whitewashed cast," said creators DiMartino and Konietzko in a statement, not-so-subtly jabbing Shyamalan's poorly received adaptation. The Last Airbender was a box-office bomb, and was universally panned by fans and critics alike when it arrived in theaters in 2010, two years after the original series ended.
"We are committed to honoring Bryan and Mike's vision for this retelling and are thrilled to support them on creating a live-action event series, bringing Aang's epic world of elemental magic to life for global audiences on Netflix," said Melissa Cobb, Netflix's vice president of Kids & Family Content.
From 2006 to 2008, Avatar: The Last Airbender aired for 61 episodes over three seasons on Nickelodeon, where it amassed a loyal following, and spun out a comic book and graphic novel series that continues to roll out original stories. The original series also continues to be a hit on home video, generating nearly $5 million in DVD and Blu-Ray sales since the complete series was released earlier this year. From 2012 to 2014, Nickelodeon also aired the hit sequel series The Legend of Korra, which expanded the Avatar universe and its following even further.
The new series will be a partnership with Nickelodeon, the series' original network. Chris Viscardi, Senior Vice President, Animation Production and Development at Nickelodeon added:
Avatar: The Last Airbender continues to grow and resonate with fans around the world due its combination of relatable characters with all their foibles and a fully realized world of epic, high-stakes stories and adventures. This partnership with Netflix is part of our broader efforts at Nick and Viacom to tap into our enormous library of culturally resonant properties to produce new interpretations, and we can't wait for people to see Netflix's live-action version of Avatar.
Hopefully, having the original creators on board for the new series will be enough to satisfy loyal fans who were turned off by the film adaptation.
The new series will be available exclusively on Netflix, and starts production in 2019.