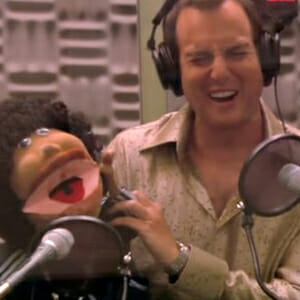 With the entire world applauding the news of the official return of Arrested Development (except this guy), we celebrate some of our favorite minor characters from everyone's favorite canceled show. In a sitcom that had such a ridiculously memorable main cast, it's mind-blowing to note that its minor characters were often just as unforgettable (unfortunately so, when it comes to Uncle Jack). Although we're sure we left off your favorite, here are the 10 best minors characters in Arrested Development.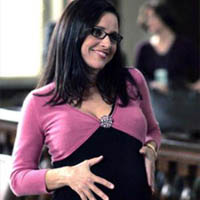 10. Maggie Lizer
In terms of unforgettable sitcoms, the only show that really comes close to touching Arrested Development might be the undeniably influential Seinfeld. So when we got to see Julia Louis-Dreyfus play Michael's fake-blind lover, it was more than we could have asked for in a minor character on the show.
"Well, it's like the Ten Commandments say, you know? Be true to thine own self, and to thine own self…"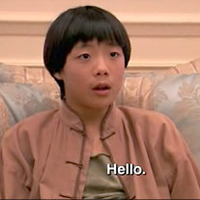 9. Annyong
Okay, so having the little Korean kid only say his name (which actually means "hello") as if he were a Pokemon was a little racist. But honestly, if Lucille Bluth was going to have an adopted son, it was kind of necessary. And besides, who else could have pushed the jealous relationship between Buster and Lucille one step further?
"Annyong."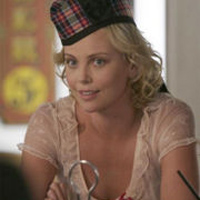 8. Rita Leeds
From her colorful British euphemisms to her innocent naivety, Rita is our favorite of Michael's small list of strange girlfriends. She's also at the top of our very small list of actually sincere characters who weren't constantly trying to stab people behind their backs.
"Prize. Lovely, lovely, prize."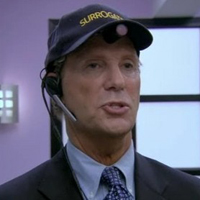 7. Larry Middleman (The Surrogate)
George Sr.'s stand-in made for some hilarious plot lines in Season 3, mostly to do with the fact that Buster and Gob treat him like he is their father. As with most of the acting on the show, Bob Einstein's deadpan delivery was just perfect.
"You're fired."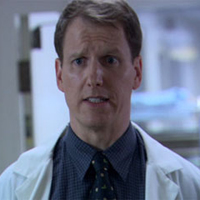 6. Doctor Fishman
This absurdly literal doctor gave the Bluth family a number of unnecessary things to cry about involving injured family members. Sure he really only had one joke, but it never got old.
"It looks like he's dead."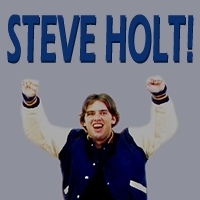 5. Steve Holt
Although this fist-pumping high-schooler lost some of his charm later on when he became Gob's son, his "Volt For Steve Holt!" campaign for student-body president in Season 1 was one of the best sub-plots in the first season (especially once Gob got involved). Maybe we just like him because, as Michael remarks, he is like a "young Gob".
"Steve Holt!"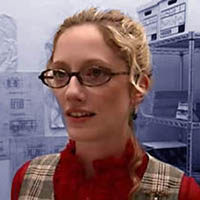 4. Kitty Sanchez
Oh Kitty. This scandalous secretary managed to sleep with nearly all of the Bluth men (including Tobias!) and still never got what she wanted out of the company. Everything from her crossed eyes and crooked plastic surgery to her priceless drinking competition with Lucille Bluth make her one of the most memorable characters on the show.
"Say good bye to these 'cuz its the last time!"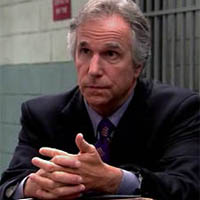 3. Barry Zuckerkorn
Apparently Mitch Hurwitz was set on having an ex-Happy Days actor play the Bluth family attorney. Henry Wrinkler's performance as the family's inept, sexually devious court representative is so good that its sometimes hard to imagine the same guy playing Fonzie. And eventually replacing him with Scott Baio (Chachi, Bob Loblaw) was brilliant.
"Our star witness. Come here. Good to see you. You know what? Don't get too close to me. 'Cause I've got an itch you can't believe. I think something laid eggs on me."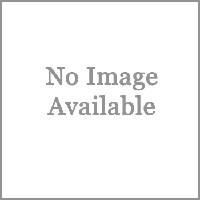 2. The Narrator
What starts out at a simple narration tool becomes one of crucial elements of the show. Ron Howard's cliched, sitcom-esque readings often contradict characters or respond to the absurdity of the scene, even stepping outside of the show in Season 3 when rumors behind the show's cancellation started to grow.
"Please tell your friends about this show."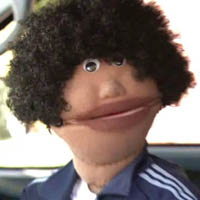 1. Franklin Delano Bluth
The genius of Gob's puppet Franklin is that it works on so many levels: Everything from the characters' reactions to talking like Franklin and the Franklin/Gob musical numbers to how the characters treated him like he was alive (such as the police when Franklin is in the driver's seat of the truck). Seriously genius.
"You've ruined the act, Gob".