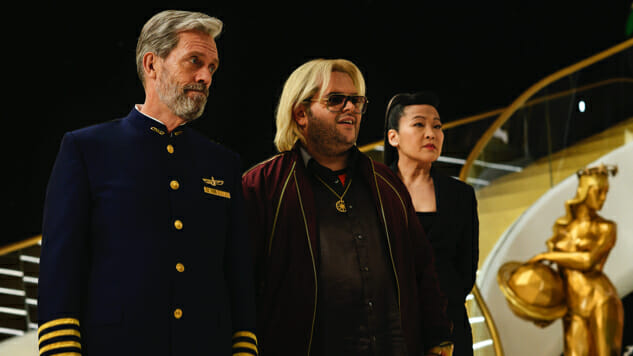 Fairly soon after the debut of its first season, Armando Iannucci's HBO comedy series, Avenue 5, has been renewed for a second. This show is quiet and quirky, full of relatable characters fumbling through those tense work situations we wish wouldn't end so awkwardly. The show takes place on a luxury cruise starship run by staff who need dry humor to get through the day. Ianucci produced the political satire Veep, and while Avenue 5 has a similar tone, the sci-fi aspect makes for a much wilder ride.
We're coming back round the sun again…. #Avenue5pic.twitter.com/JcVDqXiMCj

— Armando Iannucci (@Aiannucci) February 13, 2020
"We've loved every minute of Avenue 5's inaugural voyage," says Amy Gravitt, Executive Vice President of HBO programming, in a statement. "Armando Iannucci and his team are masters of smart and incisive comedy, and the ensemble cast, brilliantly captained by Hugh Laurie, is second to none. We can't wait to see what's in store for our hapless heroes in season two."
Hugh Laurie will return as Ryan Clark, as Iannucci has stated that "Nobody provides angst-ridden laughs better than Hugh Laurie." The rest of the cast are as follows:
Josh Gad ("Murder on the Orient Express") as billionaire Herman Judd
Zach Woods (HBO's "Silicon Valley") as head of customer relations Matt Spencer
Rebecca Front ("Poldark," BAFTA winner for "The Thick of It") as strong willed passenger Karen Kelly
Suzy Nakamura ("Dr. Ken") as Iris Kimura, Judd's right hand woman
Lenora Crichlow ("Being Human") as engineer Billie McEvoy
Nikki Amuka-Bird (CINEMAX's "Quarry") as Rav Mulcair, head of Judd Mission Control
Ethan Phillips ("Inside Llewyn Davis") as Spike Martin, a space enthusiast and former astronaut.
Season one guests include Andy Buckley ("The Office") as Karen's husband Frank; and Kyle Bornheimer ("Brooklyn Nine-Nine")
Perhaps you are an advanced binge-watcher who calculates how many episodes you need to let build up before you tear through them all in a couple sittings. If so, keep this one on your radar. If you like to stay current, the first season is on HBO already.
Find Paste's review of Avenue 5 here, which suggests that more episodes may be just what the doctor ordered.