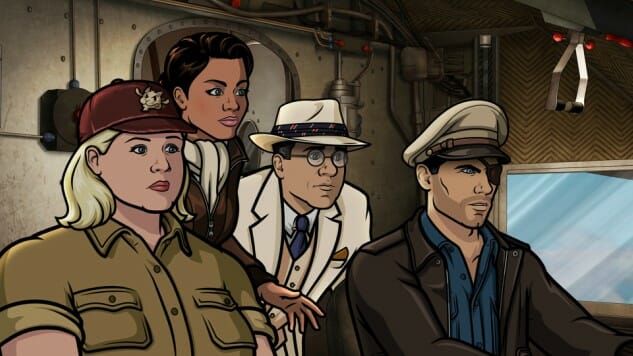 The ninth season of Emmy Award-winning animated series Archer will return on FXX this April, the network announced today.
The spy comedy's latest reinvention, subtitled Danger Island, finds our hero, the barely functioning alcoholic seaplane pilot Sterling Archer, resting on a lovely island in the South Pacific circa 1939. To say Archer is unconcerned about the impending Second World War is a massive understatement—really, his only concern is who's buying his next drink. The plot details included in the release also reveal that, "Along with his trusty co-pilot Pam, Sterling must navigate quicksand, cannibals, super-intelligent monkeys, poison darts, pirates, and did we mention quicksand?" Danger Island, indeed.
Archer's new season features the voices of H. Jon Benjamin as the eponymous protagonist, Jessica Walter as Archer's acid-tongued mother and hotel owner Malory Archer, Aisha Tyler as island royalty and local revolutionary Princess Lanaluakalani, Judy Greer as the abandoned heiress Charlotte Vandertunt, Chris Parnell as the obvious German spy posing as a businessman Siegbert Fuchs, Amber Nash as Archer's co-pilot and loyal sidekick Pam Poovey, series creator Adam Reed as impeccably uniformed French Capitaine Reynaud, and Lucky Yates as the audacious scarlet macaw Crackers.
If you need a refresher on Archer: Dreamland, the series' eighth season, never fear. Dreamland debuts on DVD on March 20. That season is set in 1940s Los Angeles, sending noir detective Archer on a quest to find his partner's killer.
Archer: Danger Island premieres Wednesday, April 25 at 10 p.m. ET/PT on FXX.